Throughout the years, Fridley junior Charles Rice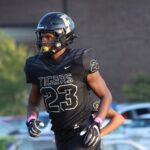 Charles Rice LB Fridley | 2021 State MN has played practically everywhere for the Tigers' defense. This season he finally settled into one spot – linebacker – and excelled. He went from one start as a sophomore, to a vital part of a state tournament team and a target of multiple junior day invites. Although switching positions so often was not ideal, it helped Rice become a complete defender.
"Starting in junior high, I have played every position on defense," Rice said. "It helped me a lot. Playing on the defensive line – having to battle the guys up front – you have to learn how to use your hands. That helped me in the run game. When I played safety and corner, it helped me with my drops and how to play man and zone coverages."
The move to linebacker was a relatively easy one for Rice.
"This was my first year playing linebacker," Rice explained. "The transition was pretty easy. I had to work on my reads and my pass drops. I was a little bit unfamiliar with the calls at first."
Despite his inexperience at the position, the coaching staff didn't treat him with kid gloves.
"Depending on the team, sometimes I would be down in the box, or I would look like I was playing the run but drop to play the pass," Rice said. "I think this season was a big improvement from my sophomore year when I only started one game. Mentally, I could have been better, but throughout the year, I got much better."
Playing the strong-side outside linebacker, maybe because he has experience all over the defense, Rice feels his mind is his greatest asset.
"I think I have a good football IQ. I know my position very well. I am good at reading plays because I watch a lot of film and know how to break stuff down before the play starts."
As a team, the Tigers went undefeated until falling in the AAAA state quarterfinals.
"I thought we had a great season led by senior (quarterback/defensive back) Kaleb Blaha Kaleb Blaha 6'1" | QB Fridley | 2020 State MN . Everybody played their role. We started with some injuries, but we all figured it out."
"On defense, all the guys clicked," Rice continued. "We hung out outside of football and trusted each other on the field. We knew the other guy was going to be there to make the play. On offense, we were strong up front, had some good skill guys, and Kaleb was just so hard to defend."
This offseason, Rice is focused on improving his overall game.
"I think I need to get better with my overall technique – pass drops, filling the hole, taking on blocks, shedding blocks, everything," the 6'2″ 200-pound junior said. "I will be working with my guys and building chemistry. We have a new group coming in at linebacker, so I need to step up and be more of a leader."
In the winter, Rice's focus switches from the gridiron to the hardwood.
"It has been strictly basketball, but on the weekends, I try to get a workout in. My main focus is football, but I take it one season at a time. It is basketball season now."
"Basketball has been good. I play both varsity and junior varsity," Rice continued. "On varsity, my role is to get in and bang and give the other guys an easier time."
What he does next is still up in the air.
"I haven't decided what I am going to do this spring," Rice admitted. "I have been in track and ran the 300 hurdles, the 100 hurdles and the 800, but I am going to talk with my coach and see if he thinks I should lift to get me ready for camps this summer."
Before he decides on camps – he hopes to get to three to five camps this summer – he must navigate multiple junior day invites.
"Junior days have been coming left and right," Rice told northstarfootballnews.com. "I have been blessed for the opportunities. Right now, I need to figure out which ones I can go to."
He will have to figure out where he will be going this summer, but once the seasons starts – for the first time in a long time, Rice will not have to figure out which position he will be playing in the fall.