When injuries struck the middle of the Chanhassen Storm's 2019 football season, they had to have players step up and expand their roles. Junior tight end Kenyatta Brannon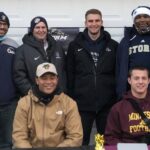 Kenyatta Brannon 6'4" | TE Chanhassen | 2021 State MN was one of those players asked to do more. His role changed, and now, with college football just a year away – Brannon might be asked to change his role again.
"I started just playing tight end, but half-way through the season, we had some injuries, and my coach thought I would be good, so I started practicing with the defensive line. In the last three games, I started playing defensive end. I was usually on the short side of the field."
Brannon used his athletic ability to make up for his lack of experience in his new position.
"I was quick off the ball. I was faster than most of the offensive linemen."
Brannon's primary position is tight end. He is a two-year varsity starter at the position.
"I lined up all over the place," the full-time tight end explained. "My blocking is my strength, but I am always willing to catch the ball."
The Storm will be an experienced team in 2020.
"We had some senior leaders but were a junior heavy team. I feel like we could have gone 6-2 because we lost two winnable games."
"We had a strong running game," Brannon continued. "Our defense was well-rounded. We forced a lot of turnovers."
Brannon felt he had a strong season.
"I feel like my junior season went well. I was able to put together some good highlights."
Brannon made some nice strides as a junior.
"My size helped me from my sophomore to junior year," the Storm junior said. "Right now, I am working on improving my speed and quickness and becoming more explosive."
Becoming more explosive started this winter.
"I was doing our offseason program for football this winter," Brannon said. "It is four days a week. It focuses on bench, clean, and squat. I was going to be throwing in track. I used to play lacrosse, but this year I was going to try track. I was going to compete in the throwing events, and I wasn't going to compete, but I was going to do some sprinting workouts during practice."
Despite schools being closed, Brannon has been able to keep his basic training plan going.
"There is a workout room in our building, so I am able to use that. I have been able to run some routes with some of my teammates."
Before things began to shut down, Brannon connected with some college programs.
"Recruiting has been interesting. It doesn't feel like it is actually happening, but I am excited about it," Brannon said. "I went on game day visits to Michigan State, South Dakota State, and North Dakota State. I was only able to go to one junior day – at NDSU."
That – and the virtual visits and calls with coaches – have been enough to generate significant interest in the Storm junior.
"I have six offers. I have offers from Army, Air Force, Northern State, Mankato State, University of Mary, and Sioux Falls. They have been telling me they like how athletic I am with my frame and my build. They like how I move and how I finish the play."
What position he will be playing is just as unknown as the school he will be playing for in 2021.
"It depends on the school," Brannon – who played offensive line until ninth grade – said. "Army said they would decide when I get there if it would be tight end or offensive line. Air Force is saying offensive line, and all the DII schools are recruiting me as a tight end."
If his college career is anything like his junior year – Brannon will have no problem adjusting to a new role.