When you stand 6'5″, weigh 305 pounds, and play high school football, it does not matter if you are just a sophomore, you are going to get looks from college football programs. When you can combine that with athletic ability and football skills, you are going to get looked at by some of the biggest programs in the nation. That is the situation Hill-Murray sophomore Lucas Heyer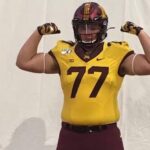 Lucas Heyer 6'5" | OL Hill-Murray | 2022 State MN finds himself in right now. After the 2019 season, Heyer has multiple Division I schools looking at him, and he still has two years of high school football left.
The Pioneers' 2019 season did not go as Heyer had hoped, but he expects big things from his team in 2020.
"I do not feel that the season went well at all," Heyer said. "We finished 3-7 and did not perform the way we could have. As a rising junior, I am very excited to take on a leadership role and do everything I can to help turn things around. We have a great group of guys and are loaded with talent. We have the potential to go far."
When things were going well for the team, Heyer felt it was about working together.
"When the team was playing well, everybody was staying disciplined and playing hard. When everyone played hard and did their job, things went well."
Although he is already considered one of the top players in the state, Heyer feels he left some things out on the field as a sophomore.
"Individually, the season did not go as well for me as I would have liked," Heyer explained. "As a young guy, there were many mental mistakes towards the beginning of the season that needed to be cut out. Although things did not always go my way at the beginning, I got better every week and started to incorporate a nastiness to my game, which elevated my play to a different level. I am going to bring that violence into every snap next season and am very excited to see where it goes. I have huge expectations for my junior year."
Heyer played left tackle.
"My biggest strengths as an offensive tackle are my frame, physicality, and ability to move well for a guy my size."
Once the season ended, Heyer did not waste any time.
"I have had a tremendously busy offseason, getting work done to elevate my game in every way possible. I have been consistently training week in and week out and will continue to do so up until the season."
Heyer has specific skills he has focused on this offseason.
"Aside from just getting bigger and stronger in the weight room, my coaches and I have put a considerable emphasis on my feet and technique. I am looking to come off the ball quicker and harder, as well as improving my pass set. I am looking to come into my junior year with great feet and technique."
Like everything, recruiting has been thrown into a state of uncertainty. Despite the limitations of today's world, Heyer has progressed quickly.
"My recruitment thus far has been busier than expected, but overall, it has been good. As of now, I hold offers from Minnesota, Iowa State, Arizona State, and Nebraska."
Not just a big guy with good feet, schools have liked Heyer's on-field attitude.
"What the schools that are interested in me say they like most about my game is my nastiness and ability to move for a guy my size."
A guy, his size with solid football skills and the attitude to go with it, is a dream for a college football program. With two years of high school football left to improve, his four Power Five offers are only the beginning.