MINNEAPOLIS, MINN– #ForTheBrand, Kickers, Punters, and Long Snappers of Minnesota you hear all about them on Northstar Football News. My goal has always been to get all our Minnesota football prospects to the next level, whether that's JUCO, NAIA, Division III, Division II, Division I or wherever is a "fit" for the prospect of Minnesota high school football. The one thing I've found true is that "specialists" listed above, have a much tougher time getting seen at the next level than say your quarterbacks, linebackers, etc. I wanted to fill that void, with creating recruiting reports that are driven for kickers, punters, and long snappers and hopefully get these kids some recognization to college coaches at the next level.
While learning about the craft of whats makes Minnesota football specialists for the brand, I've learned who in the state is guiding these prospects and getting their skill set great enough to achieve at the college level. I caught with the owner of the Special Teams Football Academy and National Kicking Rankings, Chris Husby to go over his story about the brand of specialists in Minnesota he's prepared to get to the next level with his 85% success rate.
Chris's Backstory
Husby's love of kicking starting when he was a high schooler at Robbinsdale Armstrong High School where he played linebacker and kicker for the Falcons. Chris then attended the University of St. Thomas where he moved to a punter for the Tommies. He was named Special Teams MVP of the Tommies in 2004 and was amongst the leaders in the MIAC in yards per punt including hitting boomers of 65, 55, 53, 52 and 51 during his senior season. Husby then went for the NFL dream, finding himself plenty of NFL Free Agent tryouts and learned from greats like Minnesota Vikings kicker Gary Anderson to perfect his craft even more along the way. Husby then played Minor League Football for the St. Paul Pioneers, Minnesota Dragons, and Minnesota Maulers in which he was the top punter in of all minor league football leagues he played in. He's also coached high school football at Wayzata and was a Special Teams Coordinator at Maple Grove from 2015-2018 and most recently was a Specialist Coach at his alma mater of St. Thomas in 2017-2018.
Husby founded his Special Teams Football Academy back in 2010, in which he's coached high school, college, and professional specialists to get them to the next level.
What Got Husby Started on Kicking
Husby has a similar story on what you've heard a lot about Minnesota specialists, starting their love for kicking with middle school soccer. He also got hooked on kicking camps which he attended at UW-River Falls and St. Olaf. He loved kicking because it gave "a chance to be on the field every play and make goals to be on the field all the time."
Division III vs. Power Five Kickers
I asked Husby what the biggest difference he sees in scouting a specialist between becoming a Division III kicker in the MIAC vs. kicking in the Big Ten. He said "Consistency, the leg, and distance," are all the traits that make a D3 kicker vs. kicking for a Power Five school.
Rankings System
With the National Kicking Rankings, Husby has a unique ranking system for each prospect based on his evaluations as a long snapper, punters, and kickers. Here is how it works:
3 Star– Division III level specialist
4 Star: Division II level specialist
5 Star: Division I, Power 5 level specialist.
You may see some kids on Twitter who have 3.5 or 4.5 stars listed on their profile, which means they are a borderline Division II or Division III specialist or if a 4.5 star, could be a great FCS level specialist for NDSU, SDSU, etc. but could also be a borderline Power Five specialist. The Special Teams Football Academy has an 85% placement rate on specialists joining a college program from NAIA to Division I.
College Specialists Minnesota High School Prospects Should Watch
Every specialist has a role model that got them to where they want to be. Husby told NFN these are some of the college players that Minnesota specialists should be watching at the college level and to try and model what they're doing to get themselves to the next level.
Grant Ryerse, Kicker, East Ridge, Redshirt Junior, University of Minnesota
-Ryerse was a top 5 kicker in the nation coached by Dan Fritze of East Ridge HS (Woodbury, Minn). Took care of all Gophers kickoffs in his sophomore season, and had 31 touchbacks which were almost 42% of his kickoffs from last season.
Anders Gelecinskj, Kicker, Bloomington Kennedy, Redshirt Senior, Minnesota State-Mankato Transfer, University of Minnesota
-All district honorable mention as a senior kicker and punter at Bloomington Kennedy. Long of 45 and 47 as a senior. Made a game-winning field goal against Richfield to get Kennedy's first conference win in four seasons. Kicked one season for the Mavericks, was 6 of 8 with a long of 33. Backup kicker under Ryerse.
Casey O'Brien, Holder, Cretin-Derham Hall. Redshirt Junior, University of Minnesota
You've heard O'Brien's name a lot over the last year if you watch Big Ten football a ton like me. O'Brien played high school football under Wisconsin Badgers QB great Brooks Bollinger. The adversity O'Brien has overcome as a five-time cancer survivor and still a prominent holder for the Gophers is outstanding as O'Brien has taken home numerous hardware during his career for the Gophers in the Big Ten including Academic All-American (2018, 2019), Big Ten Special Teams Player of the Week (2019), and a Big Ten Distinguished Scholar in 2018 and 2019.
Mac Brown, Punter, St. Thomas Academy, Redshirt Senior, Ole Miss
Perhaps the most successful punter Minnesota's produced over the last 5 years, is Mac Brown who punts for Ole Miss in the SEC. Brown was a 2019 Ray Guy Watch List (Best Punter) player that played high school football at the St. Thomas Academy (Mendota Heights, Minn). Brown walked on to the Rebels in 2016 after being 1st Team All-Metro as a punter in Minnesota and still has the state record for the longest punt of 87 yards. He also was a nominee in 2019 for the Burlsworth Trophy, which goes to a player that walked on to the program and has shown an outstanding performance to the program. In 2019 for the Rebels, Brown averaged 44.3 yards per punt, good enough for 5th in the SEC.
Patrick LeCorre, Kicker/Punter, Edina, Ball State, Recent Graduate
The former Edina Hornet started his career at Eastern Arizona College (Thatcher, AZ) and most recently finished up in the MAC at Ball State. Has the second-most field goals in Minnesota high school history, and is perusing a career in the NFL in the 2020 NFL Draft. in 2019, LeCorre averaged almost 60 yards per kick on kickoffs and had 9 touchbacks. He increased his yards per kick by 5+ yards from his junior to the senior season at Ball State.
Other Players to Watch in the College Ranks:
Alex Probert, Kicker, Andover, Liberty. Graduate Transfer to Iowa State (Feb 2020)- Starting kicker for the Liberty Flames and will be immediately eligible for the Cyclones of the Big 12.
Brady Leach, Kicker, Moorhead, North Dakota
Reid Sanders, Kicker, Wayzata, North Dakota
Will Cardinal, Kicker/Punter, Totino-Grace, North Dakota State
Eddie Ogamba, Kicker, Robbinsdale Armstrong, Iowa State (Most Recently at Iowa Western)
2021 Specialists to Watch
As a class, Husby said the class of 2021 is one of the most talented classes he's seen so far in his 10 years of coaching kickers and punters in Minnesota. These are a few we'll need to watch blossom this year from the metro.
Noah Kiani Noah Kiani 5'11" | K Irondale | 2021 State MN , Irondale
Connor Reynolds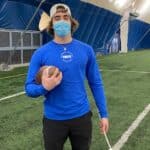 Connor Reynolds K Eden Prairie | 2021 State MN , Eden Prairie
Josh Keller, Prior Lake
Parker Dahlmann, Blaine
Ian Wilsey, Mahtomedi
2022 is Also Deep
If I'm a college coach and I want to watch two great kickers at one program, I'm going to have to make my way to Minnetonka High School as the Skippers are "stacked" according to Husby with  Sebastian Amorrortu Sebastian Amorrortu 5'8" | K MPLS North | 2022 State MN  and Charlie Pears leading their unit of specialists. Other specialists bound for a big year in 2022 are:
Carson Cyr Carson Cyr 6'0" | K Andover | 2022 State MN , Anoka
Ben Samuel, Mounds View
Leyton Simmering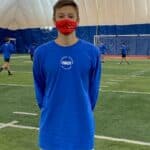 Leyton Simmering 6'1" | K Rosemount | 2022 State MN , Rosemount
Jack Kalman Jack Kalman 5'10" | K Orono | 2022 State MN , Orono
The Rewarding Job of Coaching MN's Best Specialists
"Helping them reaching their goals and having the power of influence to help," Husby says is the most rewarding job of training every specialist that's come through STFA. Also, getting prospects to use their kicking skills to get a college education is another positive trait Chris Husby loves to see.
If you are looking to take your game of kicking, punting, or long snapping to the next level we at Northstar Football News recommends reaching out to Chris Husby.
Special Teams Football Academy
On Twitter: @SpecialTeamsFB
On Instagram: @specialteamsfb
On Facebook: https://www.facebook.com/SpecialTeamsFootballAcademy/
On Twitter: @NKR_Camps
On Instagram: @nationalkickingrankings
On Facebook:https://www.facebook.com/nationalkickingrankings/
They also have a podcast called 4th Down Experience which you can find on Apple Podcasts, where they go over a ton of different special teams topics and feature college and NFL kickers like Daniel Carlson, Harrison Butker, David Akers, and more.
Photo Courtesy: Special Teams Football Academy, Facebook. St. Cloud Camp