CLOQUET– You've met, Will, Alec, and now you will meet the third triplet of the Turnbull brothers in the class of 2022 from the Cloquet Lumberjacks, Alex Wood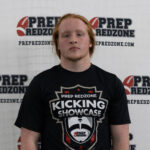 Alex Wood 5'10" | RB Stewartville | 2022 State MN . We chatted with Reese about his 2019 season, what's on his recruiting trail, and much more!
Get to Know Alex Wood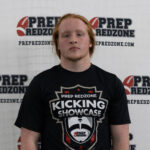 Alex Wood 5'10" | RB Stewartville | 2022 State MN
Reese is on the front line of the Lumberjacks offense and defense. On defense, Reese lines up at defensive tackle and in the middle at nose guard. On offense, you can find him playing guard and center. Turnbull has an excellent work ethic and stands at 6'2 240 pounds and getting even stronger than this offseason. His mentality is "I'm going to block whoever I have to and I am always going to get the tackle, he told Prep Redzone about his defensive mentality. His biggest strengths on the football field are his speed off once the ball is snapped and the power he has against others offensively and defensively.
Favorites About His Positions
On offense, Reese enjoys the "pulling and blocking" players and he told us "it is very fun to do." Defensively, he loves ripping around players and finding the ball carrier to get the key tackle for the Lumberjacks.
College Interest
At the early stages of Reese's career, he currently doesn't have much interest going on from college programs but is hoping for any opportunity in the future.
Offseason Work Ons
Reese didn't have any specifics Lumberjacks coaches wanted him to work on, but like any coaching staff, their goal is to get him faster and stronger, which he's put great emphasis on lifting and sprinting this offseason.
Reese's Mentors
My favorite question I ask prospects is who is a mentor to them as I think it's important that every player has a mentor in their life on and off the football field. Reese doesn't have to go too far to find his first mentor in older brother Bryce Turnbull. Bryce played for Cloquet on the last team that found themselves in Minneapolis playing for a state championship back in 2017. They did fall short to a very good Academy of Holy Angels team in the state final, but Bryce was a key defensive end in the Lumberjacks success on a team that that was their only loss that season. Bryce has been key to Reese as he's helped his maintain the grades in the classroom and has pushed him in the weight room. His other mentor was also on that team and plays in the Northern Sun for Southwest Minnesota State which is Dylan Lauer Dylan Lauer OL Cloquet | 2018 State MN  who played defensive tackle for the Lumberjacks. Lauer's key in Turnbull's career has been the constant conversation he's had with Turnbull as he "always pushes me to be the best I can be."
2020 Goals
Turnbull has some excellent goals for this upcoming season, he hopes to be an all-conference prospect, all-section, and will try to win the "linemen of the year" Team-wise, Turnbull and the Lumberjacks hope to get another chance at the state tournament, in which they have been to Minneapolis three times since 2011.
Turnbull is an excellent stuffer of the run as you'll see here in his sophomore highlight film.