ST. CLOUD– At the all-new Prep Redzone Minnesota we are taking a look at the 320 area code of the best quarterbacks in the St. Cloud area. We've studied the tape, and have formed our "Big Three" QB1 rankings that cover the St. Cloud area. The schools included in our list of the St Cloud Area are: St. Cloud Tech, St. Cloud Apollo, St. Cloud Cathedral, Rocori, Sartell-St. Stephen, and Sauk Rapids-Rice. This list will be added to and updated throughout the 2020 season and at the end of the year, we'll crown the "Best QB1 in the St. Cloud Area" when it's all said and done.
#1 Cole Hentges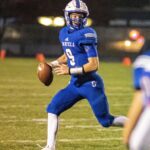 Cole Hentges 6'0" | QB Sartell-St. Stephen | 2023 State MN , Class of 2023, Sartell-St. Stephen
Hentges is going to be a quarterback you're going to want to know about from the class of 2023. I rarely drop the NFL type with Prep Redzone Minnesota, but this prospect gives me a Russell Wilson type vibe at quarterback. He's extremely mobile and can move quickly out of the pocket, a bit undersized at 5'10-5'11 but can make the big throws when it counts in and out of the pocket. You don't start as a freshman in Class 5A unless you are going to be the real deal. Check out his film below.
#2 Jack Pelzel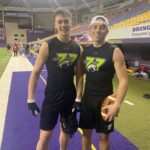 Jack Pelzel 6'2" | QB St. Cloud Cathedral | 2021 State MN , Class of 2021, St. Cloud Cathedral
Pelzel fought injuries that kept him out for a significant amount last season, but he's bound for a bounce-back senior year. What impresses me on film for Pelzel is the variety of throws he can make, he has the big throw to throw deep, but he also can connect in stride with passes between 6-10 yards out to turn into big gains. Pelzel has been working to add 10-15 pounds this offseason to his build before the season starts which will put him at a 6'2 200 pounds, which is an ideal build for a future college quarterback.
#3 Bryce Lund, Class of 2022, Sauk Rapids-Rice
Lund is a big body that has a pocket strong pocket presence for the Storm of Sauk Rapids-Rice. At 6'7, Lund sees the field, and his line of receivers routes extremely well as he overtowers the bulk of offensive and defensive linemen. He is quite accurate and has the potential to climb this list in the coming years. His strengths in the film are consistently hitting his receivers in stride over the middle for 10-15 yard passes. We'll need to be Lund's varsity reps this season to see where he stands.
Check out Bryce's recruiting report done by my colleague Oliver West here.
Next on Deck: We will take a look at St. Cloud's "Big Three" at tailback where we'll give you our "Way Too Early" takes on who are the top-ranked backs are in St. Cloud.