While players and coaches around the state are gradually returning to the field under stricter-than-normal guidelines, the 2020 football season raises more offseason questions than any other season in recent memory.
Like a season — will it happen? How can it in these muddled times of coronavirus? And at what capacity?
But saying it does, and things seem to be leaning in that direction with the loosened restrictions recently dropped down on a state and national level, football players will be among the first to retake a high school field after months without sports.
In this series, we'll look across different districts in Colorado and point out a few must-follow players from each. This will make up just a dent in our offseason coverage of high school football in the state as we'll hit on many more players in the coming months.
Today, we'll begin with the Boulder County.
Titis Gebhardt, WR, 2021, Centaurus: Despite the Warriors' struggles following a promising 2-1 start in 2019, Gebhardt was a welcome sight in the passing game. As a junior, he hauled in 42 receptions for 467 yards — a rate of 11.1 yards per catch. He also caught five of the team's nine touchdowns and was just one of two players on roster with a 100-yard receiving game, doing it three times. Centaurus will look to snap a seven-game losing streak as it comes into 2020.
Grant Page Grant Page WR Fairview | 2022 State CO , WR, 2022, Fairview: Page is listed as a three-star recruit by 247Sports and is ranked the third-best athlete in Colorado and 55th in the nation. And that's just in football. He's really something in basketball, too. As is his brother … and sister. Anyway, as a sophomore on the gridiron he consistently sprung open despite being the team's primary target with now CSU-commit Henry Blackburn out for the first six games of the year. Teams knew to surround its game plan around him. Just could rarely slow him down. In 2019, Page had 76 receptions for 1,250 yards and 15 touchdowns. He currently has offers from Colorado, Colorado State and Iowa State.
Parker Patchett, RB/S, 2021, Boulder: He's an intriguing two-way player who was a force on both sides of the ball for the Panthers last fall. With 936 all-purpose yards, Patchett rushed for 659 yards on just 121 carries with four scores and caught 10 passes for 77 yards with another TD. Defensively, he led the team with three interceptions and also recovered a fumble. Boulder is building its way back to relevance under coach Ryan Bishop. Players like Patchett should help the process.
Keiran Singh, RB, 2022, Monarch: Singh rushed for 1,303 yards on 213 carries in Coyotes coach Phil Bravo's double-wing system a year ago, by far the most productive of the 11 players who recorded a carry for Monarch in 2019. Singh is a patient back with pop in the backfield. He also proved plenty durable at more than 21 touches per game. In 2019, he ended the season with four straight 100-yard games on the ground, totaling 677 yards and eight touchdowns.
Brayden Wood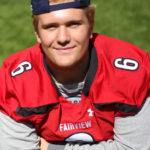 Brayden Wood 6'3" | DL Fairview | 2021 State CO , DL, 2021, Fairview: The three-star defensive end by 247Sports and Rivals already has offers from Arizona State, Colorado State, Hawaii, Kansas State and Louisville, among others. With all the talk about the Knights' air assault, Wood was dominant on the other side of the ball. He had 18 tackles for loss and 2 ½ sacks. Of his 116 tackles on the year, 70 were solo. In last year's postseason, Wood had 20 tackles in two games and two tackles for loss.