With many conferences in college football postponing the season to spring, offers and verbal commitments are still business as usual. Notable players from their performance on the field last season are still awaiting their first opportunity to play at the next level.
Check out these five quarterbacks in the class of 2021 come January.
Ty Harris – Escalon – Pro-Style
In 2018 as sophomore, Harris made his varsity debut as the starting quarterback in the first round of the Sac-Joaquin Section Division VI playoffs against Calaveras. He would go on to play one more playoff game finishing his sophomore season with 285 passing yards, completing 18 of 42 passes, and throwing two touchdowns. This would be the beginning of Harris being named a starter for the Escalon Cougars for the 2019 season leading the program to a 14-1 season and defeating the La Jolla Vikings 52-21 in the CIF State Division 4-A Championship. During the five-game playoff to a championship run, Harris completed 42 of 62 passes, threw seven touchdowns, no interceptions, and posted a 142.3 passer rating.
Logan Stough – Del Oro – Dual-Threat
Despite appearing in only three games last season due to injury, look for Stough to take the Sierra Foothill League by surprise standing at six feet with his strong throwing arm and speed as he ran a 4.64 40-yard dash this offseason. Stough appeared in Del Oro's Sac-Joaquin Section Division I first-round playoff game completing 12 of 23 passes and throwing two touchdowns. During league play, Stough and the Del Oro Golden Eagles will have two big matchups against three-star recruits Ari Patu Ari Patu 6'4" | QB Folsom | 2021 State CA and Justin Lamson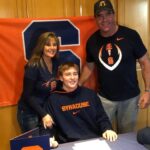 Justin Lamson 6'2" | QB Oak Ridge | 2021 State CA .
Seth Miguel – Hilmar – Dual-Threat
After leading the Hilmar Yellowjackets JV team to an 11-0 season in 2018, Miguel's starting role was highly anticipated replacing Treven Crowley who led the Yellowjackets to back-to-back Division VI section championships and the school's first state title. Miguel did not disappoint leading the Yellowjackets to an 11-2 record while finishing seventh for the most passing yards and highest completion percentage from a junior starting quarterback in the section. Miguel also finished 21st for the most touchdown passes thrown by any junior quarterback in the state. As a dual-threat, Miguel finished ninth for the most rushing yards in the Trans Valley League, the most by a quarterback.
Richie Watts – Rocklin – Pro-Style
With a schedule going against the two of the top teams in the state (Folsom and Oak Ridge) and having the Whitney Wildcats as a cross-town rival, Watts under first-year head coach Jason Adams was still able to stand out amid all quarterbacks in the Sacramento Metropolitan Area. Watts and Adams lead the Rocklin Thunder back to the CIF Sac-Joaquin Section playoffs after a one-year hiatus in 2018. As one of the top pro-style quarterbacks in the section, Watts' strong suit is completing passes under pressure along with averaging 35 yards for the longest gain each game in 2019. He finished in the top 3 for yards, completions, completion percentage, and touchdown passes from all junior starting quarterbacks in the Sierra Foothill League.
Sean Nixon – Sheldon – Dual-Threat
Nixon started all 10 games and was the only quarterback to appear in a game for the Sheldon Huskies in 2019. With a height of 6-foot-2, he displayed consistent throwing accuracy both in the pocket and while scrambling to keep plays alive. Two-star quarterback Anthony Grigsby and Nixon made strong cases for the top junior quarterback in the Delta League as they both finished No. 1 and No. 2 for passing yards, completions, and completion percentage among junior quarterbacks in the league last season. Sheldon is scheduled to play Cosumnes Oaks on Feb. 12 at home. The Huskies will have a new head coach, Sean's father Chris Nixon during his senior year. Chris Nixon was the head coach for the Elk Grove Thundering Herd from 2008 to 2016. His nine seasons included an 84-28 record and six trips to the CIF Sac-Joaquin Section playoffs.