Orange Lutheran (Orange) offensive lineman Jason White Jason White 6'4" | OL Orange Lutheran | 2021 State CA announced his commitment to Boise State Friday.
The 6-foot-4, 290 pound offensive lineman had 9 offers before committing to the Broncos.
White originally told reporters that he wouldn't commit until after taking more visits after the dead period ends. But Boise State was able to convince him to commit before the dead period ended and before his senior season began.
"I knew spots were starting to fill up," White told Greg Biggins of 247Sports. "Boise State was my top choice from the beginning and they already have a few OL commitments. They were encouraging me to commit and make sure I was a part of this recruiting class and the timing just felt good to me."
The other offensive linemen in Boise State's 2021 recruiting class are Joseph Amos of Lancaster, TX., Cord Kringlen of Holy Family High in Bloomfield, CO., and Mason Randolph Mason Randolph 6'4" | OL Yorba Linda | 2021 State CA of Yorba Linda, CA.
COMMITTED #stampede #GoBroncos pic.twitter.com/oHmky9P4jU

— jason white (@Jason_white77) October 2, 2020
Cal lands Northern California prospect
Defensive end Kaleb Elarms-Orr Kaleb Elarms-Orr 6'3" | DL Moreau Catholic | 2021 State CA from Moreau Catholic High (Hayward) announced his commitment to Cal Saturday.
Elarms-Orr had 65 tackles, eight for a loss and seven sacks for Moreau Catholic last season. He also caught 10 passes for 75 yards and a pair of touchdowns.
He is the fourth defensive end in Cal's 2021 recruiting class, all of them are from California: Akili Calhoun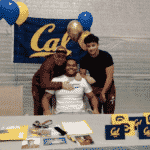 Akili Calhoun 6'4" | DL Liberty | 2021 State CA of Liberty in Brentwood, Derek Wilkins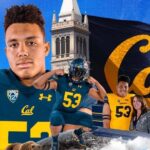 Derek Wilkins 6'4" | DL Santa Margarita Catholic | 2021 State CA of Santa Margarita and Myles Williams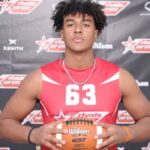 Myles Williams 6'3" | DL Bishop Alemany | 2021 State CA of Alemany.
Elarms-Orr is the seventh ranked defensive lineman in the state according to Prep Redzone.
Kaleb Elarms-Orr • @ka1ebelarmsorr_
Moreau Catholic HS • Hayward, CA
6'3" 210 • DE/OLB • 4.55 40YD • 2021
Stats: 81 Tackles/19 Sacks • #D1Bound
Soph Highlights: https://t.co/TT2T6W2t6f pic.twitter.com/7rGaUis4to

— DLineVids (@dlinevids1) June 23, 2019
La Habra defensive back commits
TJ Patu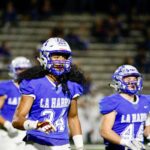 TJ Patu 6'3" | DB La Habra | 2021 State CA of La Habra announced his commitment to the University of Colorado last week.
Patu chose Colorado over his other finalist Washington State.
He told Greg Biggins of 247Sports that quality control coach Junior Tanuvasa was a big factor in him committing.
"Junior Tanuvasa, that's my guy right there," Patu told Biggins. "He's like family to me and was a big influence on my decision. He's a super chill guy and someone I was very comfortable with. We talked all the time, did some zoom calls and he's someone who was more than just a coach to me."
"When we talked, it wasn't just always about football. He talked about my grades, what I need to do to make sure I'm good there and he's someone I see as a mentor as well as a coach."
He deflected five passes for La Habra last season.
Patu played safety for the Highlanders last season but will play outside linebacker this season. Colorado recruited him as a linebacker. He is the second linebacker in Colorado's 2021 recruiting class.
He joins four other California players to commit to Colorado: Josh Bryan of Sierra Canyon, Ashton Logan of Orange Lutheran, Kaylin Moore Kaylin Moore 6'0" | ATH Oaks Christian | 2021 State CA of Oaks Christian and Nikko Reed Nikko Reed 5'10" | ATH Moreau Catholic | 2021 State CA of Moreau Catholic.
More FBF! A little pressure and pick6 @tj_patu pic.twitter.com/MpX3GIwXop

— Coach Mazzotta LH FB (@LHHighlanders) February 28, 2020
Mater Dei 2024 DL already has five offers
Aydin Breland of Mater Dei (Santa Ana) already has five scholarship offers according to Dan Albano of the Orange County Register.
The 6-foot-5, 315-pound freshman has offers from Arizona State, Colorado, Kansas, Oregon and USC.
Breland has elite speed for his size and raw strength, but told Albano he has several areas of his game he wants to work on.
"I need to work on things like better technique, staying low and trusting myself and not second-guessing myself," Breland told Albano.
Could Class of 2024 OL Aydin Breland be the next big-time offensive lineman to know in California? @adamgorney thinks so: https://t.co/Gu5D5lT7QD pic.twitter.com/dV5aSOT1CS

— Rivals (@Rivals) July 28, 2020