The early signing day has passed and for a short day high school football fans got to focus on the positives of high school football instead of the constant delays due to the pandemic.
Despite the fanfare and publicity of the early signing day, there are plenty of great football players who have yet to sign and will do so on the next signing day in February.
Many major programs have slots to fill after the early signing period. Some of them lost out on one of their favorite targets. Some of them swung for the fences and missed and now have multiple roster spots to fill.
Below is a list of football players in the Inland Empire that did not sign on the early signing period. Some of them are verbally committed, some have multiple offers and are still undecided, some are sleepers. The list is in alphabetical order.
Name, High School, Position
---
Julian Dedman Julian Dedman 5'8" | RB Upland | 2021 State CA , Upland, RB
Dedman had 80 carries for 473 yards and four touchdowns last season. He has offers from Florida Atlantic and Nevada.
@247Sports Julian Dedman
class of 21'
3 ⭐️
couple offers. 4.4 (40) pic.twitter.com/lDqEsgaxqR

— KingWhiteMike™ (@LLCOOLSOULJA) November 24, 2020
Jonathan Flowe Jonathan Flowe 6'1" | LB Upland | 2021 State CA , Upland, LB
Verbally committed to Oregon where his brother Justin plays. Flowe had 123 tackles, 10 sacks, an interception and five forced fumbles for Upland last season.
Korey Foreman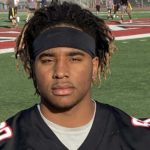 Korey Foreman 6'4" | DL Centennial - Corona | 2021 State CA , Centennial, DE
The top prospect in America. He signed on Wednesday and will announce his decision on Jan. 2.
Korey Foreman is the No. 1 prospect in the 2021 class for a reason. 👀@koreyforeman54 pic.twitter.com/FECo2TqT8W

— Hudl (@Hudl) April 13, 2020
Josh Lorick Josh Lorick 5'11" | WR Adelanto | 2021 State CA , Adelanto, WR
He had 21 catches for 549 yards and four touchdowns for Adelanto last season. Has offers from Florida Atlantic, Nevada and Wyoming.
Andre McKinney Jr., Rancho Verde, WR
McKinney had 45 catches for 758 yards and 9 touchdowns for an excellent Rancho Verde team led by AJ Duffy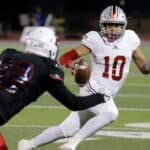 AJ Duffy 6'1" | QB Rancho Verde | 2022 CA . On the small side at 5-foot-8 with offers from Cal Poly, Davidson, San Diego and Southern Utah.
Rancho Verde QB AJ Duffy (@anthonyjduffy) to WR Andre McKinney Jr. for the touchdown against Corona Santiago. #IEvarsity pic.twitter.com/8mNNT5HIlV

— James H. Williams (@JHWreporter) August 31, 2019
Jeremy Naborne Jeremy Naborne 6'1" | WR Centennial - Corona | 2021 State CA , Centennial, WR
Can play both sides of the ball and was drawing attention on the camp circuit. Has offers from TCU and Tennessee.
Calvin Pitcher, Centennial, DB
Most tackles for any returning player for Centennial. Played well against top teams like Liberty of Nevada and St. John Bosco. Pitcher has offers from Eastern New Mexico, Idaho State and Valparaiso.
Rashaun Ramsey Rashaun Ramsey 5'11" | WR Adelanto | 2021 State CA , Adelanto, WR
Had seven receiving touchdowns and two rushing touchdowns for Adelanto as a junior. Only 170 pounds but has an offer from Arizona State according to 247Sports.
Rashaun Ramsey shakes and bakes from 37 yards out. pic.twitter.com/y7N4hllqWQ

— Jose Quintero (@DP_JoseQ) November 16, 2019
Tre Tribble, Kaiser, QB
Had 1,000 yards rushing and 1,000 yards receiving last season. Holds an offer from Weber State.
Dayjiohn Wheeler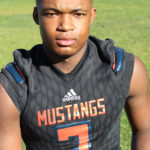 Dayjiohn Wheeler 6'4" | WR Roosevelt | 2021 State CA , Roosevelt, WR
Averaged nearly 18 yards per catch for Roosevelt as a junior. He has offers from Kansas, Miami, Nebraska, Syracuse, West Virginia and Wyoming.