The early signing day has passed and for a short day high school football fans got to focus on the positives of high school football instead of the constant delays due to the pandemic.
Despite the fanfare and publicity of the early signing day, there are plenty of great football players who have yet to sign and will do so on the next signing day in February.
Many major programs have slots to fill after the early signing period. Some of them lost out on one of their favorite targets. Some of them swung for the fences and missed and now have multiple roster spots to fill.
Below is a list of football players in the Los Angeles area that did not sign on the early signing period. Some of them are verbally committed, some have multiple offers and are still undecided, some are sleepers. The list is in alphabetical order.
Name, High School, Position
---
Amir Bankhead Amir Bankhead 5'9" | RB Paraclete | 2021 State CA , RB, Paraclete
One of the best players from the Gold Coast League and arguably the best underclassman running back in Division 3 last season. Not the tallest running back but is effective in the running and passing game. He has an offer from Colorado/
Lando Brown, LB, Serra (Gardena)
Brown is an inside linebacker who gets overlooked because of his size even though he isn't what I'd call small at 6-feet and 230 pounds. He had 99 tackles with 19 sacks and two forced fumbles last season. He is the first player you notice when you watch Serra on film. His coach Scott Altenberg said "Lando's not the tallest kid, but he's literally unblockable. He's a little undersized, but all he is, is just the best player on the field all the time."
Jack Clougherty, QB, Muir
He transferred to Muir from St. Francis where he threw for 2,300 yards and 30 touchdowns as a junior. He is right at 6-feet tall and hovers between 160 and 170 pounds and is more of a pro-style quarterback. He has offers from Drake, Sacred Heart and Valparaiso.
Jack Clougherty hits @bryson9reeves on TD pass, as @SFGoldenKnights ties the score at 14-14 with Westlake. @AthleticsSFHS @210PrepSports pic.twitter.com/vdgWUL5EFG

— Brian Reed-Baiotto (@BReedBaiotto) September 14, 2019
Zevi Eckhaus, QB, Culver City
Eckhaus led all juniors in the Southern Section in yards (4,456), yards per game (342.8) and touchdowns (59) last season for Culver City. He does a great job keeping his eyes downfield while being pressured and makes very difficult throws. He has offers from Colgate, Sacred Heart and William & Mary but if he were two inches taller he would have Pac 12 schools calling. I expect him to get FBS offers if there is a season this year.
Alonzo Fontenette Alonzo Fontenette 6'2" | WR Oaks Christian | 2021 State CA , WR, Oaks Christian
Tall receiver at 6-foot-3 and averaged 13 yards per catch last season. Impressive athlete and runs solid routes. Greg Biggins of 247Sports expects him to go to Fresno State but he also holds offers from Arizona State, Colorado State and UNLV among others.
6'4 185lb Oaks Christian WR Alonzo Fontenette is working hard because he is going to dominate the DB's who try to test him this year. Alonzo's has flipped the switch and is determined to show what it takes to perform on a D1 level. @Fontenet3Alonzo @RyanWrightRNG pic.twitter.com/QsHenq5gOg

— Slim Body Fitness (@sbfitnesss) May 8, 2019
Semaj Freeman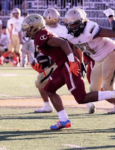 Semaj Freeman 5'11" | RB Oaks Christian | 2021 State CA , RB, Oaks Christian
He was part of a three-headed backfield for Oaks Christian last season and he had 486 yards on 53 carries with six touchdowns. Freeman isn't featured much in the passing game but he has the skillset to make plays in open space. He has offers from Nevada, New Mexico, Northern Arizona and Valparaiso.
Giovonni Harper, DB, Cathedral
He had 37 tackles and three interceptions last season. Harper has the ability to play corner or safety at the next level and closes in on ball carriers quickly. He has offers from Lake Erie College, Northern Arizona and UNLV.
Jaden Jones, QB, Westlake
Transferred to Westlake from Oxnard. He is a dual threat guy who wasn't asked to do much with the passing game at Oxnard but did very well. Completed 73 percent of his passes for and had 22 touchdowns with just two interceptions. He has an offer from Montana.
Josh Long Josh Long 6'4" | LB Loyola | 2021 State CA , LB Loyola
When you watch film of Loyola's defense it almost seems like Long is in on the tackle or near the ball on every play. He had 86 tackles and 3.5 sacks for a CIF-finalist Loyola team last season. He fits well as an outside linebacker in any defensive scheme. He has offers from Arizona State, Kansas, New Mexico, Nevada and UNLV.
Cole Lourd Cole Lourd 6'2" | QB Brendwood School | 2021 State CA , QB, Brentwood
Lourd is a decent sized pro style quarterback who put up big numbers for Brentwood. He threw for 2833 yards and 32 touchdowns and also ran for six touchdowns despite his pro style label. Has a 29 ACT score and has offers from multiple Ivy League schools among others.
Earnest McDaniel Earnest McDaniel 5'8" | WR St. Bernard | 2021 State CA , ATH, St. Bernard
Transferred to St. Bernard from JSerra. I covered a JSerra game last season when they lost to a superior St. John Bosco team but McDaniel stood out as one of the few JSerra skill players that could hang with the Bosco defenders athletically. Makes extraordinary catches and can jump with anyone. Has offers from Arizona State, Florida Atlantic and Nevada.
Big throw by Garrett Philips to Earnest McDaniel to set up tying JSerra TD. pic.twitter.com/unqMlQeshG

— eric sondheimer (@latsondheimer) September 15, 2019
Tyray O'dell, LB, Serra
The second best defensive player for Serra last season behind the aforementioned Brown. He had 86 tackles, two sacks, a fumble recovery and a blocked punt last season. He has offers from Nevada and Utah State.
Kekoa Pele-Allen, OL, Oaks Christian
A solid interior lineman who would have benefitted from having a normal senior season in the fall. Big body who can pull and make blocks at the second level in the running game. Could also play center at the college level if a coach requested that. He has offers from Cal Poly and Idaho.
Bryson Reeves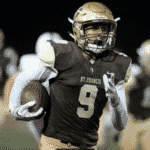 Bryson Reeves 6'2" | ATH St. Francis | 2021 State CA , ATH, St. Francis
He caught 58 passes for 995 yards last season and 10 touchdowns. He also had an interception and 29 tackles on defense. One of the best unsigned athletes in Southern California. He has 23 offers including Boise State, BYU, Fresno State, San Jose State, Utah State and Vanderbilt.
Caron Richards Caron Richards 6'2" | DL Inglewood | 2021 State CA , DL, Inglewood
He is 6-foot-3, 265 pounds and very athletic for an interior defensive lineman. I think he would be an excellent 3-technique defensive tackle at the next level but can play nose in a 3-4 scheme or a 1-technique. He has an offer from Kansas.
Donovan Smith Donovan Smith 6'3" | QB Los Osos | 2021 State CA , QB, Damien
Damien is more in the San Gabriel Valley but we are putting them in LA for now. Smith is weirdly an under the radar quarterback considering he has an offer from Cal. He threw for 2517 yards last season and 19 touchdowns and had five rushing touchdowns for Los Osos last season.
Julian Stokes, RB, Grace Brethren
He had 1375 yards and 18 touchdowns on the ground last season. I think he is a serious weapon as a route runner out of the backfield as well. He caught 16 passes for 236 yards and three touchdowns. He has an offer from Air Force where he would fit nicely in their offense.
Julian Stokes continues to have himself a game.

76 yd TD run puts Grace Brethren up 49-14 with 8:46 left to play @vcspreps pic.twitter.com/2iEJtExr4B

— Ramsey Abushahla (@Lebapino) October 12, 2019
JD Sumlin, RB, Alemany
He rushed for 990 yards and 14 touchdowns for Sierra Canyon last season. He is a threat in the passing game too, catching 49 passes for 528 yards and three touchdowns. He is versatile and could also be a slot receiver at the next level. Sumlin has offers from BYU and Navy.
Victory Vaka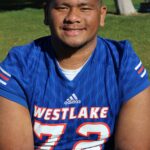 Victory Vaka 6'2" | DL Westlake | 2021 State CA , DL, Westlake
He is massive at 350 pounds and has length too at 6-foot-2. He was committed to Texas A&M but opened his recruitment back up and will commit on January 6. He destroys double teams in the running game. There is concern if he can keep his weight under control or not. He has offers from BYU, Colorado, Michigan, Penn State, Vanderbilt among others.
Ceyair Wright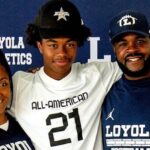 Ceyair Wright 6'1" | DB Loyola | 2021 State CA , DB, Loyola
With the exception of Korey Foreman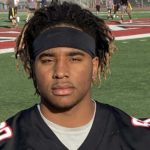 Korey Foreman 6'4" | DL Centennial - Corona | 2021 State CA , he is the best unsigned player in the state. He will commit on January 2 during the All American Bowl broadcast on NBC. One of those rare talents that can start immediately for most Power 5 teams in the nation. He is very likely to sign with USC.
WATCH: 4⭐️ CB Ceyair Wright (@ceyairr) hit a max speed of 19.7 MPH on this 54-yard TD

For context, the avg max speed for the c/o '21 top 200 RBs was 19.2 MPH #myRAmaxspeed @BrandonHuffman @adamgorney @GregBiggins @FootballRecruit @LoyolaFB l #C4L pic.twitter.com/WRJXBJpcH0

— Recruiting Analytics (@RAanalytics) July 6, 2020