The early signing day has passed and for a short day high school football fans got to focus on the positives of high school football instead of the constant delays due to the pandemic.
Despite the fanfare and publicity of the early signing day, there are plenty of great football players who have yet to sign and will do so on the next signing day in February.
Many major programs have slots to fill after the early signing period. Some of them lost out on one of their favorite targets. Some of them swung for the fences and missed and now have multiple roster spots to fill.
Below is a list of football players in the Orange County and San Diego area that did not sign on the early signing period. Some of them are verbally committed, some have multiple offers and are still undecided, some are sleepers. The list is in alphabetical order.
Name, Position, High School
---
Zeus Alefosio Zeus Alefosio 6'2" | ATH Villa Park | 2021 State CA , ATH, Villa Park
A jack of all trades guy for Villa Park who plays receiver and linebacker. He caught 19 passes for 293 yards and three touchdowns for the Spartans and had 18 tackles. Has the speed to be all over the field on defense and is big enough to match up against tight ends in pass coverage. Alefosio has offers from Colorado and New Mexico.
Byron Cardwell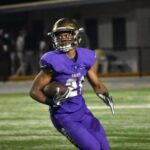 Byron Cardwell 6'0" | RB Morse | 2021 State CA , RB, Morse
Cardwell is the best running back in the state and fun to watch on film. He is built at around 205 pounds and fast enough to make big, explosive plays. He also can make plays in the passing game out of the backfield. Greg Biggins of 247Sports compared him to Melvin Gordon. Experts figure that Cal, Oregon and UCLA are the top three contenders to land him. Cardwell will commit on January 25.
#KUSI #PPR #PlayOfTheWeek #4:Byron Cardwell, @saints_info. RT to vote for Byron! pic.twitter.com/8VRumROCiE

— Prep Pigskin Report (@KUSIPPR) November 27, 2018
Evan Comiskey, DT, Aliso Niguel
Comiskey has the speed and pass rushing skills of a defensive end but lines up most often as a 3-technique. He had six sacks and a forced fumble for the Wolverines last season. Comiskey is an exemplary student and is a 2021 National Merit semifinalist. He has FCS level talent but will likely play at an academic school. He has offers from Carnegie-Mellon, Chicago, Johns Hopkins and MIT.
Giulio Fernandes, LB, El Toro
Fernandes has the third most tackles for any returning player in the Southern Section (155). He does an excellent job avoiding offensive linemen in the running game and is a high-level tackler. He was the best player on an overmatched team and could hang physically with guys on bigger and better teams. He has offers from Benedictine College, Lake Erie College and Whittier College along with a Division 1 offer from San Diego.
Colt Fulton Colt Fulton 6'4" | QB Santa Margarita Catholic | 2021 State CA , QB, Santa Margarita
Fulton completed 111 of 216 passes for 1,361 yards and seven touchdowns last season and would have put up better numbers but he missed a little time due to injury. He is the top uncommitted quarterback in Orange County and in my opinion a top five uncommitted quarterback in the state. Big lefty at 6-foot-4, 200 pounds a natural leader. Fulton holds five offers from Bucknell, Florida Atlantic, Northern Colorado, San Diego and Yale.
WIDE OPEN 😱@coltfulton_ ➡️ @IanGrogan1@SMCHS_Football | #PrepZone pic.twitter.com/87jd7JHHSM

— FOX Sports Prep Zone (@prepzone) November 9, 2019
Jaden Genova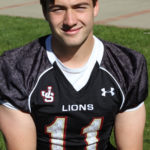 Jaden Genova 6'0" | LB Jserra Catholic | 2021 State CA , LB, JSerra
He was arguably the best defensive player for JSerra last season earned All-County honors. Genova had 84 tackles, 9 hurries and 3 forced fumbles for the Lions, who play in the best league in the country. He may have broken the career tackle record at JSerra if they were able to play a full season. Genova has offers from Army, Oregon, Idaho State, and Lake Erie College.
Vance Jefferson Vance Jefferson 6'0" | WR Poway | 2021 State CA , WR, Poway
Jefferson is the second best receiver in San Diego and despite being unsigned, he isn't under the radar. Major schools know about him and he stands out when you watch Poway on film. He had three touchdowns for Poway last season but Poway runs the ball on nearly 70 percent of its snaps. Jefferson has offers from Arizona State, Central Michigan, Colorado State, Holy Cross and San Diego.
Some clips from the @BlueGreyFB Bowl I played in this weekend!!@premiumsportsla @Daygofootball @HighIntensitySD pic.twitter.com/r9GqwDRhGj

— Vance Jefferson (@VanceJ_2) December 16, 2020
Champion Johnson Champion Johnson 6'2" | LB Jserra Catholic | 2021 State CA , ATH, Mater Dei
Johnson had 15 tackles in seven games for JSerra last season. He had a monster sophomore season at Bishop's of La Jolla, where he caught 26 passes for 333 yards and six touchdowns and had 48 tackles, three sacks and two interceptions on defense. He will play his senior season at Mater Dei and he has offers from Oregon and San Diego State.
Dartanyon Moussiaux, QB, Capistrano Valley
He had the most passing yards in the very competitive South Coast League last season and was named "King of the Desert" at the 2020 Las Vegas Throw Down competition. He is tall at 6-foot-5 and will put up big numbers again if Capo Valley gets to play, considering they will be in the weaker Sea View League where he is the best quarterback. Moussiaux has an offer from Lake Erie College.
Clay Petry Clay Petry 6'2" | WR Helix | 2021 State CA , WR, Helix
Petry transferred to Helix after playing at Bishop's of La Jolla last season. He had 1204 yards on 68 catches with 14 touchdowns and was among the top receivers in San Diego. He runs good routes, can make tacklers miss and has long strides. Boise State and San Diego State both want him and he holds 11 offers.
Bryce Phillips Bryce Phillips 5'11" | DB Orange Lutheran | 2021 State CA , DB, Orange Lutheran
He transferred to Orange Lutheran from La Habra where he had 25 tackles and two interceptions last season. He is the younger brother of Clark Phillips who was the Orange County Defensive Player of the Year last season and now plays at Utah. He has good closing speed and has room to put on more size. Phillips has offers from Florida Atlantic and Morgan State.
Keanu Rebuldela-Kama, DB, Santa Margarita
He is tall for a safety at 6-foot-2 and has room to put on some size, which he will need to do. He had 38 tackles and an interception for Santa Margarita and is aggressive in the running game. Valparaiso is the only school to offer Kama but Yale has also contacted him.
Caiden Robertson, LB, San Clemente
Robertson will be a three-year starter for one of the top five defenses in the county and led the team in tackles last season. When watching him, it's apparent that he studies film intently and his football IQ is excellent. When he blitzes he hits the right gap and is under control while still getting there before the offensive lineman can leave their double team blocks. His only offer is from Lake Erie College and if San Clemente gets to play this season, FCS schools should go out of their way to watch him play.
🚨HS Prospect Spotlight🚨
❗Hidden Gem❗@CaidenRobertso2
🗣Caiden Robertson
🏫San Clemente-San Clemente,CA
📏6' 2" 220
🏈Linebacker
🎓June 2021
📸Robertson_caiden
⭐⭐on https://t.co/CSbDSZtPCW
🎥https://t.co/YMqLrhPjsa pic.twitter.com/c1MxPe9AIU

— GridironRR (@GridironRR) December 8, 2020
Elijah Sauvao, OL, La Habra
Sauvao is a big interior lineman who overpowers many defensive linemen. His footwork as a pass blocker is good and he has great instincts on how to help when he is an uncovered lineman in pass protection. He has an offer from Idaho.
Josh Simmons Josh Simmons 6'6" | OL Helix | 2021 State CA , OL/DL, Helix
The top offensive lineman in the state and possibly the entire west region. He wants to play defensive line at the next level which is fine because he has collegiate level skill on defense as well. USC and Nebraska have recruited Simmons hard and they both respect his desire to play defense. San Diego State is also in the mix to land Simmons.
Dylan Smith Dylan Smith 6'6" | OL Carlsbad | 2021 State CA , OL, Carlsbad
A 6-foot-6 tackle with room to grow at 280 pounds. He can play on either side of the line, has quick feet as a pass blocker and enough brute strength to overpower speedy defensive players. He is arguably the best player on one of the best teams in San Diego. He has offers from Colorado and UCF.
Drew Sulick, LB/DB, Santa Margarita
Much like Genova he is the best tackler on a Trinity League team and is somehow still under recruited. He is very aggressive in the running game and has good football instincts. Sulick always seems to be in the right place at the correct time. He was First Team All-Trinity League and landed an offer from San Diego this week.
Cole Yoshida, WR, Tesoro
Tesoro always has a receiver near the top of the county leaderboard in yards and touchdowns and if this season gets played, Yoshida will be that leading receiver. He excels at finding holes in zone defenses and he has the speed to blow away safeties covering him in man coverage from the slot. Yoshida has offers from Whittier College, Lake Forest College, Puget Sound, Pacific University and Redlands. He recently landed an offer from McPherson College and expects more offers in January.