We broke down the top prospects in the 2023 class from the state of West Virginia. Each one of these prospects, we believe, has a high ceiling at not only the high school level but also the collegiate level as well. Some have already picked up offers, and some are still waiting on their first. Here's who stood out!
---
DL: Mari Lawton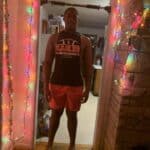 Mari Lawton 6'3" | DL South Charleston | 2023 State WV , 6'4, 245, South Charleston
The most highly touted prospect on this list, who already holds multiple Division one offers. Lawton is an overwhelming pass rusher, with a strong punch and a mean bullrush. He's crafty with his hands and can slap or swipe away an opposing offensive lineman's punch. He's shown the ability to move around and will lineup at both 5 technique and 3 technique. Based on his sheer size already, it's my belief that he will add some weight as he continues to grow and will kick down to a defensive tackle at the next level. The future is very bright for this young man.
QB: Trey Dunn Trey Dunn 6'1" | QB South Charleston | 2023 SC , 6', 185, South Charleston
As a sophomore, Dunn had 30 total touchdowns to go along with 2,154 total yards. He is electric in the open field with the ball in his hands and can provide a ton of value in the quarterback run game. He shows exceptional wiggle for a quarterback and can turn on the jets quickly. On film, he's a fantastic redzone thrower, with exceptional touch on the corner route & fade ball. Dunn is a gifted thrower outside the pocket who excels at pushing the ball downfield.
DL: Noah Braham, 6'3, 215, University
Noah plays as both a standup outside linebacker and a true hand in the dirt 5 technique. On film, he showed quick hands and overall solid bend off the edge as a pass rusher. He's stout against the run and will get lockout before ripping off a blocker. He understands pass-rushing techniques and will force opposing offensive linemen to open up their hips before he comes underneath. This young man has a ton of upside and plays fundamentally sound football. He understands the importance of keeping your outside arm free and reaps the benefits with a plethora of tackles for loss.
QB: Brett Phillips, 6'1, 170, Wheeling Park
As a freshman, Phillips threw for 15 touchdowns to just 1 interception and was spectacular in his first year of high school action. However, his best gift may be his running ability, as he rushed for over 600 yards and 12 touchdowns on the ground. As a runner, Phillips shows the speed to get to the corner quick and can run through arm tackles. He's poised when throwing on the run and will drop a dot right to his target. On film, he's got a high football IQ and understands his give/pull read in the RPO game. Phillips has a bright future and should be one of the state's top quarterbacks when he's a senior.