With the absence of traditional high school football, club football has been on the rise, particularly the Winner Circle Champions League.
The league is run by Winner Circle Athletics, a training facility in Corona led by ex USC football standout Jordan Campbell.
Every week, the league has games at a field in Chino. According to Campbell, the league currently consists of 34 teams and 18 games each weekend with 1,500 players playing (approximately 44 players per team). The teams provide their own equipment, uniforms and insurance.
Some teams feature a roster of athletes from various schools. Other teams are made up of local high school teams with a handful of other players mixed in.
The Long Beach Grind are the latter. The vast majority of its roster are players at Long Beach Poly High. Two of the team's players are from Chaminade (West Hills) and Dominguez (Compton).
The team is coached by Rene Medina, the offensive coordinator at Long Beach Poly and the team is 4-0.
Below are the prospects on the team who are already committed to colleges or have scholarship offers.
Daylen Austin (Long Beach Poly) — Austin is a 6-foot-1 athlete who can play receiver or defensive back. He has an offer from San Jose State which he received after playing club football so there is a chance the scouts saw his film from the club league and chose to offer him based on that. He has plus speed and room to put on size. Austin has Power 5 potential if he puts together a good sophomore or junior season at Poly.
"Thats pick" pic.twitter.com/CnpNYL87Pb

— DAYLEN AUSTIN 🦇. (@DaylenAustin4) January 20, 2021
Michael Fesili (Long Beach Poly) — Fesili is 6-foot-2 and 290 pounds and has been a starter at one of the top schools in the state for two years. He has the versatility to play on the interior line as well as tackle at the next level. Fesili excels when blocking downfield on fold blocks, almost as a puller. He has offers from Texas Southern and Weber State and should add some more FCS offers.
Shea Kuykendall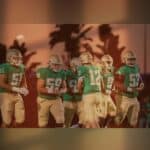 Shea Kuykendall 6'1" | QB Long Beach Poly | 2022 State CA (Long Beach Poly) — Kuykendall is one of the higher-profile players in the league, being a quarterback in the Elite 11 circuit and UA All-American camp attendee. He is 6-foot-1 and around 205 pounds and is a pro-style quarterback who can throw on the run as well. His eyes are always downfield even when being rushed and while he isn't a speedster, he has the athleticism to extend plays. Kuykendall has an offer from William & Mary and has been in contact with Yale as well.
@JohnGarcia_Jr
Shea Kuykendall
Long Beach Poly QB 2022
6'2 198 – 4.2 GPA – 4.68 40
Elite 11, Elite Underclassmen, QB Throwdown – Top Performer , UA All American Camp, #18 CF Today, CalHi Sports Hot 100 '22, Top 100 247 Sports, 3⭐️Most Recruit Analyst. Full hudl @KuykendallShea pic.twitter.com/OPW3sPqsci

— Shea Kuykendall (@KuykendallShea) October 16, 2020
Keyonta Lanier Keyonta Lanier 6'0" | ATH Long Beach Poly | 2021 State CA (Long Beach Poly) — Lanier is one of the few already signed players on the Grind. He is 6-feet tall and on the lighter side at around 160-170 pounds. He is signed with New Mexico and also had offers from Arizona State and UNLV. Lanier has great speed and beats a lot of quality high school defensive backs in man-to-man coverage and he wins a lot of jump balls.
Bryun Parham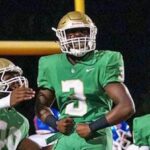 Bryun Parham 6'1" | LB Long Beach Poly | 2021 State CA (Long Beach Poly) — Parham is coming off an injury and hasn't played a game yet for the Grind but if he did, he would be one of the top players in the entire league. He had the most impressive numbers of any defensive player in the Moore League last season with 102 tackles, 24 for a loss, eight sacks, an interception, three forced fumbles and a blocked punt. He is signed with San Jose State.
Jr szn 💰 was just a glimpse of what I can do, im just patiently waiting💯🙏🏿 pic.twitter.com/8u0hn4pk21

— The 🥇 (@bryun7) January 22, 2020
Jordan Riles (Long Beach Poly) — Riles is the tall and lengthy receiver in Poly's receiving corps at 6-foot-4. They line him up all over the field and he runs solid routes. He has a lengthy stride and uses his height and athleticism to win jump balls. Kuykendall and Riles have connected a few times for touchdowns in this club league and will do so many times if Poly gets to play a football season. He has offers from Central Michigan and Florida Atlantic.
Jordan to Jordan Riles! Poly 35, Wilson 17 8:32 Q3 pic.twitter.com/bRnU8LE3Iv

— The562.org (@562sports) October 5, 2019
Dominic Arango Serna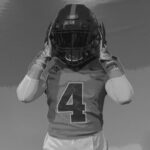 Dominic Arango Serna 5'11" | WR Sierra Canyon | 2022 State CA (Chaminade) — Serna is undersized but very polished and can make plays. He put up massive numbers at Canoga Park last season catching 61 passes for 1,341 yards and 15 touchdowns as a sophomore. He was named All-County in LA last season and has been doing well in the club league and 7-on-7 camp circuit. He is a 4.0 student and is one of the best route runners in the league. Serna has offers from Columbia, Dartmouth and Penn.
Jacob Tuioti Jacob Tuioti 6'2" | DL Long Beach Poly | 2021 State CA (Long Beach Poly) — Tuioti was the best defensive lineman in the Moore League last season and was named the league's Defensive Player of the Year. He had 61 tackles, 45 solo tackles, 5 sacks, 2 forced fumbles and 10 hurries. He can play as a one-technique of three-technique on the defensive line and his athleticism creates matchup problems for some offensive linemen. He is signed with Army.
Congrats to my guy @Jacob_Tuioti62 in 2019 he had 61 tackles, 22 TFL, 10 sacks, 2 caused fumbles, 1 pass deflection. He was League DPOY, all league. @ArmyWP_Football is getting a complete player at DL that can stuff the run and put the hits on the QB. pic.twitter.com/eaYqRKk9aI

— Stephen Barbee 🤘🏼🐇🏈 (@CoachSBarbee) December 16, 2020