The North Bay is sprinkled with collegiate talent every year ranging from the DI-DIII level but still remains a very under recruited region, but is on the rise over the last few years. The class of 2021 has some special talent starting with National Recruit Brock Bowers Brock Bowers 6'4" | TE Napa | 2021 State CA and other D1 bound prospects such as Arizona bound Logan Kraut Logan Kraut 6'2" | WR Maria Carrillo | 2021 State CA , Washington State bound Tsion Nunnally Tsion Nunnally 6'3" | WR Cardinal Newman | 2021 State CA , San Diego bound John Giguiere, UC Davis bound Matteo Perez and San Jose State bound Kai Petersen-Davison. Although the 2020 football season is still up in the air within the state of California, below are is Part I of this series in which we will look at some of the top prospects that the North Bay has to offer that are flying under the radar. 
DB Dante Antonini 6'1″ 190 Ibs., St. Vincent de Paul HS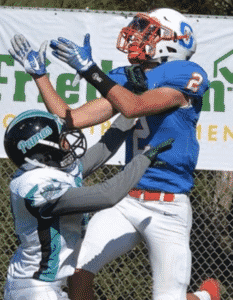 Currently rated as a 3-Star prospect by 247-Sports, Antonini is coming off a solid Sophomore campaign where he was a two-way playmaker for the 9 win Mustangs. He has done a great job this off-season improving his play and overall speed, clocking in a verified laser sub 4.6 40 YD at the National Preps Showcase in November. On tape, Antonini is a long and rangy corner with a big frame and high football IQ that has a strong understanding of zone responsibilities and overall field awareness. In only his second year playing football, he flashed he is a very instinctual player while possessing a quick trigger when breaking to ball carriers/bringing a good thump at the point of attack. Physical while in press man and not afraid to drop into the box and take on blockers and tackle in traffic, he does a good job at getting hands on receivers and using his length to keep them off his body and while shedding blocks. Also possessing natural high point and big play ability, due to his overall size, length and hip fluidity, he projects as a safety at the next level but can also find success at the boundary corner position.
LB Santino Acevedo 6'0″ 180 Ibs., Cardinal Newman HS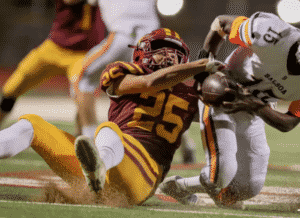 Starting at linebacker for one of the best teams in the Bay Area and coming off a State Championship win, Acevedo is on his way to being one of the top defenders that the North Bay has to offer in the 2023 class. During his Freshman season while seeing action on Varsity, Acevedo was a very sound defender that showed good lateral movement in space and through traffic along with good open field tackling ability while being able to break well to ball carriers in a hurry. A true sideline to sideline player, he shows good physicality and is a high motor second level defender that flashes closing speed and quick play recognition while seeming very comfortable in coverage and standing out on special teams. He is poised for a huge Sophomore season for the Cardinals.
DL Giovanni Mencarini 6'3.5″ 215 Ibs., Rancho Cotate HS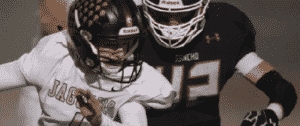 Coming off a strong Sophomore season for the State Champion runner ups, Mencarini is a very well balanced defender in both the run game and while rushing the passer off the edge. On tape, Mencarini is a natural pass rusher with good natural bend and use of hands at the point of attack. Against the run, he is very gap sound and plays with good pad level and inside hand placement while being able to get off blocks without false steps and giving up ground. Rushing the passer, he has an explosive first step get off and gets vertical in a hurry while being able to dip and bend around the edge with a good variety of pass rush moves at his disposal. A very physical and high motor prospect, the 2022 edge defender should start to see more college interest come his way as he enters into his Junior season on a loaded front seven.
WR Gianni Gigliello 5'7″ 150 Ibs., Rancho Cotate HS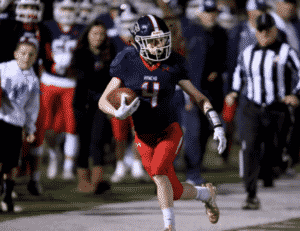 Although a bit undersized, Gigliello plays a lot bigger than he is and was a key piece for the State Champion runner up Cougars where he was a two way athlete that made a big impact on both sides of the ball. Currently holding two roster spot offers from Puget Sound and Whittier, he displays a good initial burst, strong hands and tracking ability while showing good patience when setting up his routes and short area quickness on both in-breaking and outbreaking routes. On defense, he displays fluid hips in transition and covers ground well while showing a good use of hands and placement in press coverage and is a strong tackler in space, especially for his size. Doing most of his work from the slot and the corner position, the Rancho Cotate product is looking to have a big Senior season and should see more D-III offers roll in as we get into the Spring.