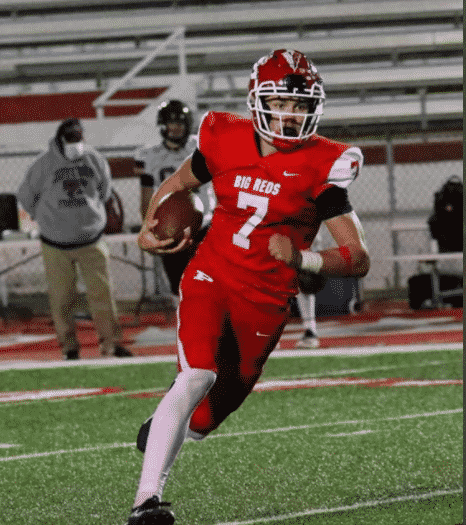 Posted On: 01/31/21 12:29 PM
Every day we receive many prospective athlete's highlight film to review. We review each one sent and we are grateful for every single athlete and or parent who reaches out to send us film. Our mission at PrepRedzone is simple — to cover as many players as possible. However, unfortunately, not everyone makes our list to be featured or ranked. Our articles go out to hundreds, if not thousands of college coaches from around the country, who are just one of our many of our much-appreciated subscribers. If you have any athlete you think can make our list, please send their film to our Twitter page @PrepRedzoneWV and give us a follow, or you may email the author at emmanuel@prepredzone.com. We would love to hear your feedback as well.
1. Ean Hamric Ean Hamric 6'1" | QB Gilmer County | 2022 State WV ( 22 ) | 6-1 QB | Gilmer HS
The first couple of things that stand out when you watch Ean play, is his arm strength and running ability. In his junior season, he completed 91 out of 143 attempts for 1,516 yards through the air and 20 touchdowns with only 6 INTS in 9 games.  This is a true dual-threat quarterback who can light up scoreboards with his arm and dangerous speed. Rushing for 597 yards and 8 TDS to add to his Junior season stats. He shows the ability to make all of the throws and has decent mechanics as a QB. Ean is not afraid to tuck the ball and run into the end-zone himself. He has average size and will be a heck of a steal for any school looking to add an outstanding athlete at the quarterback position.
2. Bryson Singer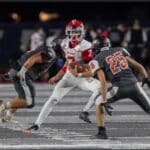 Bryson Singer 6'3" | QB Parkersburg | 2022 State WV (22) |6-3 QB| Parkersburg HS
Bryson has been featured many times here at PrepRedzone and is one of the prominent quarterbacks in his class of 2022. I love his passion for the game and work ethic, his parent's involvement in his success, is also evident. He comes from a good background and is a humble leader on the field. Most importantly, this kid can play, — coaches if you are looking for a big-time playmaker, this is the QB. Bryson has dangerous speed, agility and can also run over defenders. He shows he can make all the throws. He has the requisite arm strength you'd like to see at the position and also shows great velocity on all throws.
3. Evan Roach Evan Roach DB Point Pleasant | 2023 State WV ( 23 ) | 5-9 ATH | Point Pleasant HS
Evan is your power -running back that is a workhorse at that position. He has a very athletic build and size relative to that of a Christian McCaffrey of the Carolina Panthers,– the kid is built. He is used to playing at both sides of the ball, but I believe is best suited to play RB because of his ability to score. His athleticism, size, and speed caused him to be a terrific straight line runner in between the tackles. He can find holes and then exploit them with his speed.
Film: http://www.hudl.com/v/2EfYeV
4. James Scott James Scott 5'11" | DL Huntington | 2022 State WV (22) |6-0 DL  | Huntington HS
James is a decent nose tackle who seems to plug up holes and make plays on the ball because of his pursuit to the ball. He has got a good punch and extension due to his wingspan, he shows that he can find the ball in the backfield and make a play for a TFL or get after the QB for a hurry or a sack.
5. Jaeden Hammack Jaeden Hammack 6'1" | DB University | 2023 State WV ( 23 ) | 6-1 WR / QB / DB | University HS
This guy can do it all, he can play all over the field. I really couldn't say which position I like him best at, but I know he is pretty intimidating at DB or WR. He can also pass the ball and can run with it out of the backfield. Similar to being used as a Taysom Hill type of athlete than can do it all. I was really impressed by his size and his overall athleticism. I say this is an FBS/FCS type of prospect.
6. Ismael Borrero Ismael Borrero 6'1" | QB Hurricane | 2022 State WV (22) |6-2 QB | Hurricane HS
Ismael is a pro-style quarterback with a laser of an arm. He has the terrific arm strength and reminds me of a young Collin Kapenick when he used to play for Nevada in college. His dexterity of throwing is kind of a side-armed one not over the top, in which he is able to put an impressive zip on the ball and hit open targets. This is an FCS or even FBS type level of a prospect that would be a steal for any school at this point in his recruitment.
 Film: http://www.hudl.com/v/2EBYBw
7. Isaiah Gardiner Isaiah Gardiner 6'0" | QB Pendleton County | 2021 State WV (21 ) | 6-0 QB | Pendleton County
This is a very underrated player due to his size but Isaiah Gardiner Isaiah Gardiner 6'0" | QB Pendleton County | 2021 State WV is a decent QB with good arm strength and velocity he shows on his throws. He can throw on the run and complete a dart to an open receiver without setting his feet. Although he needs some work on his mechanics, the attributes are there for this QB and his arm strength. His career stats were impressive completing 200 out of his 328 passes for over 2,632 yards passing and 30 touchdowns. I believe this prospect would make a great division II or III school his home to showcase his talents and improve on his skill set.
Film:http://www.hudl.com/video/3/9944586/5fd6e717f55ff9105c7d7fdd
8. Caysen Lanza Caysen Lanza 6'5" | TE Jefferson | 2022 State WV (22) |6-5  WR |Jefferson HS
Huge sleeper at the wide receiver position, Caysen is an impressive target at 6-5,— he makes for a great receiver and I could even see him playing at the tight end position. He has a decent route running ability, I'd like to see his burst off the ball be a little bit better but, all-in-all, Caysen is an impressive athlete. He plays outside receiver, however, due to his speed, I think the tight end would be a great fit for this prospect.
9.Dylan Ours (24) |6-0 RB | Fairmont Senior HS
Dylan is a workhorse back that you could feed the ball to 20 to 30 times in a game and expect him to produce some tough yards tiring down that defense. He can run in between the tackles, he's more of a power type of back but can receive out of the backfield as well. He shows tremendous lower body strength and can make yards after contact. I am extremely impressed judging off the fact that he is only going to be a sophomore next year.
Film: http://www.hudl.com/v/2EhZAK
10.Brody Dalton (23) |6-4 QB| Champmanville Regional
This QB can run well and has good speed to pair along with his already impressive size and stature. I like his ability to throw, he can fit the ball into tight windows and knows when to take a bit off the ball to make for an easy catch for the receiver. Coaches this prospect would be a great addition to the QB room and depth chart.
11. Spencer Powell Spencer Powell WR Jefferson | 2023 State WV (23) |6-3 WR| Jefferson HS
His sophomore season Spencer had an impressive 55 receptions for 919 yards and 6 touchdowns. I love the size of this receiver, tall & lengthy, with long arms. He has good hands with route running ability that should progress as he gets older. Terrific athlete, who is someone you will hear a lot more of in years to come.
Film: http://www.hudl.com/v/2EeUnS
12.Drew Clendenin (22) |6-2 DE/DT | Buffalo HS
In his Junior season Drew racked up 58 tackles and 7 TFLs. I like this defensive end size and athleticism. He has a terrific burst off the ball and can use an arsenal of moves to get in the backfield and disrupt the QB or RB. I'd, like to see him trim down a little more and put on more size in the weight room, if he did that, there's no doubt he would have a few stars by his name and be even more of a monster coming off the edge.
Film: http://www.hudl.com/v/2EgL9y
13.Tyress Smith (22) |6-3 MLB | Huntington HS
Tyress numbers will impress, 120 total tackles, 7 TFLs with 2 sacks his Junior year. What does that tell you, that he has a motor that never quits? I like his size, he is bigger than most linemen. He shows the ability to fight off blocks and make tackles. He won't lay anyone out but he is athletic enough to produce tackles all over the field. Didn't see too much of his film verse the pass but against the run, what standout the most his relentless pursuit to the ball.
Film: http://www.hudl.com/video/3/11575508/5fb192531761f50a78b9c485