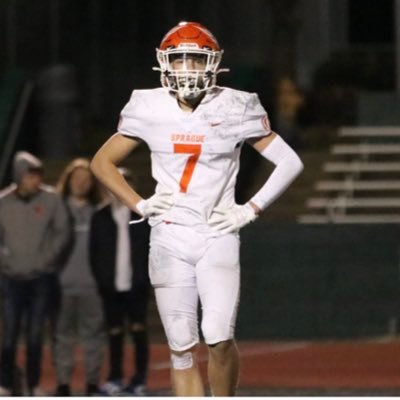 Posted On: 02/28/21 11:26 PM
With the (2021-2023) rankings just being posted, let's take a look at a few of the underclass athletes poised to have a big year, with the Spring season just one week away.
*No particular order
Kace Naone Kace Naone 6'0" | DB West Linn | 2022 OR 6-0 185 DB/ATH 22' West Linn- Naone was one of only a few WL Sophomores to play a role last season, for a loaded Lions team. He is an outstanding overall athlete (baseball) who should be one of the top two-way threats in the TRL. In 2019 he made 13 total tackles and also carried the ball 8 times. You will hear his name often in the seasons ahead.
David Fuiava David Fuiava 6'3" | DL North Medford | 2023 State OR 6-3 280 DL 23' North Medford- As referenced in the rankings there is a lot yet to be determined here, but Fuiava has the size and all of the intangibles to be one of the better linemen in the region. The Black Tornado have a litany of young talent on its roster, with a very talented senior group, so this Spring should be telling.
Drew Rodriguez Drew Rodriguez 6'2" | DB Sprague | 2023 State OR 6-2 190 Safety 23' Sprague- One of only two freshman in Oregon to earn all-conference accolades at the 6A level. Drew started on both sides of the football, something incredibly rare for such a young athlete. The Oly's will rely heavily on him as he is the future.
Bryce Dyer Bryce Dyer 6'5" | WR North Medford | 2022 State OR 6-5 205 WR 22′ North Medford – Dyer is long and super athletic. He caught 3 passes for 104 yards in limited time as a Sophomore. Look for him to be sizeable compliment to standout WR Chase Costanzo for what could be one of the better North teams in some time.
Johnny Miller Johnny Miller 5'10" | DB Jesuit | 2022 State OR 5-11 185 SS 22′ Jesuit – Not a lot of people outside of Jesuit know about him yet, but they will. Look for Miller to be one of top Junior's in the Metro League. He will project defensively but is athletic enough to be a factor on the offensive side of the ball as well.
Jakoby Moss Jakoby Moss 6'1" | QB Mt View | 2022 State OR 6-1 185 QB 22′ Mountain View- Moss had a nice Sophomore year as the starter and an outstanding off season on the camp circuit. He passed for 10 TDs and rushed for three in 2019. Head coach Brian Crum does a great job, and he will put the very athletic QB in good position to showcase his skills moving forward.
Ezra Waterman Ezra Waterman 5'11" | LB Marshfield | 2022 State OR 5-10 210 LB/RB 22′ Marshfield- The kid from the Southern Oregon Coast can play. He went off as a Sophomore accounting for 82 total tackles and 17 tackles for loss, while scoring 6 TDs offensively and averaging 13.2 yards per catch on 35 receptions. He is a load from a size standpoint and could be a dominant back at the 4A level.
Baylor Corbin Baylor Corbin 6'2" | WR Lakeridge | 2023 State OR 6-2 175 WR 23′ Lakeridge- Corbin has size, speed, and comes from an athletic family. He has the potential of being one of the TRL and maybe Oregon's breakout players of the year. The Pacers have some of the top young talent in the state.
Chip Allers Chip Allers 6'3" | LB Summit | 2023 State OR 6-3 205 LB 23′ Summit- Allers just needs some Varsity film. He had a breakout off season on the camp circuit impressing with his testing ability. He should be a 1st team all-conference type athlete as a Sophomore.
Brock Thomas Brock Thomas 6'0" | QB Sheldon | 2023 State OR 6-0 175 QB 23′ Sheldon- As noted the Irish have produced numerous top athletes over the years, specifically at QB (Justin Herbert, Jordan Johnson, Michael Johnson Jr) etc..  Thomas has excelled on the 7v7 circuit and has the necessary demeanor to be successful. Look for him to have a big year.