Earlier this week, we released our 2022 class rankings update, adding over 35 new players to the rankings and rearranging based on offseason performance and as we've gotten to see play in person. A few defensive linemen have been active on the camp scene and have seen their stock rise over the last few months. Here, we detail a few of those guys.
13. Kaevon Freshwater Kaevon Freshwater 6'5" | DL Northeastern | 2022 State NC (No. 3 Edge), 6'5 215, Northeastern (Previously 17th)
The top four defensive linemen in our ranking stayed relatively consistent in our rankings, so we start with Freshwater. Despite playing in an underrecruited part of the state, Freshwater has seen his recruitment take off with offers from schools like Virginia Tech and Coastal Carolina. Freshwater is a strong man with good quickness off the edge. He plays the run well and has a lot of potential as a pass rusher.
14. Beau Atkinson Beau Atkinson 6'6" | DL Leesville Road | 2022 State NC (No. 4 Edge), 6'6 225, Leesville Road (Previously 20th)
If we weren't so high on Atkinson in our last update, he'd be considered one of the fastest-rising prospects our board. As it stands, he moves up six spots after a strong camp season and a few offers. Atkinson has surprising bend for his size and gets around the edge in a hurry. After putting up good numbers as a sophomore, we expect another huge year from him.
22. Donovan Spellman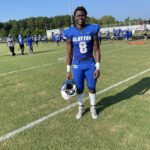 Donovan Spellman 6'4" | DL Clayton | 2022 State NC (No. 5 Edge), 6'4 205, Clayton (Previously 32nd)
How Spellman has just one offer is a mystery to me. He's got the size, he's got the tape, now he just needs the recruitment to match. He's disciplined, playing both the run and the pass well and his change of direction is smooth, especially for an edge rusher. Some analysts have suggested he'll project more as an off-ball linebacker but unless he ends up in a system that lets him blitz frequently, I'm not sure it's wise to take away the pass rushing part of his game.
29. JD Lampley JD Lampley 6'3" | DL Richmond | 2022 State NC (No. 4 DT), 6'3 290, Richmond Senior (Previously Unranked)
Lampley came across my radar as I was doing some research for recruiting at the University of South Carolina. Whenever there's a coaching change, it's always interesting to see which offers stand and which ones fall through. Lampley doesn't have a lot of other top recruiting interests, but that will change after this year. He's very raw but incredibly talented, moving with quickness that shouldn't be present in a 6'3, 290 defensive tackle. Once he hits the camp trail, his recruitment will take off.
31. Chris Allen Chris Allen 6'5" | DL Wake Forest | 2022 State NC (No. 10 DL), 6'4 260, Wake Forest (Previously Unranked)
Allen made a huge jump this offseason with some outstanding camp performances that put him on our radar. He has potential both as a big edge rusher and a guy that can slide inside on passing downs. He's a patient pass rusher who can adapt if his first move is unsuccessful and his motor is excellent. He's under-the-radar from the perspective that a lot of people simply don't know about him, but that should change this season.
47. Brady Ioannidis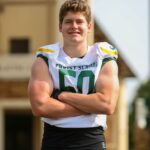 Brady Ioannidis 6'4" | DL Christ School | 2022 State NC (No. 6 Edge), 6'4 230, Christ School (Previously Unranked)
Ioannidis made a big jump into our rankings thanks to a strong junior season this fall with state champion Christ School. He was actually one of the top young pass rushers in Canada before moving to North Carolina and putting together an All-State campaign, notching 23 tackles for loss in a shortened season. While he's a talented pass rusher, his strength is his ability to control opposing offensive linemen and stop the run. He's not on the radar of many schools, but as we get into camp season, that will change.
78. Azari Brown Azari Brown 6'2" | DL Burns | 2022 State NC (No. 7 Edge), 6'2 195, Burns (Previously Unranked)
Brown comes out of the same school that produced Dorien Starnes Dorien Starnes 6'1" | DL Burns | 2021 State NC , one of our favorite 2021 edge rushers. Brown is far more comfortable right now as a stand-up linebacker than a down lineman, but his frame, length and quickness as a pass rusher excite me, so I listed him as an edge rusher. Brown's length and reach are crazy, so if he gets around the edge, it's over for opposing ball carriers.