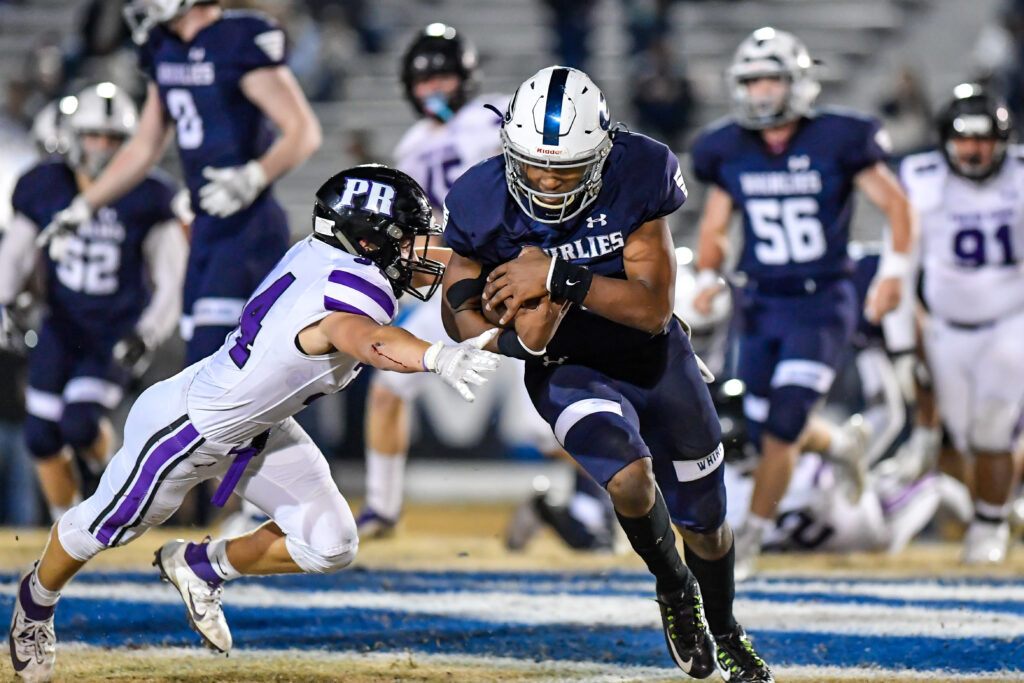 Posted On: 02/26/21 2:31 PM
The NCHSAA season is nearly upon us (finally!) The last thing to do before we kick off our in season coverage is to release our preseason all-state teams.
A few notes: While we do take into account college potential, these teams are based on our projections for this season. We expect the players on this list to have big years, due to both past production and future potential. We also included more than 11 players on each side of the ball to account for multiple schemes and alignments (For example, our "hybrid" on defense is for players that are somewhere between a linebacker and a defensive back)
So, without any further fanfare, here are our 4A/4AA first and second All-State teams.
FIRST TEAM OFFENSE
QB (Pro Style): Byrum Brown Byrum Brown 6'3" | QB Rolesville | 2022 State NC , Rolesville
QB (Dual Threat): Landin Sledge, Riverside
RB: Cameron Smith Cameron Smith 5'10" | RB Olympic | 2021 State NC , Olympic
WR: Christian Hamilton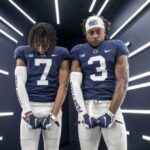 Christian Hamilton 6'0" | WR Hickory Ridge | 2023 State NC , Hickory Ridge
WR: Dalton Stroman Dalton Stroman 6'3" | WR Richmond Senior | 2021 State NC , Richmond 
WR: William Hawkins IV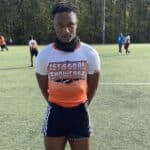 William Hawkins IV 6'4" | WR Heritage | 2022 State NC , Heritage
TE: Bryson Nesbit Bryson Nesbit 6'4" | TE South Meck | 2021 State NC , South Mecklenburg
OL: Andrew Canelas Andrew Canelas 6'8" | OL Leesville Road | 2021 State NC , Leesville Road
OL: Jaleel Davis Jaleel Davis 6'5" | OL Richmond Senior | 2021 State NC , Richmond County
OL: Andrew Jones Andrew Jones 6'4" | OL Ronald Reagan | 2021 State NC , Reagan
OL: Greyson Houchins Greyson Houchins 6'6" | OL Hough | 2021 State NC , Hough
OL: Byrum Brown Byrum Brown 6'3" | QB Rolesville | 2022 State NC , Rolesville QB (Dual Threat): Landin Sledge, Riverside RB: Cameron Smith Cameron Smith 5'10" | RB Olympic | 2021 State NC , Olympic WR: Christian Hamilton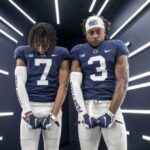 Christian Hamilton 6'0" | WR Hickory Ridge | 2023 State NC , Hickory Ridge WR: Dalton Stroman Dalton Stroman 6'3" | WR Richmond Senior | 2021 State NC , Richmond  WR: William Hawkins IV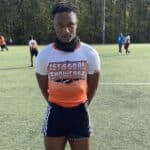 William Hawkins IV 6'4" | WR Heritage | 2022 State NC , Heritage TE: Bryson Nesbit Bryson Nesbit 6'4" | TE South Meck | 2021 State NC , South Mecklenburg OL: Andrew Canelas Andrew Canelas 6'8" | OL Leesville Road | 2021 State NC , Leesville Road OL: Jaleel Davis Jaleel Davis 6'5" | OL Richmond Senior | 2021 State NC , Richmond County OL: Andrew Jones Andrew Jones 6'4" | OL Ronald Reagan | 2021 State NC , Reagan OL: Greyson Houchins Greyson Houchins 6'6" | OL Hough | 2021 State NC , Hough OL: Cade Goldman Cade Goldman 6'4" | OL Hickory Ridge | 2022 State NC , Hickory Ridge Ath.: Tate Carney Tate Carney 5'11" | RB Davie | 2022 State NC , Davie K: Matthew Dennis Matthew Dennis 5'10" | K Myers Park | 2021 State NC , Myers Park SECOND TEAM OFFENSE QB (Pro Style): Gabe Johnson Gabe Johnson 6'5" | QB Hoggard | 2021 State NC , Hoggard QB (Dual Threat): Chris Perkins, Overhills RB: William Lovick William Lovick 5'7" | RB New Bern | 2021 State NC , New Bern WR: Jack Reynolds Jack Reynolds 5'10" | WR Davie | 2021 State NC , Davie WR: Brock Biestek, Cardinal Gibbons WR: Jacquon Gibson Jacquon Gibson 5'10" | WR Trinity Christian | 2021 State NC , Hough TE: Lawson Albright Lawson Albright 6'4" | TE Grimsley | 2021 State NC , Grimsley OL: Connor Drake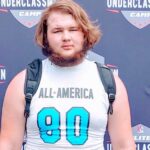 Connor Drake 6'6" | OL Providence | 2023 State NC , Providence OL: Prestin Hawkins Prestin Hawkins 6'5" | OL Hough | 2021 State NC , Hough OL: Rylan Vann Rylan Vann 6'1" | OL Cary | 2022 State NC , Cary OL: Jesiah Henderson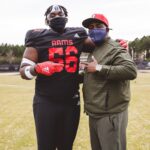 Jesiah Henderson 6'5" | OL Rolesville | 2022 State NC , Rolesville OL: Jakson Attansio, Sanderson Ath.: Brodrick Gooch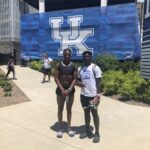 Brodrick Gooch 6'1" | DB Hough | 2022 State NC , Heritage K: Jeff Yurk Jeff Yurk 6'2" | K Pinecrest | 2021 State NC , Pinecrest FIRST TEAM DEFENSE EDGE: Beau Atkinson Beau Atkinson 6'6" | DL Leesville Road | 2022 State NC , Leesville Road DL: Curtis Neal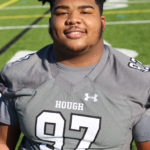 Curtis Neal 6'2" | DL Hough | 2022 State NC , Hough DL: Travis Shaw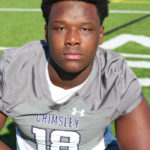 Travis Shaw 6'6" | DL Grimsley | 2022 State NC , Grimsley EDGE: Zyun Reeves Zyun Reeves 6'7" | DL East Forsyth | 2021 State NC , East Forsyth LB: Isaiah Pipkin Isaiah Pipkin 6'6" | LB Wake Forest | 2021 State NC , Wake Forest LB: Gavin Brandon, Reagan Hybrid: Chase Hattley Chase Hattley 6'3" | DB Panther Creek | 2021 State NC , Panther Creek DB: John Anderson John Anderson 5'11" | DB Hough | 2021 State NC , Hough DB: Isaiah Crowell Isaiah Crowell 6'0" | DB East Forsyth | 2022 State NC , East Forsyth DB: Elijah Wilson Elijah Wilson 6'0" | DB Mooresville | 2022 State NC , Mooresville DB: Blake Raphael, Cardinal Gibbons P: Eddie Czaplicki Eddie Czaplicki 6'1" | P Providence | 2021 State NC , Providence SECOND TEAM DEFENSE EDGE: Emerson Martin Emerson Martin 6'5" | DL Riverside | 2021 State NC , Riverside DL: KJ Sampson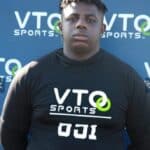 KJ Sampson 6'4" | DL New Bern | 2023 State NC , New Bern DL: William Thomas William Thomas 6'2" | DL Sanderson | 2021 State NC , Sanderson EDGE: Zymere Reddick Zymere Reddick 6'3" | LB Scotland County | 2021 State NC , Scotland County LB: Albert Redd Albert Redd 6'3" | LB Glenn | 2022 State NC , Glenn LB: CJ Tillman, Richmond Hybrid: Stephan Zayachkowsky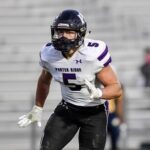 Stephan Zayachkowsky 5'10" | LB Porter Ridge | 2023 State NC , Porter Ridge DB: Jonathan Streeter Jonathan Streeter 5'11" | ATH Panther Creek | 2021 State NC , Panther Creek DB: Caleb Bowling Caleb Bowling 5'11" | DB Davie | 2021 State NC , Davie DB: Fred Bates Fred Bates 6'0" | DB Hopewell | 2021 State NC , Hopewell DB: Dewayne Johnson, Northwest Guilford P: Laith Marjan, Enloe Disagree with our teams? Let us know on Twitter, @PrepRedzoneNC