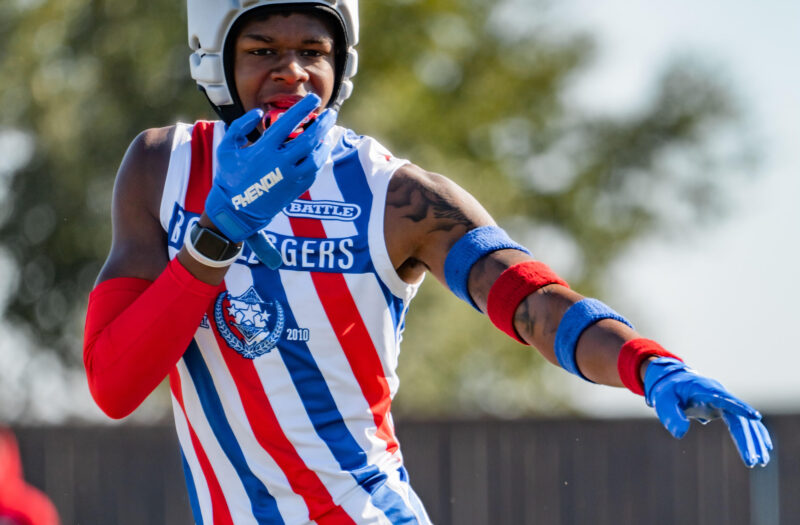 Posted On: 02/25/21 10:17 AM
Our staff has put together a list of athletes that is in no way complete. This will be a recurring series that we will update you on as the 7 v 7 season progresses. We want to hear your feedback and know from you, the fans, who are the top athletes to look out for in tournaments. We do all of this to bring the hard-working athletes the exposure they deserve and present them to the college coaches that subscribe to us here at Prepredzone. Coaches from Divison I colleges all the way to NAIA and JUCO. The amount of exposure here is tremendous and we are fortunate to be able to help athletes such as these young stars. That being said— let's take a look at some of the top quarterbacks that can torch some defenses through the air or ground and some standouts that can make the big-time plays — look routine.
Quarterbacks 
---
Eli Holstein (23) | 6-4 QB | Zachary HS
Eli is a pro-style quarterback with the requisite size and height for the QB position at 6-4. He holds offers to LSU, Colorado, Kentucky. Wisconsin has also shown interest in Eli. He has an elite arm and can easily throw a dime 50 plus yards down the field and put it right on the money. He also has shown great mechanics, leadership on the field, and a lot of poise in the pocket. He has impressed at the tournaments and will definitely be a name to look out for in the future.
Rickie Collins Jr. (23) | 6-4 Dual-threat QB | Woodlawn HS
This is a QB that doesn't have any stars by his name and has flown under the radar a bit but he defiantly deserves the spotlight. He has the size and height that coaches love to see at that position. His arm is really dangerous and he moves within the pocket so well. You can tell a lot of work and effort that has probably gone into perfecting his craft.
This is a QB we know coaches will start to notice after this article that he is a top prospect and phone calls are already coming in for Rickie. He currently holds offers to Arkansas, Memphis, and Virginia Tech
Jai Eugene Jr. ( 23)  | 6-1 Dual-threat QB | Destrehan
This lefty QB can show his speed and dangerous agility when he tucks and runs with the ball. His arm strength and accuracy as a QB are proficient. I think his mechanics and arm strength are somethings that can be improved this offseason for Jai to push him forward to that elite status.
Jai has had Florida State, the Ragin Cajuns, and Louisiana Tech show interest but he only currently holds two offers from Nicholls State and the University of Virginia.
Wide receivers
---
Harvey Broussard ( 23) | 6-4 WR | St.Martinville Senior HS
Holds offers to Arkansas, Hawaii, Mississippi State, Penn State, and Virginia. The Nittany Lions are the last to offer Harvey that he has yet to receive any offers as of late January. He has been phenomenal this 7 on 7b season and showing his speed and great hands. This receiver is a big-time playmaker with good route running skills and the ability to box people out In the end zone and use his size to his advantage.
Landon Ibieta (22) | 6-0 WR | Mandeville HS
Has offers from Louisiana Tech, Memphis, Miami, South Alabama, Tulane.
Junior Season Highlights https://t.co/bHBiUHvtTK

— Landon Ibieta✌︎︎ (@IbietaLandon) December 16, 2020
Shazz Preston (22) | 6-0 WR | St. James
Shazz has offers from LSU, Mississippi State, Alabama, Ole Miss, and Arkansas.
Aaron Anderson (22) | 5-10 WR | Edna Karr
LSU commit. Chose LSU to offer Arkansas, Colorado, Florida State, and others.
Cowinn Helaire ( 22 ) | 5-9 WR | Lafayette Christian
A two-sport athlete that plays baseball as well as football. A little undersized and could be the reason why his recruitment hasn't really taken off yet.
Austin Jackson ( 22) | 5-8 WR | Brother Martin
Has interest from colleges like Louisiana Tech, Nicholls State, North Texas, Southern Louisiana, and Southern Miss.
Tj Johnson (22 ) | 6-4 WR | Alexandria
After his first offer from the Florida State Seminoles, the offers started to rain in for TJ. Soon to follow would be the University of Virginia and Mississippi state that very same day. Imagine getting three top-notch division I offers in one day. What a dream come true for this young man, who has so much talent and size at the WR position. This month TJ has received offers from the University of Louisiana Lafayette and Tulane University.
https://t.co/Fcri179tl6 check out my junior year highlights @samspiegs @JeritRoser @ash_trojanFB

— TJ🀄️ (@TjJohnson111) January 5, 2021
Defensive backs
---
Wallace Foster (24) | 5-11 DB | Warren Easton
Hawaii and Mississippi State have offered Wallace so far and plenty more are expected to come for this young star of a defensive back.
Mike Newton Jr. ( 22 ) | 5-11 DB | Archbishop Shaw
Run stopping DB who looks built like a linebacker but has the athletics and speed to play in the defensive backfield. He plays against the run very well and can fly downhill to make plays. Tulane has shown interest in Mike.
Mid season highlights…https://t.co/hIIpsLcvWV pic.twitter.com/t3K3lUrb3u

— SHOWTIME🎬 (@MikeNewtonJr) November 8, 2020
Laterrance Welch (22) | 6-1 DB | Acadiana
Big physical DB that can jam receivers at the line.When I saw him play in person. Other receivers simply could not beat him. This LSU commit shows why he was one of the highly-rated DBs of his class. He committed to LSU at the beginning of the year. Choosing LSU over Nick Saban and the Alabama Crimson tide, Florida and all other 20 offers this DB had. One of the top performers at every tournament. Look for some serious talent on the field when the LA bootleggers 7v7  defense take the field.
Could never get a text .. now they blowing up my line 🤡 pic.twitter.com/Nw13u8LfCK

— 𝕃𝕒𝕥𝕖𝕣𝕣𝕒𝕟𝕔𝕖 " Lt " 𝕎𝕖𝕝𝕔𝕙 ¹¹ (@LaterranceW22) February 24, 2021
Ronald "Champ" Lewis (22) | 6-2 DB Warren Easton
Ronald has impressed many at the start of the 7 on 7 season. Showing why he is also one of the best DBs in his class still uncommitted. His size, wingspan, and athletic ability, make him a DB you can line up all over the field and he will be lockdown. Elite pass coverage skills, can trail the fastest, and make plays on the ball in the air with his vertical ability. When I talked to Champ he was very high on the University of Virginia but is still considering all options and would love to have interest from LSU also.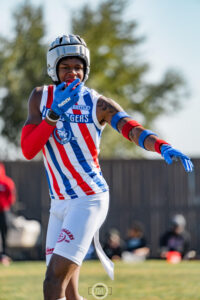 Jordan Allen (22) | 6-0 DB | Lafayette Christian Academy
Highly ranked defensive back, who is super humble in person for someone who has 26 Division I offers. When I spoke to Jordan at the championship tournament in San Antonio. He told me that he was really wanting to have in-person visits, but that due to COVID and all of the NCAA regulations. Things have been tough. I can feel for him, as you really cant get a feel for a place via facetime as you would in person. Hopefully, all of that will change soon and this terrific DB can choose a home, he told me a few favorites but is still considering all options at the moment.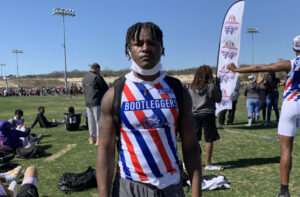 Athletes
---
Jaiden Ausberry (23) | 6-2 ATH | University Lab
Jaiden has two division I offers at the moment. The first coming last year in November by Mississippi State and then at the beginning of the year, his second came from Arizona State and the Sun Devils. Head Coach Herm Edwards would no doubt love to have a player like Jaiden.
Aeneaus LeMay (22) | 5-10 ATH | West Feliciana
Arkansas State, Florida Atlantic, Liberty, and Louisiana Tech as well as others have all offered Aeneaus.
Jacoby Mathews (22) | 6-2 ATH | Ponchatoula
One of the best athletes on the list—period. One if not the top safety out of the state. Jacoby could go to any college of his choice with his extensive list of 26 Division I offers. The top schools like Florida, Oklahoma, Alabama, and others are all after this ballhawk, hard-hitting safety.
Connect with us on Twitter @PrepRedzoneLA ! You may also contact and follow the author of this article @LoboRecruits and let him know your comments or feedback. Thank you for subscribing.