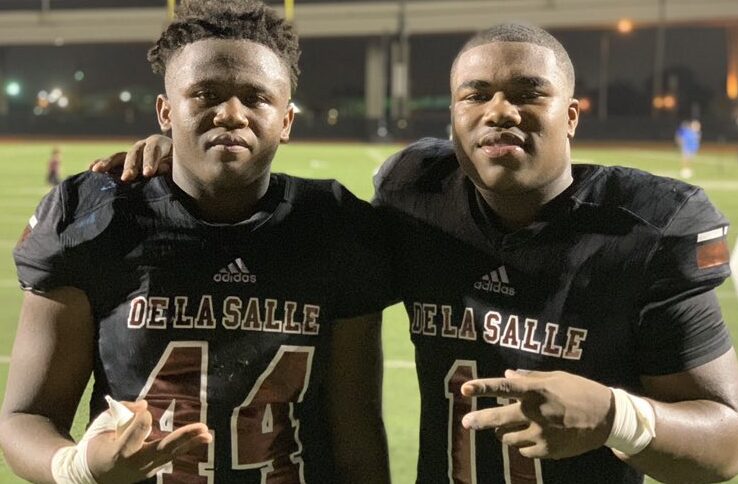 Posted On: 02/10/21 11:51 AM
We examined the film on some of Lousiana's top 2024 recruits. All prospects on this list were varsity contributors as freshmen at their respective schools.
---
DB: Wallace Foster, 5'11, 160, Warren Easton Senior
When you watch this kid on tape, he does not play like a freshman. He's got great top-end speed and can run with the fastest wideouts Louisiana has to offer. The ball skills are already there, as Wallace will high point the football and take it the other way. He transitions well out of his breaks and won't get stuck coming out of them. He does a good job anticipating run and coming up to set the edge. He already holds offers from Mississippi State, Hawaii, and Florida State & more will be coming soon.
LB: Keidrick Richardson Jr., 5'11, 210, De La Salle
A physical mike linebacker prospect who will smack you in the mouth between the whistles. Richardson is a see ball get ball linebacker who will come downhill, speed his feet on contact and make a tackle. He's a high effort kid who will scrape down the line and make plays from the backside. Richardson has a firm punch that, at times, will jolt an opposing offensive lineman's head back. He currently holds one offer from LSU & has his best ball ahead of him.
WR: Aubrey Hermes, 6'1, 150, Calvary Baptist
Hermes is a natural deep ball tracker with the speed to run under lollipops. He's shown clean releases off of press coverage and the ability to separate at the top of his route. As a freshman, he consistently just ran by defensive backs and used their blind spots against them. Hermes can sink his hips & transition out of it on a curl route as well. He shows no issues working back to the quarterback and was a dependable hands catcher. No offers just yet, but they'll soon come.
ATH: Brennon Thompson, 6′, 175, East Ascension 
A gifted talent at both wide receiver and defensive back. As a defensive back, Thompson has a smooth transition into his man turn and will play through the wide receiver's hands. He's a sound tackler who will come up and make tackles in space when need be. He has a good off-hand jam in press that he uses to widen a receiver's release. As a receiver, he uses pure speed to take the top off a defense. His future to me is at defensive back, and that's where he should see his recruiting stock improve in the coming years.
Other Names to Watch
RB: Kyle Veal Jr., 5'8, 175, Central
ATH: Jaylin Johnson, 6'2, 165, Alexandria
ATH: Barry Remo, 5'11, 170, Catholic