The recruiting class of 2021 in California has had to deal with more obstacles than any group of young football players in recent history.
This week, Governor Gavin Newsom and health officials have talked with high school football coaches about a way to possibly get the players back on the field as early as March, which is exciting.
But Wednesday, student-athletes and their families got a chance to take a break from the stresses of the news and celebrate signing their letters of intent.
Here is a list of Orange County football players who signed their letters of intent on Wednesday, Feb, 3.
EDISON
Jeremy Alcorn, DL, Southern Nazarene
---
EL MODENA
Caleb Manson, DE, Nevada
Caleb Manson took a trip to the University of Nevada this weekend. We can't wait to see him in the navy blue and silver as he suits up for the wolf pack next year! #chooseELMO @ocvarsity pic.twitter.com/6n3a0oILps

— El Modena Football (@elmodenafb) February 1, 2021
---
EL TORO
Giulio Fernandes, LB, San Diego
Notes: One of the top tacklers in the county. Stands out on film on a bad El Toro team and is in on or near the play every snap. He is a good tackler and makes good reads. Fernandes is the captain of the El Toro defense and his versatility will be an asset at San Diego. I expect him to get on the field early on special teams and work his way into the defensive lineup.
---
FOOTHILL
Luke Caress, LB, Kenyon College
Nick Fryhoff Nick Fryhoff 6'5" | DL Foothill | 2021 State CA , DE, Penn
Notes: Fryhoff has been committed to Penn from the beginning. Solid pass rusher and strong enough to maintain his edge in the running game. He needs to add some strength to play at the college level but he has the frame and work ethic to do so.
---
HUNTINGTON BEACH
Jacob Sanden, OL/DL, Black Hills State
Samuel Green Samuel Green 5'9" | RB Huntington Beach | 2021 State CA , RB, UNLV
Notes: Transferred to Huntington Beach from JSerra where he was the top running back last season, outshining Cal signee Chris Street. He has elite speed and is an outstanding kick returner as well. Returned a kick inside the five-yard line against St. John Bosco and once he turns the corner, nobody is catching him. Arguably the best player in the Sunset League if there is a season.
---
JSERRA
Jaden Genova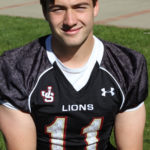 Jaden Genova 6'0" | LB Jserra Catholic | 2021 State CA , LB, Army
Mason Murphy Mason Murphy 6'5" | OL Jserra Catholic | 2021 State CA , OL, USC
Jordan Washington, DB, Dartmouth
---
LA HABRA
Max Franco, DB, Valparaiso
---
LOS ALAMITOS
Tyler Deleon, LB, Army
Due to COVID @LosAlamitosHigh wasn't able to have #SigningDay2021 even without it, I am not only #Signed but 💯 #Committed to @ArmyWP_Football #BlackKnights Thanks to everyone who supported me and helped me achieve my dreams @LosAlFootball @LineSixFBClub @WCA_Training #GoArmy pic.twitter.com/3tRpCeJruG

— Tyler DeLeon (@Tylerdeleon9) February 4, 2021
---
MATER DEI
Terrance Caldwell, OL, Cornell
Raesjon Davis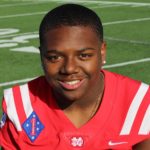 Raesjon Davis 6'1" | LB Mater Dei | 2021 State CA , LB, USC
Notes: The best player in the state to make his decision on signing day. He and his father were tweeting about how much they loved their visit to Columbus recently, but USC was always the dream for Davis. Excellent linebacker with elite lateral movement and a nose for the ball.
Marceese Yetts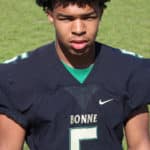 Marceese Yetts 5'8" | RB Mater Dei | 2021 State CA , RB, Air Force
---
MISSION VIEJO
Mavin Anderson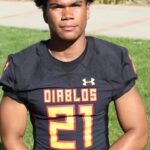 Mavin Anderson 6'0" | WR Mission Viejo | 2021 State CA , WR, Cal
Micah Carreon, DL, Northern Arizona
Peter Costelli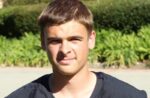 Peter Costelli 6'3" | QB Mission Viejo | 2021 State CA , QB, Utah
Ryder Fitch Ryder Fitch 5'11" | DB Mission Viejo | 2021 State CA , DB, Air Force
Notes: One of the most versatile players in the county. He can play cornerback, safety, receiver, return kicks, fill the water bottles and drive the bus home from the game. He is speedy and has a very high football IQ coming from a family of football coaches and players.
JT Hand JT Hand 6'3" | OL Mission Viejo | 2021 State CA , OL, Arizona
Easton Mascarenas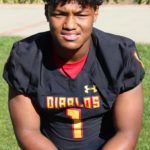 Easton Mascarenas 6'1" | LB Mission Viejo | 2021 State CA , LB, Oregon State
Jacquez Robertson, RB, Northern Colorado
A four yard TD run from Jacquez Robertson puts Mission Viejo ahead 7-0. 9:17 left in the first Q. pic.twitter.com/dDi2XbHDpI

— Connor Morrissette (@C_Morrissette) November 16, 2019
Tyson Scott, RB, Western Colorado
---
ORANGE LUTHERAN
Aydin Bennett, DB, La Verne
Noah Chase, DB, Kenyon College
Faaeanuu Pepe Faaeanuu Pepe 6'4" | OL Orange Lutheran | 2021 State CA , DL, Rice
Jason White Jason White 6'4" | OL Orange Lutheran | 2021 State CA , OL, Oregon State
Notes: White was originally committed to Boise State but switched to Oregon State on signing day. Big get for the Beavers as White is one of the top offensive linemen in the state. Really athletic tackle who can play on either side of the line and has excellent footwork in his pass protection.
---
SAN CLEMENTE
Cole Batson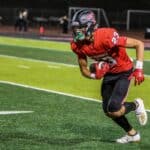 Cole Batson 6'4" | ATH San Clemente | 2021 State CA , DB, Boston College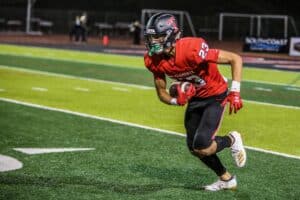 James Bohls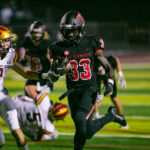 James Bohls 6'0" | RB San Clemente | 2021 State CA , RB, Arizona
Aidan Coulson, OL, Arizona Christian
Notes: Really inspirational story. Coulson's father was heavily involved in the program and beloved by the players up until his passing during the season in 2019. Coulson's passion is apparent when you watch him play and he has the skills to be a good college-level lineman.
Keegan Even, DB, Benedictine College
Bentley Redden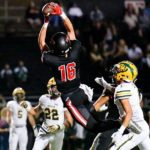 Bentley Redden 6'5" | ATH San Clemente | 2021 State CA , TE, BYU
Noah Serpa, DB, Concordia/Wisconsin
---
SANTA MARGARITA
Zack Morris, OL, Colorado School of Mines
Keanu Rebuldela-Kama, DB, Army
Notes: Kama announced his commitment to Army on signing day. He is aggressive defending the run from the secondary and is competent in pass coverage as well. 6-foot-2 and has room to put on muscle. He had 38 tackles and an interception for the Eagles last season.
Drew Sulick, LB, Cal Poly
---
SERVITE
Noah Avinger Noah Avinger 5'11" | DB Servite | 2021 State CA , DB, San Diego State
Noah Fifita (@thenoah_fifita1) connects with Noah Avinger (@NAvinger1) for the 40yd TD! PAT by Lucas Gimenez good, 7-0 Servite in the 2nd. pic.twitter.com/1vpJEdA94u

— Servite Football (@ServiteFootball) October 25, 2019
Nick Jako, LB, Davidson
Jack Kane, DB, Oregon State
Bryce Leos, OL, Colby College
Shancco Matautia, OL, New Mexico
Kevin Ryan, P, Cal Poly
---
ST. MARGARET'S
Nick Ostlund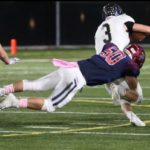 Nick Ostlund 6'3" | DL St. Margaret's Episcopal | 2021 State CA , DE, Penn
---
SUNNY HILLS
Brian Chang, OL, Lake Erie College
Carson Irons, LB, Princeton
Notes: Irons had more tackles than any returning player in the Southern Section last season (186) and 92 solo tackles. He made the biggest play for his team of the season, an interception on fourth down to seal the victory in the CIF semifinals. All-around great player and one of the best tacklers in the county.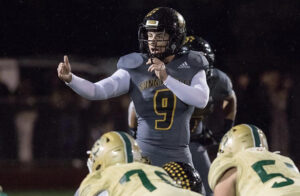 Brandon Roberts, RB, William Penn
Vincent Silva, LB, Southern Oregon