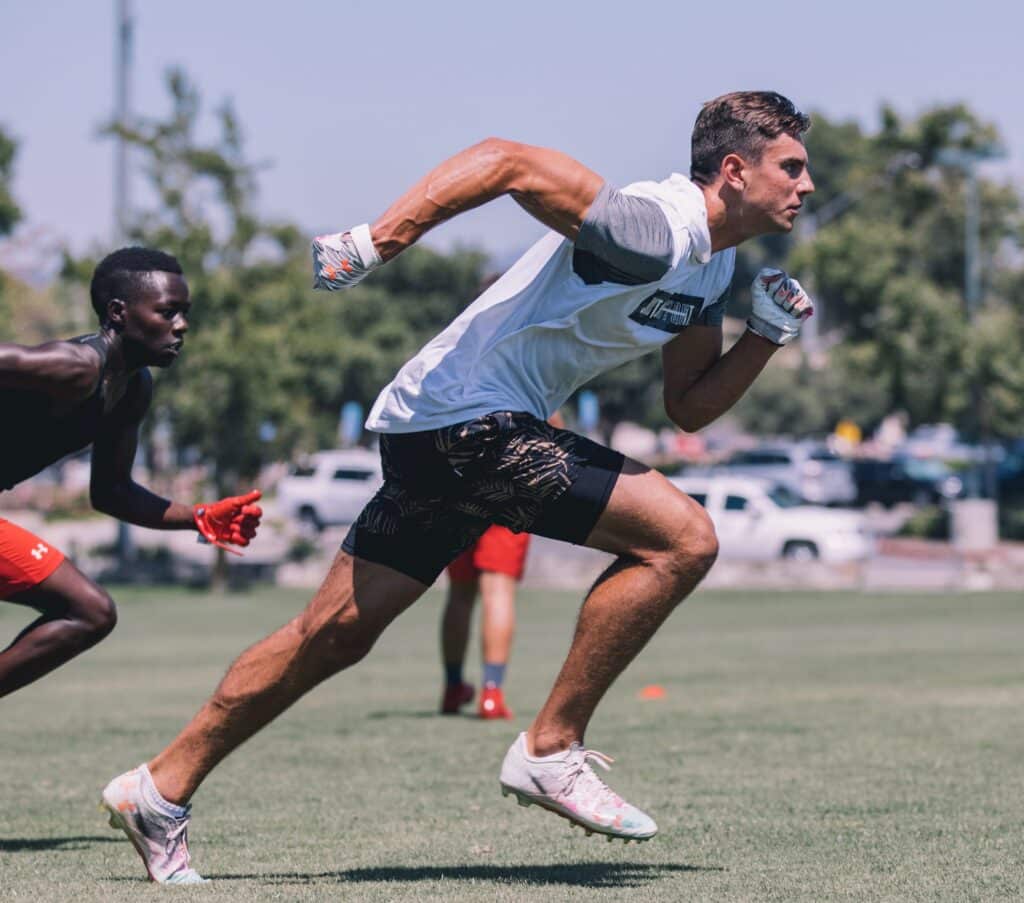 Posted On: 02/17/21 8:47 AM
Today we highlight some underclassmen to lookout for next season. Some are on a lot of college recruiting boards and there are some who may not be getting the recognition as of yet. All of that is about to change as we introduce some of the most talented amongst the class of 2024 and 2025 prospects of the state. Now, this is in no way a ranking, and none of these athletes listed are in order. We will introduce and update our underclassmen rankings very soon. For now, let's take a look at some of the top prospects on this list.
Raemon J. Mosby (24) | 6-0 DB | Ehret HS
Raemon has a great build and stature for him only being a freshman last year. His freshmen year highlight tape was impressive and it showed a young promising defensive back who can play well against the run and showed impressive open-field tackling. His speed plus size was the most impressive thing that stood out to me. That and his physical nature defending against the pass or run, he showed his physicality on every play.
Keylan Moses (25) | 6-2 ATH | University Lab HS
Keylan is a young athlete with a full-grown man's body at an amazing 6-2, he towers over the majority of his teammates and opponents. We have him listed as an athlete because he can play all over the field at running back or on defense as a defensive end or linebacker. His speed pair with his size makes him a dangerous match-up on the gridiron. At running back he has the speed and the cuts to take every run to the end zone. On defense, he fly's to the ball and makes big-time hits. I really like this athlete and I know he will be a big-time name to come out of University Lab High School. Future FBS type of prospect with the chance to add a few stars to his name.
Dawson Simmons ( 24 ) | 5-11 QB | Metairie Park Country Day HS
A dual-threat quarterback with elite speed and a live arm, Simmons is the real deal. His footwork and mechanics could use improvement but that can get better over time. He shows he has a strong arm and has good ball placement and makes throws in places where only his receiver can make a play on the ball. I like his release and decision-making ability, he shows so much majority when he is waiting for the snap of the ball. He can make all the throws over the middle and to the sideline look routine. He isn't afraid either to tuck the ball and run with it himself either with his dangerous speed and agility. He can gas any defender and make them miss with his lateral moves. If he continues to grow in height and even if he doesn't,  I'm sure he will be an FBS/FCS type of prospect.
Aubrey Hermes (24) | 6-2 WR | Calvary Baptist HS
Aubrey is a speedy receiver with tremendous big playability. He has elite speed and burst off the line of scrimmage. He fly's by defenders in a flash and runs clean routes to get open. He shows he can score on the most basic type of pass patterns including verticals, post routes, and even curls. He can stop on a dime on a curl route and set in an open part of the field where he is not covered and patiently wait for the pass. He makes for a nice target at 6-2 with an impressive wingspan as well pairing with his amazing ability to catch any pass. Colleges have already started taking notice and offers should start flying in for this guy.
Barry Remo III (24) | 5-10 LB/RB | Catholic High of Baton Rouge HS
This runningback was built for speed. His frame is very athletic and he has a good balanced proportionate frame for a running back. He explodes out of the backfield and has impressive lateral speed. He can run in between the tackles and find holes or cut back in a flash and take the ball in the opposite direction faking out defenders. He is also impressive on special teams returning the ball and is a physical presence on the defensive side of the ball at linebacker. Overall a great athlete and even more impressive running back. This is your back you can put into the game as a second back after your bruiser has tired down the defense and use this guy to gas them down the field or he would even work perfect catching the ball out of the backfield on screens or running routes.
Keidrick Richardson Jr (24) | 5-11 LB | De la Salle HS
Keidrick is a big hitter on defense and he brings the wood on every play. His film was a joy to watch. You watch in suspense waiting to see if he is going to absolutely level someone on the highlighted play. I cannot say enough how much this guy can hit. Very physical and fast and flies around the field at the middle linebacker position. He shows patience and has the ability to read plays, disengage from blockers and make a play on the ball. FBS level prospect with a very high ceiling for success in the future and could produce right away.
Cullen Charles (24) | 6-0 ATH | St. Martinsville HS
Cullen is an adequate-sized receiver with a lean, athletic build. He flashes a quick burst of the line of scrimmage quickly and can get on top of corners in a hurry. He shows the ability to make yards after the catch and even take it all the way to the house with his amazing speed. Also plays a little bit of quarterback and has a fairly decent arm with a quick release.
Daniel Beale (24) | 6-0 QB | Catholic High of Baton Rouge HS
Daniel is a gunslinger and can pick defenses apart sitting in the pocket. He throws the ball easily downfield and puts the ball on the mark every time. H3e shows one of the most impressive arm strength and quarterback mechanics of any in his class in the state of Louisiana. This is a big-time quarterback and a name you will hear a lot of in the future. Coaches take notice this guy is already starting to receive a lot of attention.