Earlier this week, we released our 2023 class rankings update, adding over 45 new players to the rankings and rearranging based on offseason performance and as we've gotten to see play in person. A few quarterbacks currently have a lot of momentum and have seen their stock rise over the last few months. Here, we detail a few of those guys. The overall class rank is at the front and position rank is behind each name.
3. John Mark Shaw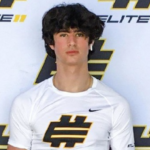 John Mark Shaw 6'5" | QB Leesville Road | 2023 State NC (No. 1 QB), 6'5 205 (Previously 5th overall)- Broughton
We have a new top dog at the quarterback position. Right now, a lot of the 2023 class is based on projections as to this point, we've only seen a handful of guys play extensively in varsity game situations. Shaw is one of those guys. He put up great numbers as a freshman at Sandhills before transferring to 4A Broughton this offseason. What put Shaw over the top for me was his performance at the Carolina Experience Camp in July. Shaw went from, "Hey this guy put up some good numbers" to "Whoa. He's got a cannon." His arm is one of the strongest I've seen from a high school sophomore.
7. Aliam Appler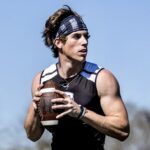 Aliam Appler 6'4" | QB Dutch Fork | 2023 State SC (No. 3), 6'5 195 (8)- New Hanover
Another tall, strong quarterback, Appler has a short, compact throwing motion that generates a lot of velocity in a very small amount of time. It's one of my favorite throwing motions in the state and allows Appler succeed in areas where other quarterbacks often struggle. Because of his quick motion, he's able to hold the ball longer in the pocket, throw more efficiently on the run and hit anticipation throws at the last second. He has a lot of offseason momentum and if he can put up good numbers as a sophomore, his recruitment will take off.
18. Cameron Enos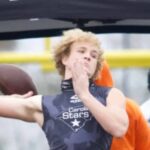 Cameron Enos 6'0" | QB Parkwood | 2023 State NC (No. 4), 6' 180 (WL)- Parkwood
Enos has had a strong offseason, looking fantastic on the camp and 7-on-7 circuits. He's one of the more accurate quarterbacks in the state, especially among underclassmen and is a decisive signal caller, delivering to a variety of receivers and routes on time and with confidence. He's got great touch on his deep ball, a good athlete and can deliver with accuracy on the run. He's grown quite a bit in the last year and as a result has improved his velocity.
23. Dymere Edwards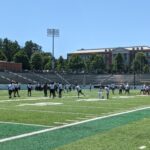 Dymere Edwards 6'3" | QB Jack Britt | 2023 State NC (No. 6) 6'3 215 (WL)- Jack Britt
Edwards is a tall, athletic quarterback with great legs. That being said, he does a good job going through his progressions and usually doesn't look first to run, preferring to stand in the pocket and deliver accurate passes. He's a guy that will need some development as he doesn't have as much varsity experience as some of the other guys on the list, but the traits are there and his upside is tremendous.
24. Jaylen Patterson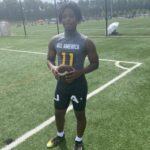 Jaylen Patterson 6'2" | QB West Caldwell | 2023 State NC (No. 7) 6'2 195 (WL)- West Iredell
Patterson is another athletic quarterback that throws a good ball both from the pocket and on the run. His arm strength is improving and he's always had good accuracy. As he gets bigger and stronger, his arm will develop and he will be able to excel on more difficult throws. He's a bit under the radar, but we're excited to see him play this spring.