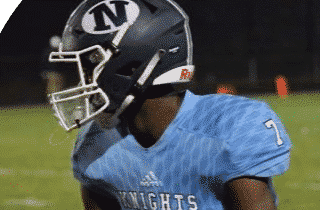 Posted On: 02/15/21 4:37 PM
Last week, we at PrepRedzoneWI were pumped to introduce our introductory 2024 rankings to our wonderful and faithful subscribers, and with a Top-20 and a 30+ prospect watchlist, we were able to find and discover a lot of freshman talent in the Badger State. Of course, there is a lot of talent still out there that we haven't gotten our eyes on yet, but this is an excellent start and we are really confident in the athletic ability of our initial Top-20 in particular. Because this is the initial release of the c/o 2024 rankings, we aren't able to release to our subscribers some of the regular content regarding rankings "stock risers", the highest debuts of new athletes to grace the ranking boards, and positional group breakdowns, but are still able to dig into the evaluation portion of the rankings. With all of that being said, let's check out the Top-10 of the Wisconsin 2024 class, break down their game, and highlight some of the strengths of them as prospects. We'll follow this up with an analysis of spots 11-20 as well, and I just wanted to reiterate that we will be updating the rankings and hopefully adding as many new names as we can find once the Spring season wraps up. Thanks for reading!
Top-10
Ranked #1:  Adrian Thomas Adrian Thomas 6'4" | WR Nicolet | 2024 State WI  (Nicolet) WR/DB. 6'4, 180 lbs. Since the first time I saw Thomas' film I was all in. For a 15 year old, the Nicolet product has a great size with an even better frame to continue adding weight and muscle. Not only is the size there, Thomas can back it up with his play. He got reps/possibly started on both offense and defense for the Knights in 2020, and made big plays from both the WR and defensive backfield, and showed an ability as a young buck to hit, get out of his breaks quickly, cover and play the ball in the air, and get open as a WR. His feet look really solid, as he doesn't waste a lot of steps when getting out of his breaks as a DB or when breaking off his routes as a WR. There is a TON to like, and with his combination of film and size he was just too hard to pass up as the #1 overall for his class.
Ranked #2:  Cade Palkowski Cade Palkowski QB Oak Creek | 2024 State WI  (Oak Creek) QB/ATH. I am happy to say that Palkowski was an athlete that I originally scouted in-person for the first game of the Fall season when Oak Creek played Kenosha Indian Trail, and could not believe that the starting QB I just for the Knights was a freshman making his first varsity start. With a thick, compact frame, Palkowski's biggest key to success at the QB position is his overall athleticism, as he is an awesome scrambler who is great on the move and can make plays when things break down and improvisation is needed. He's got some good arm strength for his age, and can make throws on the run effectively, but really shines when he tucks the ball and takes off, as he is shifty and a powerful runner with a strong lower body capable of weaker tackle attempts bouncing off of him. He's also a solid baseball player from what I've heard, so it's hard to argue against athleticism and upside, as starting as a freshman at a strong program like Oak Creek in no joke. He's got some really good football in front of him.
Ranked #3:  Terrance Shelton Jr Terrance Shelton Jr 6'1" | RB Franklin | 2024 State WI  (Franklin) RB. 5'11, 165 lbs. The first of two Franklin Sabers to crack the Top-5 for the c/o 2024, I was lucky enough to see Franklin take on the Oak Creek Knights in early November and got eyes on Shelton due to the Sabers getting stricken with COVID related issues. The Sabers needed some young bucks to step up, and Shelton did that and more, as he is a shifty, strong cutting ball-carrier who can catch the rock out of the backfield and has some good vision as well. He was also named All-Conference HM as a freshman, averaged 5.6 yards a touch in 2020, and is putting up some good numbers in the weight room. Lot to like from what I've seen on film so far.
Ranked #4:  Jacques E Brooks Jacques E Brooks 5'10" | WR Franklin | 2024 State WI  (Franklin) WR. 5'10, 170 lbs. The second of the two Franklin Sabers in the Top-5 for 2024, Brooks is an exciting freshman wide receiver prospect who I was also lucky enough to check out in-person during that Franklin vs. Oak Creek game, and he showed himself to be a competitive recruit who was not scared of the spotlight of starting on varsity. In 5 games he totaled 7 receptions for 162 yards and 2 TDs, and one of those TDs was very exciting, as he ran a nice slant route, snagged the ball in traffic, ran through an arm tackle, and took off for a 60+ yard TD reception. He also displayed the speed to take the top off the defense, and is an efficient route-runner for his age who doesn't waste steps and cuts well when making a break in his route.
Ranked #5:  Karter Butt Karter Butt 5'10" | RB Edgar | 2024 State WI  (Edgar) RB. Playing on varsity in 2020, he rushed 28 times for 135 yards and a TD, and defensively posted 27 tackles, 4 TFLs, 1 sack, and a FR. He showed off some impressive vision as a ball-carrier as well as a strong truck-stick for a youngin'. He runs with some power behind his pads, and uses that strength well as a LB too. He's a really strong runner who is also a strong tackler for his age and keeps himself around the football. His versatility and power is one of the best of any prospect on this list.
Ranked #6:  Drew Braam Drew Braam 6'2" | LB Oak Creek | 2024 State WI  (Oak Creek) LB. 6'1, 205 lbs. The second Oak Creek Knight to make the Top-10, linebacker  Drew Braam Drew Braam 6'2" | LB Oak Creek | 2024 State WI  has the best size of anyone on this list and posted 28 tackles, 2 TFLs, and a FR in 2020. He flows to the ball well and is strong at the point of contact for his age. He does a nice job of diagnosing runs as well, and with his size already plus the way the Oak Creek prospects hit the weight room I think Braam has a really high ceiling.
Ranked #7: Chase Strum (Stanley-Boyd) LB. 5'11, 185 lbs. Doesn't have the most film, but from the game film he has posted on Hudl you can tell that Strum triggers on the ball like a madman and is patient in space and a strong tackler for his age. He was also a varsity contributor, so I'm pumped to see how he adds to his skill-set for next season.
Ranked #8:  Alexander Wraalstad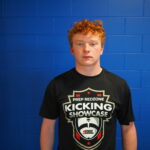 Alexander Wraalstad 5'10" | QB Oconomowoc | 2024 State WI  (Oconomowoc) QB. 5'10, 170 lbs. This is where things get tricky when evaluating a lot of younger talent, as not every plays varsity their first year, but that is not because they are devoid of talent. Wraalstad was the first of these unique recruits, as although you could argue that he shouldn't be ranked ahead of a varsity contributor ( see #10), his film at the freshman level is very impressive and it's hard to think that his skills won't translate to the varsity level whenever he gets his chance. The first play of his Hudl he ran over a would-be tackler with authority, and keeps things going in his freshman film but showing some incredibly elusive and powerful runs from the QB position, as well as an ability to hit the deep ball and hurt defenses with his arm as well. He's a very exciting and dynamic athlete who is a natural playmaker, and I hope he gets his chance to play on varsity next season.
Ranked #9:  Drew Wagner Drew Wagner WR Kettle Moraine | 2024 State WI  (Kettle Moraine) WR. Wagner is the younger brother of the explosive '22 prospect  Matt Wagner Matt Wagner 6'1" | WR Kettle Moraine | 2022 State WI , and in his freshman basketball season on varsity the younger Wagner is averaging 11 PPG and dropped 20 for KM in a road win against Waukesha South. He's also somewhat lacking in football film, but his older brother is a phenomenal athlete and I think younger bro. Drew has that same impressive athleticism, and is showing it off on the hardwood this season. I know it's somewhat ballsy putting a kid this high with so little film available, but trust me, the athleticism and upside are there, and the production is coming very soon. You'll be hearing a lot more about the Wagner boys this upcoming Fall season.
Ranked #10:  Chase Matthias Chase Matthias RB Two Rivers | 2024 State WI  (Two Rivers) RB. The starting varsity tailback for Two Rivers this past season, Matthias was the team's leading rusher when my coworker Mark Johnson saw Two Rivers play late in the Fall season. That is no easy task, and although he doesn't have any film available the amount of production he's going to have when his four years is up is going to be impressive. Great way to round out the Top-10 of Wisconsin's 2024 class.