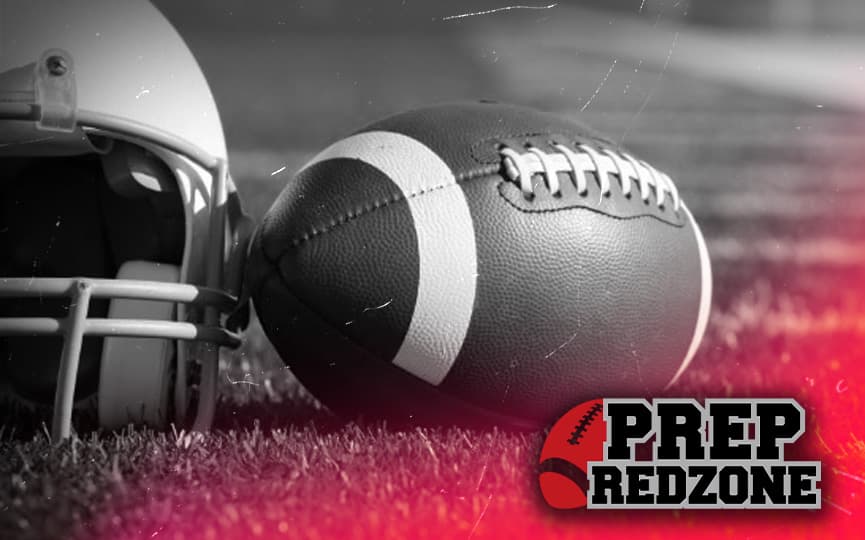 Posted On: 03/11/21 6:57 AM
Student athletes take different paths when it comes to recruiting.  Some are early bloomers and show up on to recruiting radar's earlier in their high school careers.  Some student athletes are slower to develop and because of that are late to the recruiting scene.  In this article I take a look at five 2022's who have blown up over the last 7 or 8 months onto the D1 recruiting scene.
Olentangy Liberty's Carter Smith Carter Smith 6'6" | OL Olentangy Liberty | 2022 State OH is a long and athletic Offensive Tackle, the kind that are all the rage of college coaches these days.  That being said Carter didn't really have much in the way of offers going into his junior season.  Things would quickly pick up, however, for the Patriot offensive lineman.  In November he'd pick up offers from Virginia, Indiana, Wake Forest, Iowa and Pitt.  He's picked up several more P5 offers since then.  Smith has the athleticism, that lends to a very strong pass set.  Liberty was a smash mouth running team, and it was here that Smith displayed his ability to execute in the run game.  His versatility will continue to make him a hot commodity on the D1 recruiting market.  He has a lean frame to build on at the next level.  Carter would like to make a decision on where he'll play before the start of football this fall.
At 6'7 320 Ryan Baer Ryan Baer 6'7" | OL Eastlake | 2022 State OH is an imposing figure to say the least.  Though he's been on the recruiting radar of D1's since his Sophomore season he's really came on since the beginning of his junior season.  Since last August he's picked up 11 P5 offers from the Big Ten, ACC, SEC and the Big 12.  Not only is Baer weight room strong, but he's functionally strong.  You like pancakes?  Because after watching Ryan's film you'll be asking how do you like dem pancakes?  Baer is a mauler, he gets downhill quickly, be it getting to the second level or be it pulling he comes like a Mack truck looking to plow through whatever's in it's way.  I asked Ryan if he had a timeline for when he'd like to make his college decision and simply put he said, "when the time is right".
It's safe to say that Tyler Gillison Tyler Gillison 6'3" | DL Pickerington Central | 2022 State OH doesn't know much about losing in his time at Pickerington Central HS.  All the Tigers varsity program has done since he's been there is to go 50-6, go to 3 state championship games, while winning 2 of them.  Not bad eh?  I project Tyler out to an Edge at the collegiate level.  At 6'4 245 he's an athlete with a motor.  He's a guy that can take the edge on a speed rush or he can cross the defender's face and beat him inside.  He also displays some good bend when using the speed rush.  Run away from him and he'll run it down from the backside.  Tyler didn't have any D1 offers going into his junior season and he now has 10 in his back pocket with Syracuse, West Virginia, and Virginia Tech being the most notable.
Charlie Kenrich Charlie Kenrich 6'3" | TE Lakota East | 2022 State OH is the most recent of the five featured in this article to come blow up onto the D1 recruiting scene.  Kenrich has a good combo of size, speed, and athleticism.  When watching Kerich's film the surprising thing is his ability to make plays after the catch.  He has very good suddeness to his game in spite of the fact that he's 6'4 225.  Before Charlie's junior season he didn't have any D1 offers and even up until February most of his offers were MAC schools who were offering him as a defensive end.  In the last 3 weeks he's received offers from Virginia Tech of the ACC, Vanderbilt of the SEC, Purdue and Michigan State of the Big Ten, and Iowa State of the Big 12 who are looking at him as a tight end.  I asked Charlie what this last month was like and this was his response:  "This month has been something I never expected to come my way, but I couldn't be more thankful because it's one of the coolest experiences I think I'll ever get to go through."  Kenrich hopes to make some official visits this summer before making a decision on where he'll play college football.
Last September just  as Drew Allar Drew Allar 6'5" | QB Medina | 2022 State OH was getting his junior season started, he had 2 offers, both from MAC schools.  However the work that Allar put in during the previous offseason would set him up for a big junior season that would lead to a string of Big time D1 offers that would come in 2021.  Allar's coach Brad Maendler says Drew has a fantastic work ethic.  According to Maendler Drew spent last offseason refining his throwing mechanics.  You don't come across many newly turned 17 year old QB's who stand 6'5 and 230 pounds.  He fits the description of a big time Power 5 QB.  With him it's all about big, big arm, big body, big talent.  Drew can make throws to every level of the field.  You can see his ability to progress through his reads.  After a post season run that would see Drew lead his Medina Battling Bees to consecutive wins over Ohio football powerhouses Lakewood St. Ed's and Cleveland St. Ignatius the offers started to pour in.  Not just any offers, but offers from the likes of Penn State, Michigan, Texas A&M, and Notre Dame among many other Power 5's.  This week Drew committed to Penn State and James Franklin.