Week 2 of this extraordinary New Mexico high school spring football season unfolded this past weekend across the state. Here are the standout performers and units for the weekend:
Marcos Lopez Marcos Lopez 6'1" | QB Las Cruces | 2021 State NM , Las Cruces: Lopez signed with Eastern New Mexico in February and Friday night against the Bulldawgs' chief rival, he showed why. Directing a run-dominated attack, Lopez was a perfect 6-for-6 passing for 110 yards and a touchdown to go along with 106 rushing yards. Las Cruces finished with 187 rushing yards in a 23-6 victory over Mayfield.
Nick Lucero Nick Lucero 6'1" | DL Las Cruces | 2021 State NM , Las Cruces: He excelled on both sides of the ball for the Bulldawgs. He caught a TD pass from Lopez and tackled a Mayfield player in the end zone for a game-clinching safety in the fourth quarter.
Joey Cave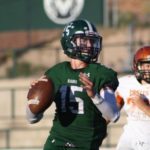 Joey Cave 6'0" | QB Rio Rancho | 2021 State NM , Rio Rancho: In a game thoroughly dominated by Rio Rancho on both sides of the ball, Cave, making his first career start as the Rams QB, enjoyed a productive game with 102 rushing yards and two touchdowns while completing 8 of 13 passes for 137 yards and two scores. His 66-yard touchdown pass to Smith made it 28-0 with 11:18 left in the second quarter.
Lucas Lucero Lucas Lucero 6'2" | DB Rio Rancho | 2022 State NM , Rio Rancho: The Rams aggressive defense stymied Santa Fe all afternoon long in a 57-6 victory, and Lucero played an integral role with an interception and a blocked punt through the end zone for a safety and a 44-0 Rio Rancho lead midway through the third quarter.
Jeff Davison Jeff Davison 5'11" | QB Cleveland | 2021 State NM , Cleveland: Definitely one of the most underrated players in the state, Davison threw for close to 300 yards and three touchdowns while running for two more scores in the Storm's surprising easy 45-14 victory over Clovis in Rio Rancho Saturday.
Sammy Zaragoza Sammy Zaragoza 6'0" | LB Goddard | 2021 State NM , Goddard: Thanks to a phenomenal day for the Goddard offensive line (OT Larry Luna Larry Luna 6'5" | OL Goddard | 2021 State NM has signed with UNM), the Rockets carved up the Artesia defense for 410 rushing yards. Zaragoza  took over the game late in the third quarter when he made a fourth down tackle to give the ball back to Goddard and then moments later broke free for a 45-yard TD run.
Freddie Anaya, Roswell: Anaya rushed for over 100 yards, scored two touchdowns and converted on a 2-point conversion as the Coyotes came from behind to beat the Carlsbad Cavemen, 24-14, at the Wool Bowl Saturday.
Talon Sanders, Roswell: Active all day for a Roswell defense that stymied Carlsbad most of the game, Sanders had the game-clinching interception late in the fourth quarter.
Luke Padilla Luke Padilla 5'9" | RB Capital | 2021 State NM , Capital: Already his school's career rushing leader, Padilla and the Jaguars offense ran roughshod over Los Alamos in a 55-7 victory. Padilla had 202 rushing yards on just 8 carries in the first half as Capital built a 41-0 lead, and teamed with backup Gio Munoz RB for 345 rushing yards and 5 touchdowns.
Julian Sanchez, Capital: While Padilla was having his way with the Los Alamos defense, Sanchez scored on a Pick-6 and dominated the game on both sides of the ball for the Jaguars. Capital coach Bill Moon described Sanchez as the "most impactful player on the field for us."
Hope Christian Offensive Line: The Huskies dominated Hot Springs, 49-14, in Truth or Consequences, doing most of the damage on the ground. Hope Christian totaled nearly 500 yards in total offense with at least three TD runs of 25+ yards.
Sean Hays Sean Hays 6'0" | RB Alamogordo | 2021 State NM , Alamogordo: Hay sis showing college coaches he deserves an opportunity at the next level, rushing for 141 yards on 21 carries in Alamogordo's 37-12 victory over Ruidoso Friday night.
Bracxton Hall, Ruidoso: Hall totaled 104 yards on 25 carries and teamed with junior Griffin Hooker (99 yards) to give the Warriors over 200 yards on the ground. But Ruidoso had little in the way of a passing attack.
Bloomfield Defense: Neither team scored a TD in Bloomfield's 14-0 victory over Piedra Vista Friday night as the Bobcats' defense scored both TDs on fumble returns.
Hayden Dean, Eunice: The best 2A matchup of Week 2 occurred Friday night as Eunice prevailed over Jal, 34-21. Directing a balanced attack, Dean threw for 146 yards and three touchdowns while rushing for 55 yards on 9 carries. Impressive win for the Cardinals.
Dominic Tsosie, Kirtland Central: Despite the wintry conditions, Tsosie made a pair of TD catches to lead Kirtland Central to a 25-6 win over Aztec in the snowy Four Corners.
Bryan Hernandez, Grants: Hernandez, who is courting college offers, returned a punt for a TD and also intercepted a pass in Grant's 13-2 slugfest victory over St. Pius X Friday night.
Adam Aguilera Adam Aguilera 5'8" | WR Lovington | 2022 State NM , Lovington: Aguilera had two receptions for 25 yards and one touchdown, an 85-yard kickoff return for a TD and two punts for a 36-yard average in Class 4A Lovington's 28-25 road victory at 6A Hobbs. That's doing it all.
Marcus Rodriguez, Lovington: The Wildcats aren't all about offense, although sometimes it seems that way. Rodriguez had 16 tackles (3 solo, 13 assists) in the win at Hobbs.
Portales Defense: An interception that led to an early 21-yard TD pass was followed later in the first quarter by a scoop and score on a Dexter fumble by Rams senior Anthony Montoya as Portales jumped out to a 20-0 lead 11 minutes into a penalty-filled game in a 34-6 win over Dexter Friday night.
Missael Hermosillo, Taos: In the most exciting finish of Week 2, Hermosillo caught a Hail Mary pass in the finals seconds as Taos stunned Raton, 21-14. The game had been tied and overtime looked imminent until Hermosillo came up with the game-winning play.
Defending state champ @CHSStormFB opened their season with a 45-14 win over Clovis pic.twitter.com/5pldeJfQtJ

— NMAA (@_NMAA) March 14, 2021
Bryan Hernandez of @GrantsFootball with a couple big plays in last night's 13-2 win over St. Pius X pic.twitter.com/GkQxaehspY

— NMAA (@_NMAA) March 13, 2021
Highlights of football action from week two (UPDATED with Saturday scores and highlights) You won't find more highlights anywhere else!https://t.co/3m3SEA7Ojc

— NMAA (@_NMAA) March 14, 2021