Southern California high school football fans are in for a treat on Saturday when the defending CIF-Southern Section Division 1 champion St. John Bosco hosts the Division 2 champion Sierra Canyon.
Fans can watch the game on Fox Sports West.
Both teams feature multiple college prospects and elite high school players. Below are just a few players to watch in this marquee matchup.
DJ Harvey DJ Harvey 5'11" | DB Sierra Canyon | 2021 State CA , Sierra Canyon
While Sierra Canyon is without Georgia Tech signee and quarterback Chayden Peery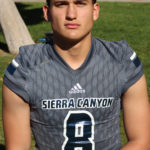 Chayden Peery 6'3" | QB Sierra Canyon | 2021 State CA , they still have another ACC signee in Virginia Tech's Harvey. Harvey had four interceptions for the Trailblazers last season and returned one for a touchdown. He also caught 84 passes for 1465 yards and seven touchdowns as a receiver and returned two kicks for touchdowns. He is one of the best players in this game and a real joy to watch.
Sierra Canyon sophomore DB DJ Harvey is the truth. At least 3 other pass breakups tonight vs Calabasas. pic.twitter.com/tqCcHYyFNY

— Football Recruit. (@FootballRecruit) October 6, 2018
---
Drue Watts, Sierra Canyon
The leader of the Trailblazers' defense. He had 131 tackles, 15 for loss, four sacks, one forced fumble last season. He is 6-foot-1 and 215 pounds and signed with Nevada. He is extremely athletic and can play sideline to sideline and is great in pass coverage.
---
Kamari Ramsey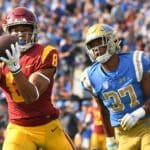 Kamari Ramsey 6'1" | DB Sierra Canyon | 2022 State CA , Sierra Canyon
Ramsey is one of the best underclassmen safeties in the nation. He is very aggressive, can lay big hits and has elite closing speed. He makes any receiver running routes over the middle cautious. Ramsey is very good in pass coverage too and has a Division 1 body at 6-foot-1 and 205 pounds. He holds 16 offers.
Our 2022 rankings reveal continues today, with 20 more players earning their stars.

Today's list includes California ATH Kamari Ramsey@_YooMari

See today's 20, and the rest of the 80 from this week, here:https://t.co/uGYLKYjx9J pic.twitter.com/jahlvqIzT0

— Rivals (@Rivals) April 3, 2020
---
Caden Harman, Sierra Canyon
Harman led Sierra Canyon in sacks last season and is a guy the coaching staff is very high on. He made 63 tackles, 12 sacks and had three forced fumbles last season. He has added a lot of strength and weight since last season which will help him in defending the run. In most offensive schemes, you ignore the away side defensive end on run plays and play action and Harman is someone you always have to account for.
---
Donovan Williams Donovan Williams 6'0" | WR Sierra Canyon | 2021 State CA , Sierra Canyon
Williams was the Trailblazers' second leading receiver last season. He caught 47 passes for 749 yards and six touchdowns. He is a little undersized being under 6-feet tall and less than 180 pounds, but he runs great routes and will be a major asset for junior quarterback Daniel Duran, a transfer from St. Bonaventure. Williams has an offer from Southern Mississippi.
---
Katin Houser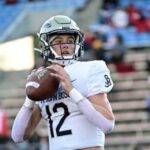 Katin Houser 6'3" | QB St. John Bosco | 2022 State CA / Pierce Clarkson Pierce Clarkson 6'1" | QB St. John Bosco | 2023 State CA , St. John Bosco
St. John Bosco coach Jason Negro has been keeping his thoughts on the quarterback race a secret, but both quarterbacks played in the team's scrimmage against Damien last week and performed well. Both quarterbacks threw two touchdown passes and have garnered some recruiting attention as underclassmen. I wouldn't be surprised to see both quarterbacks get playing time in this game.
Watch St. John Bosco's Pierce Clarkson deliver this strike for a TD — Bosco's fourth TD in scrimmage with Damien pic.twitter.com/RtjXkpWfdQ

— Fred J. Robledo 👨🏻‍💻 (@SGVNSports) March 7, 2021
---
Maximus Gibbs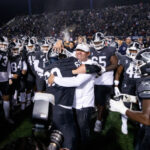 Maximus Gibbs 6'6" | OL St. John Bosco | 2021 State CA , St. John Bosco
Gibbs is the fifth ranked offensive lineman in the state according to Prep Redzone and is by far the biggest at 385 pounds. He is signed with USC and opted to stay at Bosco for his senior season. He is a guard with elite strength and very good footwork for a lineman of his size.
---
Earnest Greene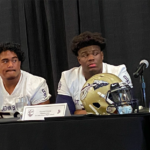 Earnest Greene 6'5" | OL St. John Bosco | 2022 State CA , St. John Bosco
He is the top offensive lineman in California's class of 2022 and it's easy to see why. He is the left tackle for one of the best teams in the nation. His footwork is fantastic and he carries his size very well. The two young quarterbacks will be happy to have an offensive line led by Gibbs and Greene to protect them.
ELITE 2022 @boscofootball Offensive Tackle AND Top #USC Target Earnest Greene III on Tuesday❕@USCScoop #FightOn✌️ pic.twitter.com/RGFwqkXyOI

— Scott Schrader (@Scott_Schrader) October 21, 2020
---
Jode McDuffie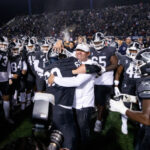 Jode McDuffie 5'10" | WR St. John Bosco | 2021 State CA , St. John Bosco
With Beaux Collins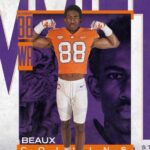 Beaux Collins 6'3" | WR St. John Bosco | 2021 State CA enrolling early at Clemson, McDuffie slides in as the Braves' number one receiver and he is more than capable of doing so. He caught 30 passes for 595 yards and nine touchdowns last season. McDuffie is fast and can lineup anywhere on the field and create matchup problems. He is one of the best unsigned players in the 2021 class and has four offers from Arizona State, Oregon, San Diego State and Washington State.
Screen pass to Jode McDuffie…touchdown Braves! Loya's XP is good. Braves up 28-10 with 9:58 left in the 3rd pic.twitter.com/3Z6ui5TbYM

— Bosco Football (@boscofootball) October 12, 2019
---
Matayo Uiagalelei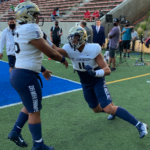 Matayo Uiagalelei 6'5" | DL St. John Bosco | 2023 State CA , St. John Bosco
Brother of Clemson quarterback DJ Uiagalelei and quickly making a name for himself as a national prospect. He is an elite college prospect at both tight end and defensive end. He is 6-foot-5, 265 pounds and has been compared to Rob Gronkowski. He will make a big impact as a sophomore and already has 16 offers, including Alabama, LSU and many major offers.
Matayo's 1st TD catch in high school. Should of had two but its ok. He started both ways, DE and TE. So proud of my son. He did that. pic.twitter.com/RRJgyVo8NR

— Big Dave Uiagalelei (@DUiagalelei) March 7, 2021
---
Rayshon Luke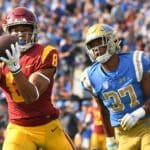 Rayshon Luke 5'9" | RB St. John Bosco | 2022 State CA , St. John Bosco
There is a lot of talk about how Mater Dei has three elite running backs but some people sleep on the star at St. John Bosco. Luke is one of the top running backs in the 2022 class and isn't mentioned as much as he should be. He was on track to possibly be a sub 10.5 100 meter guy if the track season wasn't canceled due to Covid and he is dangerous in open space. I expect Bosco to find ways to constantly get him the ball. Luke has 11 offers and some experts expect him to pick USC.
My 2nd TD a 72 yd rushing Touchdown🏈 @sjbathletics @COACH_T_BULLOCK @GregBiggins pic.twitter.com/3iqSzByEVd

— Rayshon "Speedy" Luke (@LukeRayshon) March 7, 2021