After nearly 500 days, high school football was played in Southern California.
There were some thrilling games in week one to kickoff the spring football season with a bang.
Below are five of the top passing performances that happened in week one in Southern California.
Noah Fifita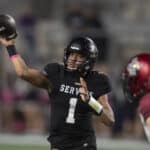 Noah Fifita 5'10" | QB Servite | 2022 State CA , Servite, 2022
Fifita is getting used to dominant performances in his high school career. After dominating Damien of La Verne, Fifita told reporters, "It was not a bad night." The rising junior quarterback completed 14 of 17 passes for 279 yards and three touchdowns. I'd say that's not a bad night. Fifita and receiver Tetairoa McMillan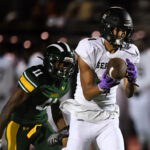 Tetairoa McMillan 6'4" | WR Servite | 2022 State CA is the best quarterback, receiver duo in the state and Keyan Burnett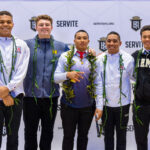 Keyan Burnett 6'5" | WR Servite | 2022 State CA has seen his stock rise, partly because of Fifita. He has been picking up offers like crazy and he is one of my favorite quarterbacks to watch.
Touchdown! Noah Fifita lets it fly connecting with Keyan Burnett downfield for the nearly 70yd score! PAT good, 20-0 Servite! @thenoah_fifita1 @keyan_burnett pic.twitter.com/cQYCQbAqX1

— Servite Football (@ServiteFootball) March 13, 2021
---
Colt Fulton Colt Fulton 6'4" | QB Santa Margarita Catholic | 2021 State CA , Santa Margarita, 2021
Fulton may be the best unsigned quarterback in Southern California for the class of 2021. He completed 18 of 25 passes for 315 yards and five touchdowns in the Eagles' 54-16 win over Mayfair of Lakewood. He completed passes to eight different receivers, his favorite target was Reymello Murphy, who caught four passes for 139 yards and a touchdown. Michael Buckley caught two passes, both touchdowns. Fulton is good sized lefty who stands tall in the pocket and throws as good of a ball as anyone in his class. He and the Eagles will have a real test against St. John Bosco on Saturday.
---
Jack Jacobs Jack Jacobs 6'5" | QB St. Francis - La Canada | 2023 State CA , St. Francis (La Canada), 2023
The 6-foot-5 rising sophomore had a stellar debut for St. Francis in a high-profile win over Mira Costa. Jacobs completed 24 of 37 for 395 yards and four touchdowns in a 38-35 win. He threw the game-winning touchdown pass to Evan Jernegan with 23 seconds left to win the game. He completed 9 passes to Bryson Reeves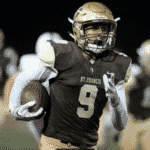 Bryson Reeves 6'2" | ATH St. Francis | 2021 State CA for 164 yards and three touchdowns. Jacobs impressed scouts at the National Preps Showcase in San Diego this offseason and his stock is on the rise.
Jack Jacobs to Evan Jernagan for 11 yards at a TD on 4th and 10 from the 11 with 23 seconds left. St Francis 38 Mira Costa 35. @SGVNSports @latsondheimer @Tarek_Fattal @DamianCalhoun pic.twitter.com/e39ARAAFdG

— James Escarcega 📈📊🏈🏀⚾️🥎 🤼🤽🏽‍♂️🏊🏼‍♀️🏌🏻 (@James_Escarcega) March 14, 2021
---
Nick Kim, Newport Harbor, 2021
Earlier this month it was unclear if Kim would be the starting quarterback at Newport considering Cole Lavin was applying for eligibility after playing earlier this season in Utah. Kim was outstanding for the Sailors in a 24-23 win over Yorba Linda. The senior completed 26 of 38 passes for 338 yards and three touchdowns and a lot of those throws were on the run while facing pressure. He helped showcase young receivers like freshman Josiah Lamaque had seven receptions for 159 yards, including a 76-yard touchdown. I saw Kim last season and he has always thrown a good ball but would have trouble when facing pressure or throwing into tight windows. He has apparently remedied the problem and if he plays this well, Newport Harbor may upset one of the top teams in the Sunset League.
---
Marcus Martin, Salesian, 2022
Martin is flying under the radar despite being a 6-foot-1 quarterback who can run multiple formations and styles. Salesian was a 1-9 team last season and Martin had to do a lot of learning on the job. The experience has appeared to have paid off for Martin who completed 17 of 28 passes for 228 yards and four touchdowns in a win over Cantwell-Sacred Heart of Mary. Salesian will need Martin to continue to play at this level if they want to compete in the Del Rey League.
---
Malachi Nelson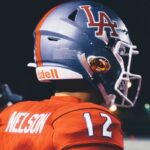 Malachi Nelson 6'3" | QB Los Alamitos | 2023 State CA , Los Alamitos, 2023
Nelson is arguably the best quarterback in the nation in the 2023 class but the numbers from his freshman year didn't jump off the page. That's understandable because he is a freshman and he showed how much he has improved in a blowout win over Millikan. He threw for 250 yards on just 13 completions with three touchdowns. He connected with his fellow highly-touted sophomore Makai Lemon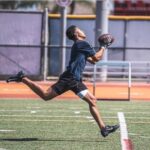 Makai Lemon 6'0" | ATH Los Alamitos | 2023 State CA four times for 116 yards, including on a 92-yard touchdown pass. Nelson has a real test against Corona del Mar Friday on Fox Sports West.
Malachi Nelson to Alec Willis. Los Al 29, Millikan 0. 3:24 left in second. pic.twitter.com/ORJCk6byBS

— eric sondheimer (@latsondheimer) March 13, 2021
---
Other standout performances
Dennis Andrew, Orange Glen
Reyen Beal, Yorba Linda
Braeden Boyles, Edison
Justin Gil, La Habra
Thomas Gruepner, Santa Fe Christian
Katin Houser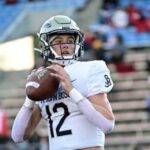 Katin Houser 6'3" | QB St. John Bosco | 2022 State CA , St. John Bosco
Jack Keays, El Modena
Cole Lourd Cole Lourd 6'2" | QB Brendwood School | 2021 State CA , Brentwood
Justus McComb, Granite Hills
Charlie Mirer, Cathedral Catholic
Maalik Murphy Maalik Murphy 6'5" | QB Serra - Gardena | 2022 State CA , Serra (Gardena)
Dylan Neal, Fullerton
Casey Pavlick, Mira Costa
David Rasor, Corona del Mar
Carson Taumoepeau, Mt. Carmel