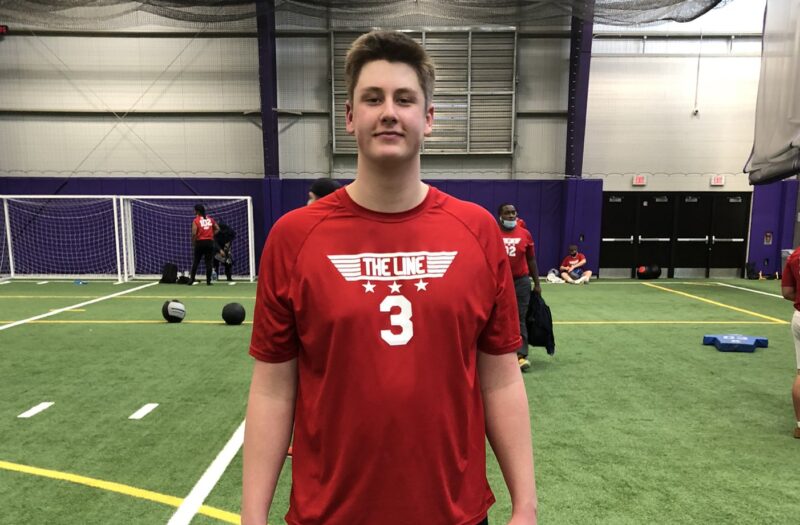 Posted On: 03/16/21 1:49 PM
Growing up around the football world you hear a lot of different terms for the kind of recruits that the Midwest, and in particular a lot of the Upper Midwest states, produce and are referred to. They're all endearing and are meant as compliments, and phrases such as "corn-fed", "big-boys", "country", or "farmer strength/size" are some of the first phrases that come to mind when I hear football prospects being described from states such as Minnesota, Wisconsin, and the Dakotas. For this PrepRedzone feature, I wanted to lean into these labels, tags, and typecasts and share with our readers some of the physically largest and most imposing prep recruits in those three aforementioned Upper Midwest states. We found some GIANTS, and also broke down their film, their game, and where they are at with their recruitment. Thanks so much for reading, I hope you enjoy!
Peyton Lange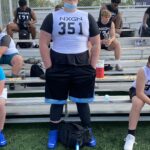 Peyton Lange 6'9" | OL Minnehaha Academy/SMB | 2023 State MN  (SMB, MN) OT. 6'9, 380 lbs. C/o 2023. @peytonlange2
Just an overall massive human being, Minnehaha Academy & SMB's sophomore OT and occasionally DT has already started two years for the Wolfpack OL and continues to grow as well as flatten people as time goes on. For a kid of his size he can move pretty well, showing that he can drive a man downfield on a downblock and even help out at the second level if defenders cross his path. He's also got a great base in pass-pro and is a nasty finisher who enjoys driving defenders into the ground and smothering them with his mass right after. I'm not sure how he handles speed and bend from DEs at this point in time, but he can easily overwhelm opponents with his size and strength at this point in time. No offers yet, but the Golden Gophers had him at a spring practice last season and I'm sure they aren't the only ones keeping tabs on Lange. 
Miles Graham Miles Graham 6'9" | OL Nicolet | 2023 State WI  (Nicolet, WI) OT. 6'9, 345 lbs. C/o 2023. @MilesGraham15
Another gigantic sophomore comes out of Wisconsin and the loaded underclassman talent at Nicolet High School. Although he's lacking in football film, watching him play basketball is a sight for sore eyes. He can shoot the three ball and is a tank in the paint, and in his twitter profile picture he is in pads for Nicolet, so I'm hoping he can grace us with some gridiron footage soon. No reported offers or interest at this point in time.
Ethan Fischer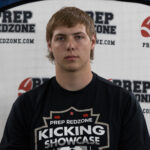 Ethan Fischer 6'9" | OL Maple River | 2022 State MN (Maple River, MN) OT. 6'9, 270 lbs. C/o 2022. @bigfish2022
The giant out of Maple River has been on the Golden Gophers radar for a while now, and for good reason too, as he's an athletic and mobile 6'9 OT/DT who has some really impressive highlights on his junior tape that includes him hauling his RB into the endzone single-handed and suplexing him over the goal line, holding down the edge with authority as a DE, and chasing down and tossing around DBs in the open field. He's absurdly long, with decent strength that would benefit exponentially in a college weight program, and a unique mobility that help him tremendously when operating at the second and third levels of a defense. His upside is out of this world, and I'm surprised a team hasn't reached out officially yet.
Noah Feddersen Noah Feddersen 6'9" | TE Menomonie | 2022 State WI  (Menomonie, WI) TE. 6'9, 220 lbs. C/o 2022. @FeddersenNoah
A favorite of our National Scouting Director Jake Lemming, Menomonie's  Noah Feddersen Noah Feddersen 6'9" | TE Menomonie | 2022 State WI  is a talented hooper but should not be underestimated on the gridiron, where he is a monster in the redzone and a matchup nightmare for defenses overall. Light on his feet and not awkward a bit for a kid of that size, Feddersen is a dangerous pass-catching threat who was used on a variety of routes last season, including digs over the middle, and hitches, meaning he is capable of more than just a fade in the endzone. That's not taking away from his high-pointing ability and overall threat inside the 20 however, because he is a monster in the RZ and utilizes his jumping ability and soft hands to make some really impressive catches with defenders all over him. I was also happy to see him block willingly and physically in his junior tape, so I think he's a fairly complete TE prospect at this point in time. He holds an Eastern Illinois football offer at this point in time.
Kael Miedema Kael Miedema 6'8" | OL SF Washington | 2023 State  (Sioux Falls Washington, SD) OT. 6'8, 310 lbs. C/o 2023. 
Another favorite of National Scouting Director for PrepRedzone Jake Lemming, Miedema is coming out of the uber-talented Sioux Falls, SD area and is a great looking sophomore prospect who plays with a powerful base and is a menacing run-blocker and also looks like he possesses some strong pass-pro technique and is quick enough to react to speed-rushers off the edge. He's got more pass-pro clips than a lot of the lineman on the list, which I find as a big plus, and as only a sophomore I think it's safe to say his best football in still in front of him. He's got no reported offers right now.
Cole Madsen Cole Madsen 6'8" | OL Buffalo | 2022 State MN  (Buffalo, MN) OT. 6'8, 285 lbs. C/o 2022. @ColeMadsen3
The Buffalo Bison football program has put out some high-quality prep prospects over the past few years, and Madsen is one of their bigger (literally and figuratively) talents in the 2022 class who is being contacted by North Dakota State, South Dakota State, and Wayne State College. He's a crushing down-blocker with a long, lean frame, and some good leg drive that help him put defenders into the turf. He also has some pass-pro experience and has a strong punch when he initially strikes, but could clean up some footwork out of his pass-set. I think overall he's one of the stronger recruits on this list and has a high ceiling as a prospect.
Thomas Diew Thomas Diew 6'8" | DL St. Cloud Apollo | 2022 State MN  (St. Cloud Apollo, MN) DE/TE. 6'8, 240 lbs. C/o 2022. @thomas_diew 
A talented basketball player, Diew has some extremely long arms and has a good get-off at the LOS thanks to his impressive athleticism for a kid of his size and age. He's got good body control and utilizes a good rip when rushing QBs off the edge, and made a good jump in his overall physicality from his sophomore to junior season tapes. He's able to slip by blockers due to his length and athleticism, but I'd like to see him use his hands more efficiently to get off blocks. If he can continue to add strength he's going to be a monster as a senior, and the few clips he has as a pass-catcher on his junior tape are really exciting to watch. Big upside once again, and as of right now he's heard from the likes of Northern Illinois, South Dakota, Eastern Michigan, and even Minnesota. No offers yet, though.
Max Lampe Max Lampe 6'7" | OL Middleton | 2022 State WI  (Middleton, WI) OT. 6'7, 340 lbs. C/o 2022. @BigMaxLampe
Unfortunately, Lampe and his Middleton Cardinals were not able to compete in a Fall season in 2020, but in his sophomore film you can see a strong, physical, and high-effort offensive tackle who can get downfield and crush defenders if possible. I'm really excited to see how he's grown and developed going into the spring season.
Jack Dotzler Jack Dotzler 6'7" | OL Waunakee | 2022 State WI  (Waunakee, WI) OT. 6'7, 265 lbs. C/o 2022. @jack_dotzler 
We at PrepRedzoneWI are big fans of Dotzler and have gotten to see him compete twice in-person this offseason, and after seeing him live it's no wonder he's hearing from the likes of Vanderbilt, Wyoming, Purdue, South Dakota, Yale, NDSU, and NIU. At the PrepRedzoneWI Showcase and the other event we saw him at, the Waunakee product was one of the most physical and aggressive offensive lineman at the event, with no qualms or hesitation to stick his face into an opponent and drive him into the turf. Here's what I wrote about him after the December Showcase in the Wisconsin Dells, where he was one of my potential OL MVPS: "He's easily got the coveted Division 1 frame that so many college programs are looking for in their offensive tackles, and carried his almost 270 pounds really well to the point that he almost looked skinny, and it was clear that he still has a lot of room to grow on his frame. He didn't play like a young buck however, and I really liked his toughness and physicality, especially in-regards to his initial punch. He had some power packed into those long arms, and used them efficiently at the snap of the ball as well as throughout the rep. Dotzler also possessed some quick feet and a strong pass-set, and went hard every rep and played through the whistle. When the Showcase was finished, you could tell his face and body experienced some contact, and overall I thought he was just a really tough kid and a good competitor. I think he's got the makings of an FBS OT prospect, especially given the state of Wisconsin's tradition of successful collegiate Olineman."
Unfortunately, Waunakee did not have a fall season in 2020 but a big spring will catapult his recruitment in a great way.
Evan Malcore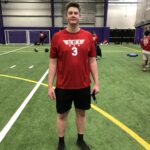 Evan Malcore 6'6" | OL Sun Prairie | 2022 State WI  (Sun Prairie, WI) OT. 6'7, 270. C/o 2022.  @evanmalcore
Another sophomore who missed out on his junior season this fall, Malcore is another talented junior OT prospect with the coveted OT frame who also carries his 270 pounds really well and will be a beast after a college strength and conditioning program gets ahold of him. He's made big impressions on every one of our scouts that has gotten eyes on him, and for a kid that's still growing he's got some great strength and can move laterally when reacting to speed-rushes or inside breaking moves up the B gap. I love his balance too, and he's patient but effective when he throws his initial punch and he also tested well at our PrepRedzoneWI Showcase and showed the athletic capability to play at the FBS level of college football. A big spring will definitely help him land that first scholarship offer, as he's been hearing from Wyoming, Miami of Ohio, NDSU, South Dakota, Purdue, North Dakota, Yale, St. Thomas, Tulane, Augustana, UMD, MSU-Mankato, and Northern Illinois.
Spencer Alvarez Spencer Alvarez 6'7" | TE Columbia Heights | 2022 State MN  (Columbia Heights, MN) TE/DE. 6'7, 235 lbs. C/o 2022. @Spencer10Alv
A great two-sport athlete who plays for the illustrious Howard Pulley AAU team on the hardwood, Alvarez is a productive DE and TE in high school who put a lot more TE reps on film in his junior tape and showed a lot of improvement in his blocking game from his sophomore season. It also looks like he's made some gains in the weight room, and he laid some really massive blocks out in space this past season. I am a big fan of his skills at the DE position though, as he's got a great get-off at the LOS, closes the distance when pursing ball-carriers quickly, and is patient at reading and reacting to the play. I also like how he uses his hands at both the DE and TE positions, as he's awesome at getting inside his opponent, and he's also explosive at the point of contact. I feel like I'm higher on this kid than a lot of other people for some reason, but I think his athleticism, frame, and versatility make him a really promising potential FBS prospect. He holds an early offer from MSU-Mankato, who offered after he balled out at their team camp in the summer of 2020.
Carson Yale Carson Yale 6'8" | QB Des Lacs-Burlington | 2023 State  (Des Lacs-Burlington, ND) QB. 6'7, 220 lbs. C/o 2023. @carsonyale
The final PrepRedzoneDAK prospect and yet another standout hooper, Yale is a massive sophomore QB who throws the football with some promising accuracy and zip. He's got the ability to accurately connect with receivers on deep balls, slants, hitches, and corner routes to the sideline and puts the ball where only his man can get it. He also does a great job of getting the ball out of his hand quickly, and for such an impressive physical specimen I really like how he seems to be a pass-first quarterback who can also hurt defenses with legs if need be. When he takes off and runs he's a noticeably good athlete who is a load and a half for would-be tacklers to try and bring down. There's a ton to like in the sophomore stud at this point in time.
Teigan Martin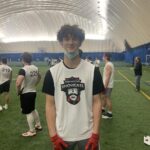 Teigan Martin 6'6" | TE Mayer-Lutheran | 2022 State MN  (Mayer Lutheran, MN) TE/WR. 6'7, 210 lbs. C.o 2022. @teigan_martin 
A big-time beast out of the edges of the Metro area comes from the distinguished two-sport star  Teigan Martin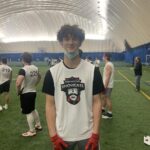 Teigan Martin 6'6" | TE Mayer-Lutheran | 2022 State MN , who earned a nod from one of our big-time scouts in former Ohio State assistant coach Bill Conley, who named Martin one of his "Elite Eight Midwest TE Prospects. He's already a 2x All-District and Second Team All-Metro athlete who also attended and balled out at our inaugural PrepRedzoneMN Showcase on MLK Day, showing off his excellent vertical threat ability and overall athleticism. Although he is on the thinner side of 210 lbs., his speed, quickness, and fluidity as a pass-catcher had me thinking that Martin may potentially have what it takes to play WR at the collegiate level, and do it well at that. He's great at the LOS, with quick feet and an understanding of elusiveness thanks to his stellar background of basketball. He's got some great YAC ability as well, with some great moves in the open field for a man of his size. He's also physical, hence the 2nd Team All-Metro nod at the DL position, and he has a really dangerous skill-set and a ton of potential. One of the highest ceilings on this list, He's already been offered by Iowa State and Western Illinois, and has been hearing from NDSU, St. Thomas, SDSU, Kansas, Miami of Ohio, Purdue, and Army-West Point.
Bryce Lund Bryce Lund 6'7" | QB Sauk Rapids-Rice | 2022 State MN  (Sauk Rapids-Rice, MN) QB/TE. 6'7, 190 lbs. C/o 2022. @BryceLund3
For some reason he hasn't updated his film, but the SSR Minnesota product is a dynamic athlete who can play QB or WR and has an obviously great frame to play college football. I hope he updates his film soon.