Week 2 of the once-in-a-lifetime (hopefully) abbreviated spring high school season gets underway Friday night with 17 games. Nearly two dozen games are scheduled for Saturday (Note: Deming-Silver has been postponed. Deming will reportedly face Pojoaque Valley at Los Lunas HS).
Here are our players to watch in Week 2's slate of Saturday games:
Braxton McDonald Braxton McDonald 5'10" | WR Artesia | 2021 State NM , Artesia: The state's best receiver had 14 receptions for 170 yards and two acrobatic TD receptions in last weekend's shootout loss to Carlsbad. McDonald's matchup against Goddard DB Nathaniel Stone Nathaniel Stone 6'2" | DB Goddard | 2021 State NM will be worth the price of admission.
Cord Cox Cord Cox 5'10" | QB Artesia | 2021 State NM , Artesia: The Bulldogs' senior QB completed 23-of-36 passes for 374 yards and 2 TDs in the loss to Carlsbad. Impressive statistics for his starting debut. He looks to keep the momentum going against Goddard.
Nathaniel Stone Nathaniel Stone 6'2" | DB Goddard | 2021 State NM , Goddard: The Eastern New Mexico signee is one of the state's top defensive backs.
Fernando Rubio Fernando Rubio 6'2" | DL Goddard | 2021 State NM , Goddard: Rubio, who has also signed with ENMU, leads the Rockets' pass rush. If Goddard wants to slow down the Artesia passing attack, Rubio must find a way to affect the QB.
Ayden Madrid Ayden Madrid 5'11" | LB Bernalillo | 2021 State NM , Bernalillo: The state's single season record holder for most tackles leads the Bernalillo defense against Gallup, which was blanked by Kirtland Central in last week's spring opener. If Madrid and the Bernalillo defense bring the proper mindset, Gallup will find it tough to score.
Luke Padilla Luke Padilla 5'9" | RB Capital | 2021 State NM , Capital: The 2021 Fort Lewis College signee makes his debut along with his Capital teammates against Los Alamos. Padilla had a great year in 2019 when he emerged as one of the state's top running backs.
Marcos Lopez Marcos Lopez 6'1" | QB Las Cruces | 2021 State NM , Las Cruces: The top quarterback in southern New Mexico and his Bulldawg teammates debut in the spring season with a rivalry matchup against Mayfield. Lopez's dual threat skills should be on full display.
Mando Villescas Mando Villescas 5'5" | RB Las Cruces | 2021 State NM , Las Cruces: In order to take some of the pressure off Lopez, Las Cruces will look to Villescas to bolster the ground game. He averaged 10.6 yards per carry in 2019.
Derrick Martinez Derrick Martinez 5'8" | RB Mayfield | 2021 State NM , Mayfield: The Trojans' answer to Villescas. He has patiently waited his turn at running back for Mayfield and now he gets his opportunity. Great running back duel on the docket at the Field of Dreams.
Oscar Gonzalez Oscar Gonzalez 6'0" | QB Hatch Valley | 2021 State NM , Hatch Valley: One of the top quarterbacks at the Class 3A level will lead the Bears against Tularosa.
Marcquis Henry, Aztec: One of the top young quarterbacks in the state is looking for a bounce back game against Kirtland Central after last week's shutout loss to Farmington. The Aztec O-Line must play better.
Armando Silva Armando Silva 5'10" | LB Roswell | 2021 State NM , Roswell: The Roswell defense is going to have to figure out a way to stop the high-flying Carlsbad offense and the Coyotes best defensive player will seek to dominate the interior from his defensive tackle spot.
Jesse Rodriguez, Carlsbad: His height and weight are listed at 5-foot-7, 130 pounds, but he sparked the Cavemen's offense against Artesia with a long TD run. Can he do it again against Roswell's stout defense?
Luc Jaramillo, Santa Fe: The Demons' dual threat quarterback will be the central figure for a Santa Fe offense looking to score enough points against Class 6A power Rio Rancho Saturday.
Matthew Maestas Matthew Maestas 5'8" | LB Santa Fe | 2021 State NM , Santa Fe: We all know the Rio Rancho offense possesses plenty of firepower. Who will stop them? Maestas is the anchor of the Santa Fe defense. He was a tackling machine in 2019 with 153 tackles, second most in the state.
Zach Vigil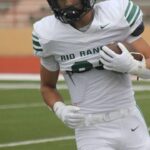 Zach Vigil 5'9" | RB Rio Rancho | 2022 State NM , Rio Rancho: Arguably the state's top 2022 running back is looking to get his junior season off to a positive start. He knows college coaches are watching. Few NM players could benefit more from a spring season than Vigil, who clearly possesses next level talent.
Cayden Romero Cayden Romero 6'5" | OL Rio Rancho | 2022 State NM , Rio Rancho: Of course, in order for Vigil to work his magic, he needs blockers in front of him. Romero is one of the top 2022 offensive linemen in the state. New Mexico has already offered.
Dylan Quartieri Dylan Quartieri 6'1" | QB Raton | 2022 State NM , Raton: People are starting to notice the 2022 Raton QB. He's been invited to the Hawaii Tiki Bowl in Honolulu and he recently took a virtual tour of Carleton College in Minnesota. Raton's offense has the potential to be very explosive.
Jeff Davison Jeff Davison 5'11" | QB Cleveland | 2021 State NM , Cleveland: NOBODY should benefit more from the spring season from a recruiting perspective than the Cleveland QB. All he does is win football games, but college coaches have been slow to respond.
Jeston Webskowski Jeston Webskowski 6'0" | RB Clovis | 2021 State NM , Clovis: In a Clovis-Cleveland Saturday afternoon matchup filled with college level athletes, Webskowski will be one of the brightest stars. But the Wildcats offensive line struggled against Hobbs. Now they go up against the Storm. Getting Webskowski and the ground game going is vital for Clovis.
— Cleveland Storm 🏈 (@CHSStormFB) February 25, 2021
Threadies for tomorrow. #BFE #TTW pic.twitter.com/ZW1ob5km3O

— CHSWildcatFootball (@chs_wildcats) March 13, 2021
It's Goddard week! Scheduled for Saturday 1pm kickoff in Artesia. As always follow us for updates as they come. pic.twitter.com/qL2lKIBcxf

— BulldogFootball 🏈🏆x30 (@artesiafootball) March 10, 2021
PED allows fans at sporting events – Ticket sales and availability

"This is not a normal season, but we're excited to have games again and fans in the stands," said LCPS Athletic Director Ernie Viramontes. @LCPSnet #NM #LasCruces #Athletics

Full article: https://t.co/YPdHjCmrO9 pic.twitter.com/7rwsfafU09

— Las Cruces Public Schools (@LCPSnet) March 11, 2021