Week 3 of the once-in-a-lifetime (hopefully) abbreviated spring high school season got underway Thursday night with three games (Sandia-Cibola was cancelled and continued Friday night. Twenty-four (24) more games are scheduled for Saturday with kickoff times ranging from 1 p.m. to 7 p.m.
Here are our 20 players to watch in Week 3's Saturday games.
Luke Padilla Luke Padilla 5'9" | RB Capital | 2021 State NM , Capital: Life is good for the No. 1 prospect in Santa Fe. Last weekend, Capital celebrated its upgraded football facility and new turf field awaited the Jaguars by trouncing Lo s Alamos, 55-7. Padilla rushed for 202 yards on EIGHT carries in the first half. This week, Pojoaque Valley awaits and Padilla might go off again. Don't bet against it.
Juan Fuentes, Dexter: The Dexter junior played a variety of roles in last week's loss to Portales. He played quarterback (completing 5 of 7 passes for 1 TD) and receiver (6 receptions for 47 yards) and was a bright spot in an otherwise dismal night for the Demons offense. Fuentes and the Dexter offense are looking for a bounce back performance against Tucumcari.
Dylan Quartieri Dylan Quartieri 6'1" | QB Raton | 2022 State NM , Raton: Raton's 6-foot-2, 210-pound quarterback is making waves off the field with college virtual visits (Oberlin, Carleton) and high school all-star games (Invite to Hawaii Tiki Bowl). Quartieri and Raton look to rebound after last week's stunning last-second loss to Taos. Raton's offense will bring plenty of weapons to Estancia.
Daniel Granados Daniel Granados QB Mayfield | 2022 State NM , Mayfield: The Trojans quarterback threw an 11-yard TD pass in last week's 23-6 loss to Las Cruces in the annual rivalry game. This week, Mayfield is officially immersed in the Class 5A wars by hosting Deming at the Field of Dreams Saturday afternoon.
Dominic Tsosie, Kirtland Central: The Broncos have an opportunity to improve to 3-0 against Miyamura and Tsosie is a big reason why. He caught a 46-yard TD and a 21-yard TD in last week's 25-6 victory over Aztec on a snow-covered field in the Four Corners. KC walloped Gallup, 42-0 in Week 1. Tsosie and RB Zakk Thomas Zakk Thomas 5'10" | RB Kirtland Central | 2022 State NM give the Broncos an outstanding 1-2 offensive punch.
Tyler Kiehne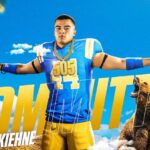 Tyler Kiehne 6'4" | DL Los Lunas | 2021 State NM , Los Lunas: The Tigers finally get their spring season started after oit initially looked like the wouldn't be able to play. Kiehne is  our No. 1 2021 prospect in the state and has already signed with UCLA. However, he stayed at Los Lunas for the spring semester and now gets his reward. Big game against La Cueva.
Aiden Nair, La Cueva: Per sources, senior Bears QB Ryan Cook Ryan Cook 6'0" | QB La Cueva | 2021 State NM suffered an injury in practice this week and won't play against Los Lunas. As a result, Nair finally gets his opportunity to show what he can do against Kiehne and the stout Los Lunas defense. He'll have Kentucky commit Lucas Padgett protecting along the offensive line.
Ja'Shon Lowery Ja'Shon Lowery 6'5" | DL La Cueva | 2021 State NM , La Cueva: The elite 2021 DE has signed with New Mexico and he'll lead the La Cueva defense against a Los Lunas offense led by RB Derek Chavez Derek Chavez 5'11" | RB Los Lunas | 2021 State NM .
Anthony Montoya, Portales: The Rams defender scooped up a fumble and returned it for a touchdown in last week's 34-6 win over Dexter. Portales has allowed just 6 points in the first two games. Rams are at Ruidoso on Saturday.
Walker Wenzel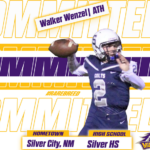 Walker Wenzel 6'1" | QB Silver | 2021 State NM , Silver: Unbeaten Alamogordo comes calling to Silver City and Wenzel, a Western New Mexico signee, should be ready for the Tigers.
Sean Hays Sean Hays 6'0" | RB Alamogordo | 2021 State NM , Alamogordo: Few players in New Mexico are off to a hotter start than Hays, who has rushed for 226 yards and 2 touchdowns in Alamogordo's 2-0 start. Hays is auditioning for college coaches and so far he's looking good.
Karsten Rueckner Karsten Rueckner 5'10" | QB Centennial | 2021 State NM , Centennial: Rueckner's QB debut for Centennial was a rousing success as the Hawks routed Onate. The level of competition goes up about three notches, though, Saturday when Centennial squares off with Cleveland at Socorro High School.
Trey Ortega Trey Ortega 5'11" | DB Cleveland | 2021 State NM , Cleveland: The 2021 University of San Diego signee will likely have the responsibility of covering Centennial WR Isaac Gutierrez Isaac Gutierrez 5'10" | WR Centennial | 2021 State NM , one of the top receivers in southern New Mexico. Should be a heckuva battle.
Jonathon Crocker, Valencia: As one of the top O-Line prospects in the state for the 2022 class, Crocker is already talking with colleges. Valencia takes on county rival Belen Saturday.
Anthony Roybal, Belen: He rushed for over 700 yards in 2019. Belen was in rebuilding mode in 2019. Saturday we'll see how much progress they have made.
Zach Vigil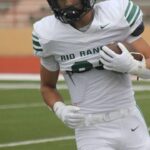 Zach Vigil 5'9" | RB Rio Rancho | 2022 State NM , Rio Rancho: The Rams' offense was hitting on all cylinders in last week's 57-6 win over Santa Fe. Vigil, one of the state's top 2022 prospects, showed off his speed and elusiveness. Rio Rancho takes on struggling Clovis at home Saturday.
Jeston Webskowski Jeston Webskowski 6'0" | RB Clovis | 2021 State NM , Clovis: After two disappointing outings for the Clovis offense to start the season, the spotlight will be on Webskowski, a UNM signee, to get the Wildcats back on track. Of course, you need an O-Line too.
Danial Ayala, West Mesa: One of the best under-the-radar quarterbacks in the Albuquerque area makes his season debut as the QB for an underrated offense. Watch out for West Mesa, both this spring and the fall.
Nick Petty Nick Petty 6'0" | QB Eldorado | 2021 State NM , Eldorado: The Eagles' matchup with Volcano Vista is one of those under-the-radar games that nobody is talking about. The senior Petty is healthy and looking to make an impression in the spring season.
Johnny Herrera, Volcano Vista: The Hawks will be counting on Herrera to make plays for them in Saturday's clash with Eldorado. Volcano Vista was the No. 1 seed for the 2019 Class 6A playoffs.
Excited to get back on the field tomorrow!! That white on blue is 🔥🔥🔥#ProtectTheTradition pic.twitter.com/hLiAEr9cvi

— Cleveland Storm 🏈 (@CHSStormFB) March 19, 2021
Gameday Threads for Tomorrow! LET'S GO!! Shoutout to @DmaldAT for the sweet graphics. #FOE #RingTheBell pic.twitter.com/1NOuSlCyA6

— AlamoTigerFootball (@AlamoFootball) March 19, 2021