Jabari Bates Jabari Bates 5'8" | RB St. John Bosco | 2022 State CA , St. John Bosco, 2022
Bates was the most explosive running back on the field in the huge game between Mater Dei and St. John Bosco last Saturday. He broke a 66-yard touchdown run in the first quarter to tie the game for the Braves and was popping off eight yard runs throughout the game. He is smaller but decisive in his decision making, he makes one cut and goes instead of dancing around. He has breakaway speed in open space and can make plays in the passing game as well. Bates has offers from Arizona State, Michigan, Nevada, Oregon, Oregon State and San Jose State.
That SPEED😳💨 @jabaribates6 answers back for @boscofootball @CIFSS I #PrepZone pic.twitter.com/zu6vnR0uvU

— PrepZone (@prepzone) April 18, 2021
---
Givens is one of, if not the best sophomore running back in San Diego. He was instrumental in Steele Canyon's 27-18 win over Monte Vista last week, rushing for 170 yards on 18 carries with a pair of touchdowns. He had a dominant sophomore season with 716 yards in just six games with seven touchdowns. He is only 5-foot-9 but has some strength and speed and is a good student with a 3.5 GPA. He should get some smaller offers this fall.
---
Brantt Riederich, Marina, 2021
Riederich is the younger brother of another great Marina running back who graduated a few years ago. He has been dominant this season and the offense really runs through him. They have a three-year starter at quarterback but his job is made easier because Riederich can get five yards per carry. He rushed for 181 yards on 15 carries with two touchdowns in Marina's Big 4 League championship game against Segerstrom.
Postgame interview with Brantt Riederich of Marina. 181 yards rushing with 2 TDs. More impressed that he was in street clothes in a matter of minutes.@ocvarsity @MHSVikingNews @MarinaVikingsFB pic.twitter.com/J6UBkX5Iam

— Manny Alvarez (@MAlvarez02) April 17, 2021
Brantt Riederich off to the races! 65 yards to the house, 21-0 @MarinaVikingsFB making up for lost playoff time! @ocvarsity 🏈💯@MarinaAquatics @MHSVikingNews pic.twitter.com/g6AP0KsBCK

— Dan Albano (@ocvarsityguy) November 9, 2019
---
Hunter Roddy, Chaparral, 2022
The Chaparral offense rushed for 578 yards in a huge 52-41 win over Murrieta Valley. The bulk of that yardage went to Roddy who rushed for an insane 405 yards on 45 carries with four touchdowns. He is a big running back at around 220 pounds and is very tough to bring down. Defenses know that he is going to get around 20 carries a game and they can't stop him. He had 710 rushing yards in just three games with 11 touchdowns. He has been in contact with schools like Columbia and Army and it will be interesting to see how his recruiting goes during his senior season.
Inland boys athlete of the week: Hunter Roddy, Chaparral https://t.co/aJcB852LBM

— IE Varsity (@PEcom_preps) April 20, 2021
---
Angel Vega, Santa Ana, 2021
Vega is a quarterback who is just as dangerous with his legs. He had a huge game to lead Santa Ana to an Orange Coast League win over a very good Orange team. Vega threw for 267 yards and three touchdowns and ran for 133 yards and a touchdown. He transferred to Santa Ana from Segerstrom and has been one of the more under the radar good quarterbacks in Orange County. He has six offers from lower level schools and has the versatility to play in any college offense.
2-0 📈 pic.twitter.com/qVpiN6GU5a

— Angel Vega (@angel_vega2) March 21, 2021
---
Other top performers: 
Zeus Alefosio Zeus Alefosio 6'2" | ATH Villa Park | 2021 State CA , Villa Park
Kyle Bandy, Servite
James Bohls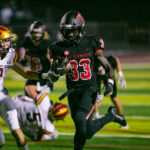 James Bohls 6'0" | RB San Clemente | 2021 State CA , San Clemente
Sheldon Canley, Lompoc
Darius Cowens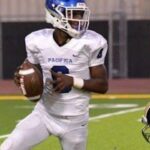 Darius Cowens 6'0" | QB Warren | 2023 State CA , Pacifica
Freddy Fletcher, Cajon
Max Garrison Max Garrison 5'10" | RB St. Francis | 2022 State CA , St. Francis
Cameron Goods, Irvine
Erik Hernandez, Castle Park
Jawan Howard, Silverado
Brian Jurado, Los Alamitos
Jacob Laverdiere, Mount Miguel
Elza Lindemans, Chaparral
Adam Luna, Anaheim
Tre Samuel, Westchester
DJ Watts, Murrieta Valley
Jaheem Williams, Montgomery
Marceese Yetts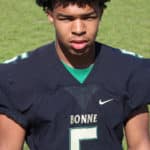 Marceese Yetts 5'8" | RB Mater Dei | 2021 State CA , Mater Dei