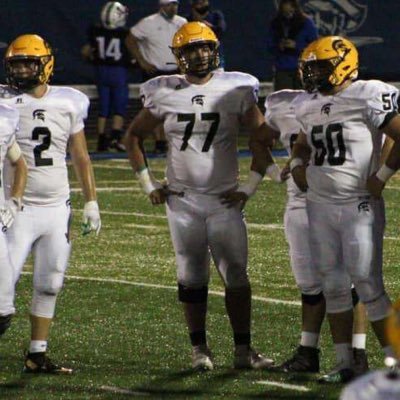 Posted On: 06/13/21 10:36 AM
We are taking a look at some of the top senior offensive linemen. These linemen are guys who have earned their ways up our charts and are worthy prospects to watch out for this season. Let's dive right into it and see who the top linemen are in the state to watch this coming-up season.
Xavier Bausley Xavier Bausley 6'5" | OL South Charleston | 2022 State WV | 6'5" 315 lbs | OL | South Charleston | 2022
Xavier has a big frame and a solid base that moves well for 300 lbs. He is a nasty blocker and can put guys in the dirt. Shows good drive and footwork in run blocking. Pass pro footwork could use improvement but I think he could be a solid prospect to watch out for this season. He shows he can open up some holes for running backs and get out in space and block downfield as well.  The intangibles and attributes are definitely there for this offensive tackle.
https://twitter.com/BausleyXavier/status/1333072163344162819?s=20
Myles Rice Myles Rice 6'4" | OL Weir | 2022 State WV | 6'4" 260 lbs | OL | Weir | 2022
This is a terrific offensive lineman to watch for this season. He's a smart athlete, he's got a 4.0 GPA, he's a big man