There is no shortage of skilled athletes in the class of 2022. Some of these players are excited to lead their teams to success as fall camp gets underway. Here are a few of those senior skilled athletes that are warranting attention prior to the season opener.
George Linberger George Linberger 5'11" | RB St. Vincent St. Mary | 2022 OH      5'11" 210      RB     Akron St. Vincent St. Mary
Linberger is a stout running back who is powerful in the legs and core. He is a hard runner who breaks tackles as he heads north and south. Quicker than fast, Linberger can play the halfback or tailback position and does an excellent job of following his blockers. He also doubles as a linebacker on defense.
Jesse Meyer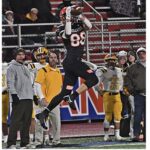 Jesse Meyer 6'4" | TE Coldwater | 2022 OH      6'4" 220     TE     Coldwater
Meyer is the go-to guy in the redzone. Even though he is a prototype tight end, he is used as a split X-receiver, opposite trips formation to the field. Meyer runs the fade and slant patterns as good as any wideout and his sure hands make him the number one target for his quarterback. He is a hard man to bring down after the catch due to his size and toughness.
Lang Lang 6'2" | WR River Valley | 2022 OH " last=""]" last=""]"]     6'2" 170     WR     River Valley
If you want a reliable route running receiver who isn't afraid to go up to catch the football in a crowd, Lang Lang 6'2" | WR River Valley | 2022 OH " last=""]" last=""] is your man. He can line up as a slot or wide receiver in order to get a mismatch on defensive backs or linebackers who try to cover him.  Lang Lang 6'2" | WR River Valley | 2022 OH " last=""]" last=""] has good speed for his level of competition and consistently turns receptions into big plays.
Sam Feldman Sam Feldman 6'4" | QB Springboro | 2022 OH      6'4" 215     QB     Springboro    
Feldman is a tall and impressive quarterback who displays excellent touch on the football, knowing how much velocity to use in order to give his receivers a chance to make the reception.  His timing is superb in terms of hitting his target as the receiver breaks his route. Feldman can also keep the drive alive with his feet.
Shawn Lodge Shawn Lodge 6'0" | ATH St.Vincent - St.Mary | 2022 OH      6'0" 170     DB     Akron St. Vincent St. Mary
Even though Lodge is an excellent receiver, his best position is corner back. He can play press man, off man, or pure zone coverage and be fundamentally sound at all three. He has very good speed and quickness as demonstrated by the way he immediately breaks to the football once it is released by the opposing quarterback. Lodge is a sure and physical tackler in