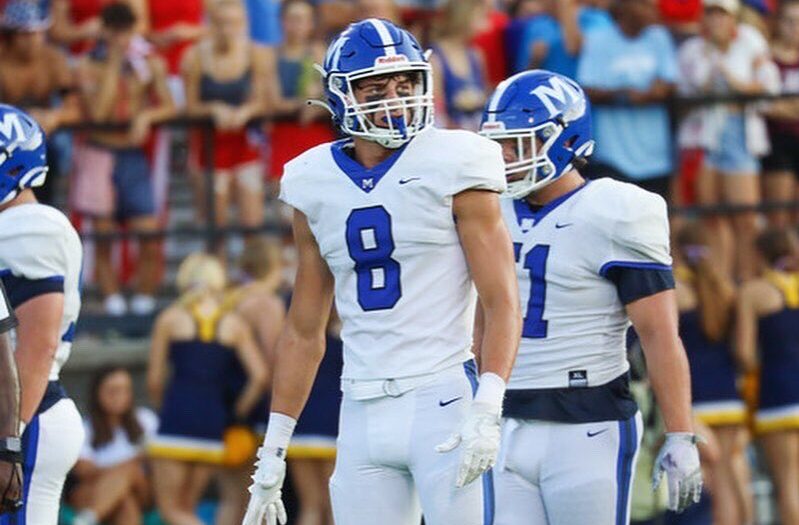 Posted On: 11/25/21 10:35 AM
Looking back on the 2021 season, here we break down the defensive linemen who took their final year on the high school gridiron and broke out into another level!
These ten listed below developed further this season and put themselves on the map as a legit college recruited prospect. Some below are known about while others still sit under the radar but hopefully that changes soon. 
1. (DL) Keyron Crawford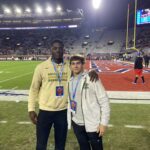 Keyron Crawford 6'6" | DL Briarcrest Christian | 2022 State TN (6'6 235) – Briarcrest Christian 
Had a great season with all my boys can't wait to see what the future brings✨⏰💪🏽 pic.twitter.com/gERBDXexFS

— Keyron Crawford Keyron Crawford 6'6" | DL Briarcrest Christian | 2022 State TN (@KeyronCrawford3) November 17, 2021

– Moving from the basketball court to the football field has been the right move for Crawford as soon you will see this 6'6 long and athletic defensive lineman playing on the college gridiron. This season for the Saints, Crawford immediately became a difference maker on the line for Briarcrest as someone that can disrupt an offense in a variety of ways. The Memphis area lineman runs like a deer and can chase a play anywhere on the field. He also is versatile where he can cause havoc from the inside or pass rush and plug up the run game on the edge. Arkansas St., South Florida and several FCS schools have offered but Crawford has multiple D1 and Power Five programs showing interest and staying in contact. It would not be surprising to see this guy add several strong offers down the final stretch of this 2022 process. 
Sr Film: https://www.hudl.com/video/3/16558859/619531f60c53590a7c1a2f83
2. (DE/LB) Matthew Plunkett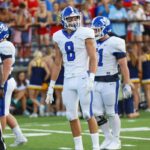 Matthew Plunkett 6'4" | DL McCallie | 2022 State TN (6'4 220) – McCallie
– This is one guy who dedicated himself in the offseason to not only improving his craft but also putting on the necessary weight needed to compete on some of the highest levels of college football and this season it has paid off. Plunkett is possibly the fastest edge rushers in this state for the '22 class and with the added weight, college coaches have taken notice. This Blue Tornado defender has extremely long arms and a frame that can continue taking on weight. Along with his long arms and speed on the edge, Plunkett has the potential to turn into a feared pass rusher on the collegiate level. He doesn't hold that many offers currently, except for one good one from Jacksonville St. but hopefully more interest spurs his way very soon. 
Sr Film: https://www.hudl.com/video/3/12967490/6169bffa7bdd400b08424ccb
3. (DE) Charles Perkins Charles Perkins 6'4" | DL M.A.H.S. | 2022 State TN (6'3 245) – M.A.H.S. 
– Perkins has been a consistent performer and starter for his Lions team throughout his career but this senior season has been a breakout year for this Memphis area defensive linemen and it's earned him a spot in the future with UT-Martin. A versatile and strong lineman that fits well in the 3-4 defense, Perkins really took a step forward this year with his explosiveness and football knowledge along with understanding how to use his hands more. He also has the strength and size to slide into the interior and provide a rush from the middle. Perkins was a force for the Lions from start to finish this season and it earned him several postseason honors thus far as well as pushing him up the #PRZTN defensive line rankings. 
Sr Film: https://www.hudl.com/video/3/13617678/61462c5623474c0bf81edf3a
4. (DE) Kendyle Ball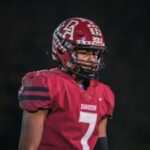 Kendyle Ball 6'3" | DL Davidson Academy | 2022 State TN (6'3 230) – Davidson Academy
– Some may ask why Ball made this list after already being considered one of the top defensive line prospects from the in-state 2022 class headed into the year. Well his place was earned as Ball took his game to a new level this year and in my eyes, placed himself as a possible D1 prospect. The Bears pass rusher had a big time productive senior year where he produced 28 TFL and 13.5 sacks on the season and established himself as the top defensive end prospect in this state. Ball has packed on the added weight to be considered for the D1 level but those offers and interest have yet to arrive. He holds several options for the FCS level, which is where he could end up but Ball is a guy to watch over the coming months as a possible D1 surprise. 
Sr Film: https://www.hudl.com/video/3/7857553/616481102aa6cf065055105b
5. (DT) Myles Saulsberry Myles Saulsberry 6'2" | DL Lausanne | 2022 State TN (6'2 285) – Lausanne 
I am committing to Southeast Missouri State University🙏🏾🙏🏾🙏🏾 #Redhawks @CoachHerb1 @LausanneFB @__CoachWilliams @SEMOfootball pic.twitter.com/w3vySPHWZk

— Myles🏈💰 (@mylessaulsberr1) November 11, 2021

– One of the hardest workers not only from this position but the entire state is Saulsberry and he definitely stepped up his game this season as a senior and earned himself a spot on the college football level. Just recently, the Lynx active interior rusher committed to SE Missouri St. where the RedHawks see him as a disruptor and someone that will get better once inside the college game. Saulsberry is an active guy that you have to tell to slow down because the guy loves to play the game. He has versatility and the FB smarts to handle multiple roles. His game is still developing but it's hard to find a Def. Tackle that can move well and play with power and Saulsberry has those traits. 
Sr Film: https://www.hudl.com/video/3/12643462/619bce415ef7660b980d4f40
6. (DT) A.J. Vaughns A.J. Vaughns 6'5" | DL Germantown | 2022 State TN (6'5 310) – Germantown 
– The Red Devils had a strong 2021 season as one of the better teams from the West Tennessee region along with one of the best defenses in the state and Vaughns was a big piece in that. This massive, space filling lineman is a good athlete at his size that shows explosive traits at times. His film shows the strength, mobility and active feet to develop into a forceful run stuffer and pass rusher on the college level. Vaughns is also a big man that could move over to the other side of the ball and develop into a pretty good offensive lineman as well. The offers haven't arrived yet but college coaches have started to take interest, so the opportunities for the college level should come Vaughns way sooner than later. 
Sr Film: https://www.hudl.com/video/3/16258372/6188b0854df64104784277b6
7. (DE) Isaiah McGaha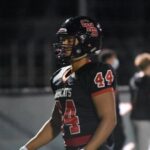 Isaiah McGaha 6'4" | DL Knox. Central | 2022 State TN (6'4 235) – Knox. Central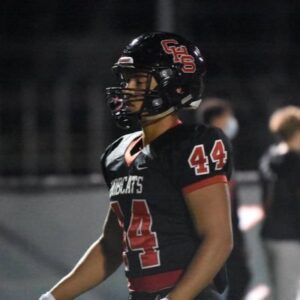 – McGaha took full advantage of his senior season where he led the entire East Tennessee region in sacks this year and established himself as one of the best in-state defensive end prospects for the 2022 class. This season for the Bobcats, McGaha was an unstoppable force that opposing offensive linemen had a hard time controlling. On the year, McGaha produced 18.5 sacks along with being a key piece on the outside in slowing up the run. The physical traits, size and proven production is there for collegiate coaches to be looking much harder at McGaha. This talented defensive end has the look and talents to play on the D1 level but is still waiting for those offers to arrive. 
Sr Film: https://www.hudl.com/video/3/12646874/61573f06b3d32f0e7016dc77
8. (DE) Will Hamlin Will Hamlin 6'3" | DL Daniel Boone | 2022 State TN (6'3 225) – Daniel Boone 
– Hamlin has been a consistent and productive performer for his Trailblazers team over the past few seasons as well as one of the top pass rushers from the East Tennessee region and this senior year, he took it up a notch. The biggest thing he improved upon when you see Hamlin's film is his hand work and ability to get off blocks quicker. The Blazers senior defensive end is country strong with powerful hands and a deceptive quick first step and right now an underrated talent still waiting on strong offers. Hamlin holds a few D2 or D3 offers but his talent warrants bigger looks. Hopefully over the coming weeks and few months, college coaches will see his film and give this Knoxville area pass rusher a bigger look. 
Sr Film: https://www.hudl.com/video/3/11413640/6190ab3e66562e08bcf903f6
9. (DE) Maddox Reed Maddox Reed 6'5" | DL Summit | 2022 State TN (6'5 225) – Summit
– This final year in the high school ranks for Reed was his best season yet and a breakout one at that in which it has now put him on the radar of college coaches with possible offers on the horizon. The Spartans senior edge rusher has big time length along with a sudden, quick first step that put him consistently into the backfield this season. Reed has the size, frame and physical traits that translate well to the next level but the college interest has yet to spike. This Middle Tennessee product does hold a few low level offers but his potential speaks to bigger interest. Reed isn't a finished product but shows signs of big things in the future if developed properly. 
Sr Film: https://www.hudl.com/profile/15009726/maddox-reed/highlights
10. (DE) Jarel Savage Jarel Savage 6'3" | DL Cordova | 2022 State TN (6'3 230) – Cordova
– If you are looking for an under the radar talent that could explode into a key contributor on the college level, Savage could be your guy. The Wolves didn't have the most successful 2021 season in the win column but they certainly have some gems, mainly Savage who is well built physically and athletic enough to play the edge in a variety of ways. The Wolvers senior pass rusher screams potential and upside when you look at him. He has the long arms and power up top to put linemen off balance and the speed to rush past them on the outside. College coaches have been sniffing around but have yet to pull the trigger. Hopefully something happens for this Memphis area pass rusher over the next few weeks. 
Sr Film: https://www.hudl.com/video/3/11604156/615c4280578da00d505bcb54
Five Others to Know: (DE/LB) Austyn Keen Austyn Keen 6'4" | DL Beech | 2022 State TN – Beech, (DT) Kyler Jones Kyler Jones 6'1" | DL Memp. Overton | 2022 State TN – Memp. Overton, (DL) David Nevels David Nevels 6'2" | DL Kirby | 2022 State TN – Kirby, (DL) Evan McClary Evan McClary 6'2" | DL Germantown | 2022 State TN – Germantown, (DL) Chazell Adkins Chazell Adkins 6'2" | DL East Nashville | 2022 State TN – East Nashville