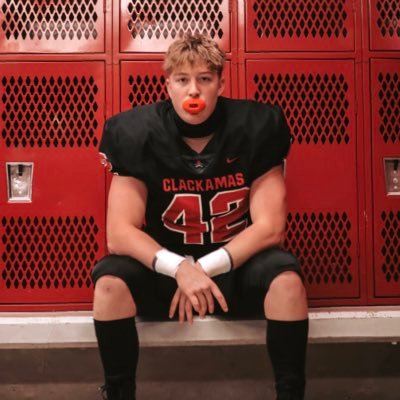 Posted On: 12/7/21 8:57 AM
The All-State Team features Oregon's top athletes at the 6A level from all classes. An individual's recruitment is not the primary factor in the selection process, as it is with the rankings. Have a look..
6A CO- DEFENSIVE PLAYER OF THE YEAR: Kaden Ludwick Kaden Ludwick 6'5" | DL Clackamas | 2022 State OR DE/OLB Sr. Clackamas & Gavin McGuire Gavin McGuire 6'0" | LB Lake Oswego | 2022 State OR DL/OLB Sr. Lake Oswego
Ludwick finished tied for 4th in the state in sacks, consistently being double and triple teamed. He was the Mt Hood Conference Defensive POY and without his presence I think the Cavs have trouble. I could see Kaden being one of the top players in the PAC 12 in the years ahead.
As for McGuire he was a state statistical leader in multiple categories, the Three Rivers League D lineman of the year, and probably the most exciting defensive player in Oregon to watch. From a size standpoint he plays out of position and still causes havoc everywhere he goes.
1ST TEAM ALL STATE DEFENSE
DL
Kaden Ludwick
Kaden
Ludwick
6'5" | DL
Clackamas | 2022
State
OR
DE/OLB Sr. Clackamas &
Gavin McGuire
Gavin
McGuire
6'0" | LB
Lake Oswego | 2022
State
OR
DL/OLB Sr. Lake Oswego Ludwick finished tied for 4th in the state in sacks, consistently being double and triple teamed. He was the Mt Hood Conference Defensive POY and without his presence I think the Cavs have trouble. I could see Kaden being one of the top players in the PAC 12 in the years ahead. As for McGuire he was a state statistical leader in multiple categories, the Three Rivers League D lineman of the year, and probably the most exciting defensive player in Oregon to watch. From a size standpoint he plays out of position and still causes havoc everywhere he goes. 1ST TEAM ALL STATE DEFENSE DL
Kaden Ludwick
Kaden
Ludwick
6'5" | DL
Clackamas | 2022
State
OR
6-5 245 22' Clackamas* DL
Gavin McGuire
Gavin
McGuire
6'0" | LB
Lake Oswego | 2022
State
OR
6-1 220 22' Lake Oswego* DL
Tiger Black
Tiger
Black
6'3" | DL
Roseburg | 2023
State
OR
6-3 250 23' Roseburg* DL
Myale Jones
Myale
Jones
6'5" | OL
Central Catholic | 2022
State
OR
6-5 325 22' Central Catholic DL
Chip Allers
Chip
Allers
6'3" | LB
Summit | 2023
State
OR
6-3 215 23' Summit DL
Spencer McKelligon
Spencer
McKelligon
6'3" | LB
Jesuit | 2022
State
OR
6-3 220 22' Jesuit DL
Richie Anderson
Richie
Anderson
6'4" | DL
Tualatin | 2023
State
OR
6-4 220 23' Tualatin LB
Earl Ingle
Earl
Ingle
6'1" | LB
West Linn | 2023
State
OR
6-1 195 23' West Linn* LB
Kellen Hale
Kellen
Hale
6'5" | LB
Tualatin | 2022
State
OR
6-5 210 22' Tualatin LB
Zac Waible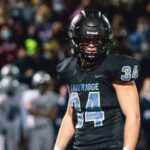 Zac
Waible
6'2" | LB
Lakeridge | 2022
State
OR
6-2 215 22' Lakeridge* LB
Tyree Blake
Tyree
Blake
6'3" | LB
Jesuit | 2022
State
OR
6-3 215 22' Jesuit LB 
Brady Kopetz
Brady
Kopetz
6'4" | LB
Lincoln | 2022
State
OR
6-4 220 22' Lincoln LB
Luke Leighton
Luke
Leighton
6'5" | WR
Sheldon | 2023
State
OR
6-5 195 23' Sheldon DB
Dylan Layne
Dylan
Layne
6'2" | DB
Lake Oswego | 2022
State
OR
6-2 200 22' Lake Oswego DB
Drew Bennett
Drew
Bennett
6'1" | DB
Westview | 2022
State
OR
6-1 190 22' Westview* DB
Mark Hamper
Mark
Hamper
6'2" | ATH
West Linn | 2023
State
OR
6-2 200 23' West Linn DB
Drew Rodriguez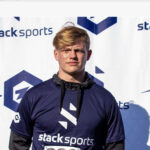 Drew
Rodriguez
6'2" | DB
Sprague | 2023
State
OR
6-2 190 23' Sprague DB
Jake Reichle
Jake
Reichle
6'3" | DB
Lakeridge | 2022
State
OR
6-3 210 22' Lakeridge DB
Zachery Grisham
Zachery
Grisham
6'0" | DB
Central Catholic | 2022
State
OR
6-0 200 22' Central Catholic DB
Jack Wagner
Jack
Wagner
6'4" | QB
Tualatin | 2023
State
OR
6-4 180 23' Tualatin 2ND TEAM ALL STATE DEFENSE DL 
Logan Chastain
Logan
Chastain
6'0" | DL
Clackamas | 2022
State
OR
6-0 290 22' Clackamas DL
Liam Cassidy
Liam
Cassidy
6'5" | OL
Jesuit | 2024
State
OR
6-5 280 24' Jesuit DL
Oliver Fisher
Oliver
Fisher
6'5" | TE
Sherwood | 2023
State
OR
6-5 220 23' Sherwood DL
Joe Merlino
Joe
Merlino
6'3" | OL
Central Catholic | 2023
State
OR
6-3 265 23' Central Catholic DL
Kaden Schell
Kaden
Schell
6'4" | DL
Central Catholic | 2022
State
OR
6-4 245 22' Central Catholic DL
Campbell Sager
Campbell
Sager
6'5" | DL
Westview | 2023
State
OR
6-5 245 23' Westview DL
Nui Tovey
Nui
Tovey
6'3" | LB
Lakeridge | 2022
State
OR
6-3 235 22' Lakeridge* LB
Max Von Arx
Max
Von Arx
6'4" | WR
Grant | 2022
State
OR
6-4 210 22' Grant* LB
Hudson Davis
Hudson
Davis
5'10" | RB
Newberg | 2023
State
OR
5-9 180 23' Newberg* LB Ben Winjum 5-11 195 23' West Linn LB
Ethan Biondine
Ethan
Biondine
6'0" | LB
Lakeridge | 2024
State
OR
6-0 215 24' Lakeridge LB Calvin Macy 6-2 195 23' Lake Oswego LB
Jayden Moses
Jayden
Moses
6'0" | LB
Grant | 2023
State
OR
6-0 210 23' Grant LB
Andrew Collins
Andrew
Collins
5'11" | LB
Barlow | 2022
State
OR
5-11 195 22' Barlow LB
Caleb Clardy
Caleb
Clardy
6'1" | LB
David Douglas | 2023
State
OR
6-1 200 23' David Douglas DB
Johnny Miller
Johnny
Miller
5'10" | DB
Jesuit | 2022
State
OR
5-10 190 22' Jesuit* DB
Jace Burton
Jace
Burton
5'10" | DB
Jesuit | 2024
State
OR
5-10 160 24' Jesuit DB
AJ Noland
AJ
Noland
6'1" | ATH
Tualatin | 2024
State
OR
6-1 170 24' Tualatin DB
KJ Johnson-Gibson
KJ
Johnson-Gibson
6'0" | DB
Clackamas | 2022
State
OR
6-0 170 22' Clackamas DB
Noah Ogoli
Noah
Ogoli
6'1" | DB
Tualatin | 2022
State
OR
6-2 180 22' Tualatin DB
Andrew Walker
Andrew
Walker
6'1" | WR
South Medford | 2023
State
OR
6-1 170 23' South Medford