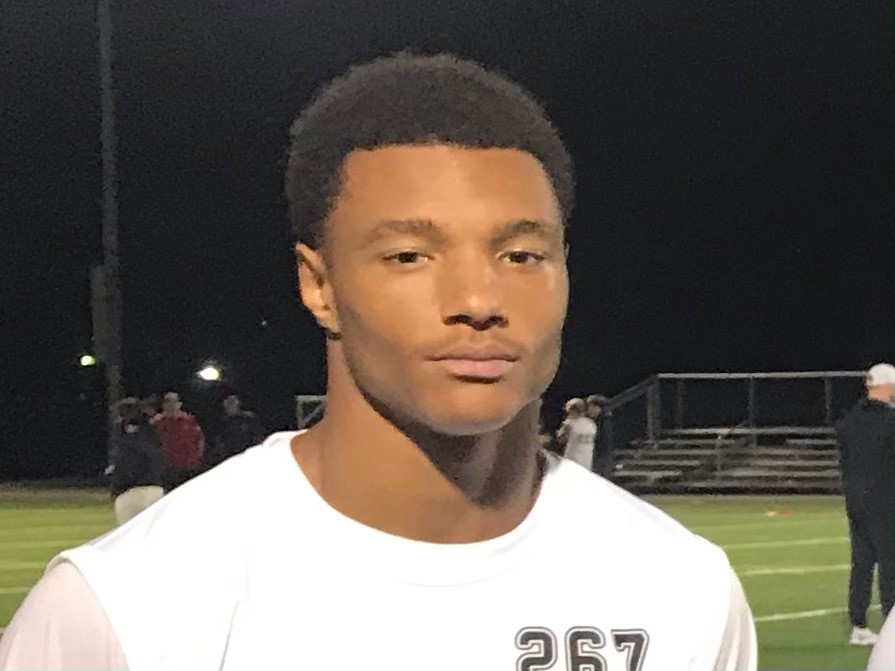 Posted On: 12/7/21 9:00 AM
The All-State Team features Oregon's top athletes at the 6A level from all classes. An individual's recruitment is not the primary factor in the selection process, as it is with the rankings. Have a look..
*Denotes Conference POY
6A OFFENSIVE PLAYER OF THE YEAR- Cru Newman Cru Newman 5'11" | QB Central Catholic | 2024 State OR So. QB Central Catholic
Newman had one of the most impressive Sophomore seasons, of any Oregon athlete in some time. Separate from playing lights out during the playoffs, he was the Mt Hood Conference POY throwing 27 TDs and 1 INT, while hitting on 73% of his passes. He was the glue, surrounded by the state's top talent.
1ST TEAM ALL STATE OFFENSE
2ND TEAM ALL STATE OFFENSE
QB Colton Marsters 6-2 180 22' Roseburg*
QB Sam Leavitt Sam Leavitt 6'2" | QB Westview | 2023 State OR 6-1 195 23' Westview
QB Ryan Oliver Ryan Oliver 6'3" | QB Lakeridge | 2023 State OR 6-3 195 23' Lakeridge
QB Hiro Diamond Hiro Diamond 6'2" | QB Liberty | 2022 State OR 6-2 190 22' Liberty*
QB Brock Thomas Brock Thomas 6'0" | QB Sheldon | 2023 State OR 6-0 175 23' Sheldon
FB Noah Staley Noah Staley 6'0" | RB Jesuit | 2023 State OR 6-0 200 23' Jesuit
RB Luke Ash Luke Ash 5'9" | RB Clackamas | 2023 State OR 5-9 170 23' Clackamas
RB Caleb Kim Caleb Kim 5'10" | RB Sunset | 2022 State OR 5-10 185 22' Sunset
RB Cayden Eckel Cayden Eckel 5'10" | RB Roseburg | 2024 State OR 5-10 180 24' Roseburg
RB Nolen Scott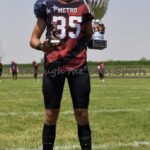 Nolen Scott 6'1" | DB Sherwood | 2024 State OR 6-1 185 24' Sherwood
WR Tini Tinitali III Tini Tinitali III 6'0" | ATH South Salem | 2023 State OR 6-1 175 23' South Salem
WR  Bryce Dyer Bryce Dyer 6'5" | WR North Medford | 2022 State OR 6-5 205 22' North Medford
WR Cody Hall Cody Hall 5'11" | WR Sherwood High School | 2022 OR 5-11 160 22' Sherwood
WR Wiley Donnerberg Wiley Donnerberg 6'3" | LB West Linn | 2024 State OR 6-3 200 24' West Linn
WR Keenan Speer-Johnson Keenan Speer-Johnson 6'3" | WR Tigard | 2022 State OR 6-2 190 22' Mountainside
ATH Kyron Albright Kyron Albright 6'1" | ATH Beaverton | 2022 State OR 6-1 180 22' Beaverton
ATH Timmy Mitchell Jr. 5-10 170 24' Central Catholic
ATH Cristian Gonzalez Cristian Gonzalez 5'9" | ATH Beaverton | 2022 State OR 5-9 175 22' Beaverton
TE Zack Schlottmann Zack Schlottmann 6'3" | TE Glencoe | 2022 State OR 6-3 230 22' Glencoe
TE AJ Pugliano AJ Pugliano 6'4" | TE North Medford | 2024 State OR 6-4 220 24' North Medford
TE Peter Burke Peter Burke 6'5" | TE Tualatin | 2022 State OR 6-5 215 22' Tualatin
OL Kage Casey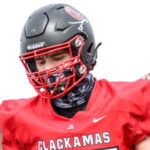 Kage Casey 6'6" | OL Clackamas | 2022 State OR 6-6 275 22' Clackamas
OL Sean Khouri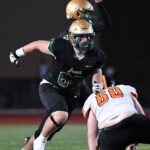 Sean Khouri 6'3" | OL Jesuit | 2023 State OR 6-3 265 23' Jesuit
OL Ryan Berger Ryan Berger 6'3" | DL Liberty | 2023 State OR 6-3 270 23' Liberty*
OL Lucas Edwards Lucas Edwards 6'5" | OL Tualatin | 2022 State OR 6-5 275 22' Tualatin
OL Terrell Kim Terrell Kim 6'4" | OL North Medford | 2024 State OR 6-4 325 24' North Medford
OL Kevin Cassidy Kevin Cassidy 6'6" | OL Mountainside | 2023 State OR 6-6 245 23' Mountainside
C Tilman Ritchie-Tuisue Tilman Ritchie-Tuisue 6'3" | OL Sheldon | 2022 State OR 6-3 285 22' Sheldon