Elias Owens Elias Owens 6'4" | LB Mansfield | 2024 State OH (Mansfield) 6'4 215- Owens is a problem for offenses.  He can drop and cover in space (3 INT's), he can rush and get to the QB, and take on blockers and stifle the run game.  When you watch his film, he uses his length to his advantage as he high points the ball in coverage and he jumps to bat down passes when rushing the QB.  As an edge rusher he and use his speed to win or he does a great job of using tempo and hand fighting.  He may grow into a defensive end, but at this point I think he'd be a perfect fit as an outside linebacker in a 3-4 defense.  Owens is totally under the radar at this point, but I could easily seem him turn into a Power 5 player.
Josh Grambo Josh Grambo 6'3" | LB Notre Dame Cathedral Latin | 2024 State OH (Notre Dame Cathedral Latin) 6'3 200-  Grambo is a versatile linebacker who displays top end traits.  He plays with good instincts and gets downhill quickly in run defense.  Josh has fluid hips and an impressive ability to turn and run with receivers.  As he continues to fill out and get stronger, he'll bring more physicality to the game and be able to overpower blockers.  I'm very excited to see what the future holds for Grambo.
Leo Colombi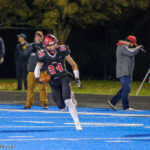 Leo Colombi 6'4" | LB Chardon | 2024 State OH (Chardon) 6'3 190- In his film Columbi lines up mostly at the safety position.  He has good size and movement skills.  He does a good job of getting to his spot whether it's in coverage or in the run game.  As he continues to grow, I believe he'll grow into the linebacker position.  Added weight and strength will give him the leverage to stand up blockers and hold up at the linebacker position at the college level.
Sean Sheehan Sean Sheehan 6'0" | LB Granville | 2024 State OH (Granville) 6'0 205- Sheehan, is a compact middle linebacker.  He moves well and does a good job of finding his way through traffic.  I'd like to see him start to get downhill more quickly.  As he gets more reps think his read and react will help in this.
Caden Wilson Caden Wilson 6'1" | LB Hilliard Davidson | 2024 State OH (Hilliard Davidson) 6'1 200- Wilson is a middle linebacker who does a good job with his run fits.  He gets downhill well to fill, but as he continues to grow and develop, I think he'll be a formidable run stuffer between the tackles.
Links: Hudl