Championship 7v7 hosted the Mile High Football Classic in Denver this weekend with a turnout of teams from multiple states.
The two-day event ended with a 15U and 18U team leaving with the championship trophies.  Only one team per level was crowned champion at the end of the second day, but that does not mean there was a shortage of talent that came out to compete.
This article will look at seven players from the 18U level who put on spotlight-worthy performances during the 7-on-7 tournament.
Tai Faavae Tai Faavae 6'0" | LB Fountain-Fort Carson | 2023 State CO | Fountain-Fort Carson | 6'0", 218lbs | 2023 LB
Faavae is no stranger to being cast as one of the top performers whenever his cleats touch the turf. The fast-moving middle linebacker is one of the best this state has seen, and this past weekend's tournament was no different for him. He covers the field like a safety and closes the distance to the ball carrier as if he is magnetized to the near hip. Faavae has become a premier recruit who has begun to see an influx of D1 offers come his way.
Kaiden Box Kaiden Box 6'4" | QB Skyline | 2023 State CO | Skyline | 6'4", 195lbs | 2023 QB
Box has seen a significant rise in stock value as a prospect, and 7-on-7 has only helped to prove just how under the radar he is as a recruit. He has excellent size and a monstrous arm, two of the top qualities for a top-tier quarterback. His mechanics are pristine, and his ability to go through his progressions and make the correct reads are extremely impressive. Box has shown the potential to be a perfect candidate for just about any college scheme because of his pro-style skillset with West Coast abilities, making him one of the biggest gunslinging sleepers in the state.
Had a great time this weekend at @Championship7v7 Mile High Shootout! I had a great time this spring playing for @TeamFullGorilla and getting to represent and play with some of the top talent in the CO!@FairchildQB @FalconAthletics @PrepRedzoneCO @CoachThomas04 @PlaymakerCorner pic.twitter.com/fFZoMmBkHX

— Kaiden Box (@BoxKaiden) May 30, 2022
Richard Okuno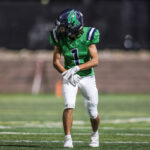 Richard Okuno 5'7" | WR ThunderRidge | 2023 State CO | ThunderRidge | 5'7", 140lbs | 2023 WR
Okuno has spent many hours sharpening his skills and perfecting his craft, making this year his time to shine. It became an expectation for him to slip past coverages and make spectacular catches in the end zone. His work ethic and determination make him the type of competitor who will lay out and make diving catches, which results in him being a safety net for a QB. Okuno is on the verge of having a breakout season and emerging as a top sleeper in the recruiting world.
Zach Lewis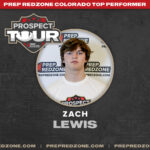 Zach Lewis 6'2" | LB Fairview | 2023 State CO | Fairview | 6'1", 220lbs | 2023 LB
Lewis is another one of the top linebackers in the state, and his 7-on-7 performances reinforce that fact. His ability to cover in pass defense is built on his phenomenal athleticism and elite understanding of the game. He showed his ability to diagnose opposing passing schemes while using his leadership skills to bark out commands to his teammates to ensure everyone stayed on the same page. Lewis currently holds a D1 offer, but he is easily one of the biggest defensive sleepers in the state.
Caden Lettis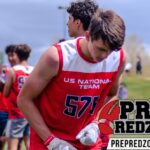 Caden Lettis 6'2" | WR Erie | 2023 State CO | Erie | 6'2", 185lbs | 2023 WR
Lettis is perhaps one of the more grossly underrated wide receivers in the 2023 class. He is a quiet competitor who gives everything he has to make each rep better than his last. He showed off his top-tier speed and route-running skills against some of the best defenders in the state during the event while proving himself to be a reliable receiver because of his amazing focus and strong hands. Lettis is the type of receiver who can be a much-needed addition for a championship run while staying extremely modest about his talents. 
A few nice throws from @blakebarnett03 at the Mile High 7on7 tournament this weekend! Had an awesome time learning and growing with @warriorqbcoach and the staff. On to the next! @ErieTigersFB @coachwes_23 @Gabe_Knapton @ErieHSAthletics pic.twitter.com/CFt7WfouxE

— Caden Lettis (@LettisCaden) May 31, 2022
Naz Benavente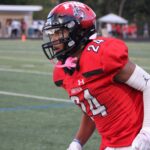 Naz Benavente 5'10" | ATH Fairview | 2024 State CO | Fairview | 5'10", 160lbs | 2024 WR/DB
Benavente is the type of athlete who brings the needed fire and warrior mentality to the field on both sides of the ball. He made significant contributions to his team as a receiver and a safety during the tournament. His athleticism and impressive instincts made him a legitimate standout while he forced takeaways as a defender and secured tough catches in traffic as a receiver. Benavente is on pace to become a serious prospect with significant upside.
Liam Szarka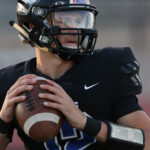 Liam Szarka 6'2" | QB Grandview | 2024 State CO | Grandview | 6'2", 180lbs | 2024 QB
Szarka is a rising star who has used his time with 7-on-7 to improve his craft. He is an athletic QB with dual-threat skills, but he has also proven to be just as dangerous of a pocket passer as he is a runner. His ability to break down his opponents quickly and make the correct helped him stand out during the tournament. Szarka is a highly talented QB with an impressive arm and unmatched abilities, making him a prospect who deserves a closer look.