This Lions defense might be one of the most slept on units in the city of Houston. On all three levels of the defense, they have playmakers. Along the defensive line, they have great size and length that will be difficult to handle for a lot of offensive linemen. This defense will continue to draw next-level attention throughout their 2022 campaign.
S Aaron McCardell | 6'1″ 178lbs | 2024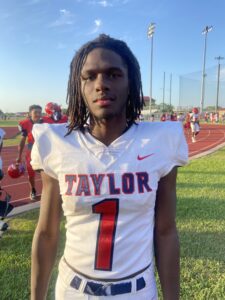 On the backend in the secondary Aaron McCardell was stellar. He does a great job in both man and zone coverage. In catch man, he was able to get his hands on receivers and knock them off their routes. In zone coverage, you can see his head moving and how he plays with his eyes. He's psychical in the run game who comes downhill and brings the wood. McCardell is overall a balanced safety with the skillset to excel at anything he's asked.
S Leroy Turner | 5'10″ 170lbs | 2023
Holding it down on the half of the field on the backend is Leroy Turner. McCardell and Turner were both extremely vocal and communicated with each other and the whole defense. Turner moves well, has good hips, and does a good job diagnosing route concepts. Even though Turner doesn't have the biggest frame, he does not shy away from contact at all. When tackling, he flies in with the correct technique and takes down ball carriers. The Lions have an outstanding safety combo heading into 2022.
DE Collin Simpson | 6'5″ 220lbs | 2023
Alief Taylor's Collin Simpson has the size and athletic combination that coaches love to have on the edge. With his long arms, he can separate himself from the tackle and disengage quickly. With quick and violent hands, Simpson was able to generate pressure. Playing at 6'5″ Simspon has the athletic advantage against most competition and with how often he ends up in the backfield it's easy to see the potential he has.
DL Samuel Robles | 6'2″ 240lbs | 2023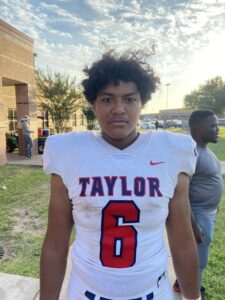 Claiming 23-6A 2nd team all-district in 2021 isn't enough for the Taylor 3-tech. With the skillset and size to play both inside and out, Samuel Robles is a disruptor. In the trenches, you have to be strong and be able to hold your ground and Robles dominants. I saw a lot of effort from Robles chasing down backs and receivers in the screen game. Attacking the quarterback you see Robles winning with his hands and not just bull rushing. I see the young d-linemen as a legit prospect that will fight on every rep to make a stop behind the line.
DE Undrae Martin | 6'3″ 210lbs | 2023 
Another lengthy playmaker along the defensive line is rising senior Undrae Martin. When attacking the passer he knows how to use his size to knock down balls and be disruptive. Martin was in the backfield it seemed like every rep. Using his speed and length to win he was able to rack up a couple of sacks in the spring game. He holds the line very well, goes through his reads, and makes plays in both the run and pass game. Once Martin gets his hands on the ball carrier it is over. He wraps up and takes them to the turf.
DE Kamryn Johnson | 6'1″ 190lbs | 2025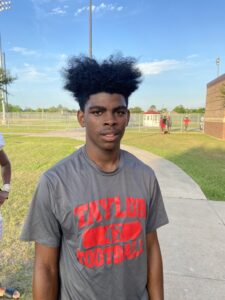 This young man has some great tools for a 2025 prospect. Being the first one off the ball and getting into the backfield is so valuable and Johnson brings this every snap. I was impressed with the bend that he can play with while still maintaining in-play strength. He plays with a high motor that stays on 100%. This staff has high expectations for the young pass rusher and I double down on their take. With some more physical and technical development throughout the summer and 2022 season, Kamryn Johnson will have colleges calling.
LB Malcolm Haven | 5'10″ 185lbs | 2024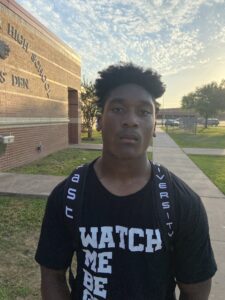 Malcolm Haven is a physical threat at linebacker. Getting his hands on a fumble recovery and hitting with full force it wasn't hard to notice Haven's game. Once he gets his read and commits, he comes downhill with everything he has. Already with a good frame and still more to grow, I like Haven's future a lot. When you have a young guy who isn't afraid to stick his nose in the gap and who also can hold his zone in coverage, it is hard not to get excited. As Malcolm sits heading into the summer he currently has no offers, but I expect his game to continue to evolve.
LB Pierre Yamba | 5'10″ 215lbs | 2024 
Coming in over the 210lb mark and still able to move around like a 180lbs LB is Pierre Yamba. Outside of his stocky build, Yamba brings several elements to this Taylor defense. My attention was first caught when I saw Yamba come flying in off a blitz and was able to get in the backfield. Once the snap is off so is Yamba. He moves through traffic well to find the ball carrier and secure the tackle. Yamba has the athletic prowess and intuition you want in a backer to not only be consistent down to down but to turn the ball over.