District Previews: Metro-Maroon South
In this edition of the 2022 season Linebacker Previews, I will be focusing on the Metro-Maroon South district as I look to dissect which linebackers l I feel are prone to have a great season ahead of them.
Kayode Amusan Kayode Amusan 6'3" | LB Woodbury | 2023 State MN | Woodbury | 2023
Kayode is a rising senior with many wonderful football traits that will be sure to carry him to the next level of ball. This young man shows an excellent ability shedding open field blocks, which allows him to continue onward and attack the offense ball handler. Alongside his ability to shed blockers at the second level of play, Kayode shows spectacular open-field tackling, an imperative trait for a baller at the linebacker position. Going into his senior campaign, I look for Kayode to continue working on his blitzing prowess as he shows a knack for getting too overzealous on the blitz, which causes him to get caught too far in the backfield. Nevertheless, Kayode is a tremendous asset for the Royals as they embark on their 2022 season.
Ashton Poole | East Ridge | 2024
Ashton Poole is one athlete I am looking forward to watching this upcoming season as this young man has shown that he has some speed and is very quick from the linebacking position, as well as displaying a tremendous first jump-step downhill towards the ball. This young athlete demonstrates a great pass coverage skillset with hands better than most at his position that can carry him through to interceptions from the middle level of the field. Asthon's linebacker skills keep going as he is a backer who doesn't get caught falling too deep into the backfield when coming off of a rush, but he is instead a player who shows a high level of football IQ and turns to pursue flat-down the line. On top of all the aforementioned football qualities that Ashton has demonstrated, he is a player who is like a bull out on the gridiron and is willing to take on anyone in-between himself and the ball carrier, large linemen included. All-in-all, this rising junior is sure to make an impact for the Raptors this coming season and beyond.
Taran Blasy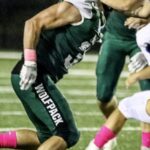 Taran Blasy 6'1" | LB Park Of Cottage Grove | 2024 State MN | Park Cottage Grove | 2024
The engine on Taran was pleasant to watch as this young man never showed a willingness to give up on a play and instead displayed the eagerness to play until all plays were over, something most young athletes do not possess. Taran was quick to come downhill and plug a hole from his linebacking position and crating havoc for ball handlers when there was a collision. Taran, simply put, looks to lay kids out on the field, striking apparent fear in his opponents on the gridiron. As Taran embarks on the coming season, I look for him to show more trust in his initial reads this year, which will, in turn, get him moving towards the plays quicker. While only a rising junior at Park, this young man will be a beast to watch out for over the next two seasons.
Cooper DeSutter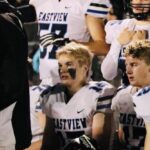 Cooper DeSutter 6'1" | LB Eastview | 2024 State MN | Eastview | 2024
A controlled linebacker is what Cooper's style of play permeates. Cooper can play mentally sound football and control the desire to chase after plays in the backfield so that he doesn't let himself get too deep past the offensive lineman searching for the ball. All of these traits coincide with his desire to pin his ears back and get after the quarterback, which he does abundantly and effectively. This young athlete is a versatile linebacker who is not scared to put his hand in the ground and play aggressively with the big fellas in the trenches. Cooper is a bright and decisive defender who trusts what he sees unfolding in front of him and reacts swiftly. Cooper is a magnificent linebacker who still has two seasons ahead of him to continue to develop his game. I look for Cooper to garner a good amount of college attention coming out of his senior year.