There was a time when high school wide receivers in the state of West Virginia were little more than extra blockers utilized in the running game. They battled their assigned defensive back until their teammate rusher made it past them or the play ended, then returned to the huddle before lining up to do it all over again on the very next play.
Now, not so much.
As the game evolved, especially at the Class AAA level, the need for dynamic wide receivers materialized. As a result, they are must-have commodities if winning football games is the goal in the state's highest classification.
Here are five AAA kids poised to make big waves at the position during the 2022 season:
Cyrus Traugh Cyrus Traugh 6'0" | WR Parkersburg South | 2023 State WV , Parkersburg South, Sr., 6-1 – The first thing that stands out about Traugh is his agility. He pops off the line so quickly that a defender usually is already behind just seconds into the play. Once that happens, Traugh starts his route, where catching up becomes impossible. The young man comes to a full stop before turning on a dime and then making his cuts, before regaining full speed within seconds. The second thing that stands out about him is the competitor in him. He just competes harder than everyone else, even if he winds himself up, he's able to use his emotions to cause havoc on the gridiron. It's no wonder he's gaining interest from Division I schools like Jacksonville State, NC State, and Youngstown State so far … just to name a few.
Jerrae Hawkins, Wheeling Park, Jr., 5-9, 6-1 – Speed kills on the football field, especially at the wide receiver position. Such is the case at Wheeling Park High School. As it just so happens, Hawkins, who runs a 4.25 40-yard dash, uses his gift well. His quicks make him a dangerous target no matter where he lines up on the field. He breaks off the line quickly, runs his routes well, and makes the catch. If his quarterback hits him in stride, it is pretty much a footrace- one he will win every time. Coaches looking for that X, Y, Z, or Jet Sweep guy should definitely keep Hawkins on their radar. They may want to get in on him now though, because it appears a career in Division I track and field isn't out of the question, either.
Wayne Harris Wayne Harris 5'10" | WR Huntington | 2024 State WV , Huntington, Jr., 160, 5-10 – This young man who has a nice vertical will be a valuable tool for quarterback Gavin Lochow Gavin Lochow 6'0" | QB Huntington | 2023 State WV during the upcoming season. Harris understands how to position himself on the field to present the best target possible. He can sit down after running a route or just as easily come back to the ball if his QB is in trouble. Luckily for his QB too, the pass can be a little high as Harris isn't afraid to go upstairs and haul in the catch. He should have a giant season in the Highlanders' offense.
Roman Pierson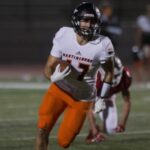 Roman Pierson 6'0" | WR Martinsburg | 2023 State WV , Martinsburg, Sr., 175, 6-0 – Martinsburg owns a ton of weapons on offense for a team in the Mountain State. Perhaps they have more than anyone else.
Between their dual quarterback tandem of Ezra Bagent Ezra Bagent 5'9" | QB poca | 2023 WV and Murphy Clement Murphy Clement 5'11" | QB Martinsburg | 2024 State WV , running back duo of Braxton Todd and Tavion Kendall, alongside a multi-talented receiving core, there's just a lot for teams to cover. Maybe too much. Adding to that pain is definitely Roman Pierson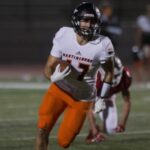 Roman Pierson 6'0" | WR Martinsburg | 2023 State WV . He's a great route runner with strong hands who receives the ball in a multitude of ways. He can come back for the ball, reach behind him, dive, lay out, or put his body on the line while still regularly coming up with the football. This elusive young man with great vision is trouble waiting to happen for anyone who goes against the Bulldogs.
Jameer Hunter Jameer Hunter 6'0" | WR Spring Mills | 2023 State WV , Spring Mills to Martinsburg, Sr., 175, 6-0 – A dynamic athlete who was the crux of the Spring Mills offense one year ago, Hunter can hang with the best-of-the-best defenders. Consider his highlight-reel worthy touchdown catch against Martinsburg last October where he showed exactly why. After exploding off the line and past his assigned defender, Hunter ran a slant route, reeled in the ball, then outran two Bulldog defenders for a 76-yard touchdown run. During the play, he showed off everything that made him an excited player to watch. He fought off hands from his Bulldog defender, before accelerating past him turning on the jets to outrun everyone. Coaches in the market for someone who can play with USAToday talent should take a look at this young man.