I appreciate the support from our PrepRedzone subscribers in the great states of Iowa, Michigan, Minnesota, North Dakota, South Dakota, and Wisconsin for your feedback and reads on the latest PRZ special feature naming the 2024 All-Upper Midwest Offensive Dream. If you haven't checked it out, I included the link right here –>
Now, it's time for the defense. After hours of watching film working through dozens of names and evaluating talent from around my favorite region of the United States, PrepRedzone has found the best of the best from the Upper Midwest and has named 22 monster rising juniors to this vaunted preseason team. From NY6 commits to studs without offers, congratulations to the heavy hitters and playmakers below. Let's get to it!
Defensive Line
First Team:
Brandon Davis-Swain Brandon Davis-Swain 6'4" | DL West Bloomfield | 2024 State MI (West Bloomfield, MI) DE/DT. 6'4, 240 lbs. Committed to Notre Dame
The blue-chipper of the defensive list, Davis-Swain committed to the Notre Dame Fighting Irish this past April and is joining a growing wave of Michigan natives to head south to Indiana in the '22, '23, and '24 classes. A lean, mean, but solid 240, Davis-Swain has enough bend to get around the top of the arch as a DE and the strength to work off blocks from interior offensive lineman as a 3T. He's already an impressive blend of strength, speed, and quickness, and as only a rising junior it's safe to say the future is very bright for the West Bloomfield product.
Wyatt Gilmore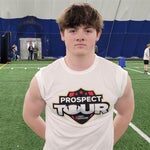 Wyatt Gilmore 6'4" | DL Rogers | 2024 State MN (Rogers, MN) DE. 6'4, 240 lbs. Offers from Iowa State, Central Michigan, Akron, Kansas, Minnesota, North Dakota
Minnesota's top defensive prospect and arguably top overall prospect comes out of the Rogers Royals program and their 6'4, 240 lb. DE  Wyatt Gilmore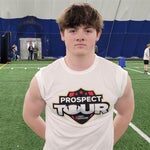 Wyatt Gilmore 6'4" | DL Rogers | 2024 State MN . The PRzMN Showcase veteran already holds multiple P5 offers, including a home state Gophers offer, and Gilmore is far from done on the recruiting trail thanks to his impressive testing numbers at a legit 6'4, 240 pounds. He posted 47 tackles, 17 TFLs, 4 sacks, 1 FF, and an INT in 2021 and showed off considerable speed – both in pursuit at the top end and from a dead stop – when getting after the ball. His strong initial punch and active hands are useful to get off blocks and he's a threat to beat OTs to either shoulder. He'll be a heckuva force in the Twin Cities Metro these next two seasons.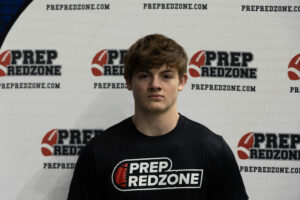 Gilmore
Gabriel Winowich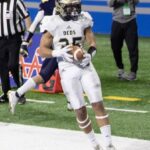 Gabriel Winowich 6'1" | ATH Detroit Country Day | 2024 State MI (Detroit Country Day, MI) DE/ATH. 6'1, 220 lbs. Holds offers from Maryland, Rutgers
Winowich is more of a plus-sized athlete at 6'1, 220, and a tough, athletic, and strong-legged RB, but because he earned an All-State nod at DE I thought I'd squeeze him in on our DL for the sake of this feature. His future most likely lies at LB, but he's nimble with good acceleration and contact balance for days when toting the rock and can go sideline-to-sideline in pursuit of the football as a DE/OLB. He's the most dynamic prospect on this list and as a rabid fan of plus-sized RBs, I'll be eagerly following his recruitment for the rest of his prep career.
Second Team: 
Steven Scott III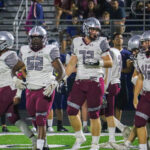 Steven Scott III 6'6" | DL Menomonee Falls | 2024 State WI (Menomonee Falls, WI) DT. 6'6, 270 lbs. Does not hold an offer at this point
If you're not familiar with Wisconsin prep football, Menomonee Falls is a treasure trove of prep football prospects for D1, D2, and D3 recruiters and have some gigantic 2024 football prospects going to work in their weight room and on the gridiron. Coming in at our DT spot for this Second Team is the massive Steven Scott III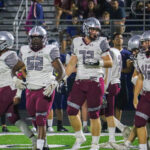 Steven Scott III 6'6" | DL Menomonee Falls | 2024 State WI , whose massive wingspan and giant hands completely engulf ball carriers when he gets ahold of them. He's got a strong base and can break down in space pretty well for a 270 lber., but his strength, raw power, and size are by far the best things on his sophomore tape. We'll see how the summer camp grind and his junior season help him raise his stock.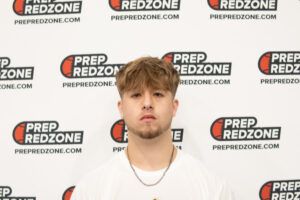 Scott III
Jace Gilbert Jace Gilbert 6'5" | DL Arrowhead | 2024 State WI (Arrowhead, WI) DE. 6'5, 255 lbs. Offer from Central Michigan
Another PrepRedzone Showcase standout and alum, head Wisconsin scout Mark Johnson as well as our National Scouting Director Jake Lemming both got eyes on Gilbert this past May when he tore it up at our Wisco event and was arguably the best player in attendance. Coming out of D1 heavyweight Arrowhead, Gilbert is going to be technically sound, well-coached, and experienced against good competition, and in his sophomore tape (at ~ 230 pounds) he showed some sneaky lateral agility out of his stance that froze the feet of opposing blockers and motor and speed to run down QBs inside and outside the pocket. I'd like to see him finish more plays on the QB when given the opportunity in his junior season, but he's got a heckuva motor and some good athletic abilities for a big man that you simply can't teach. I'd be surprised if he doesn't finish his junior season without a P5 offer.
Tyler Dosh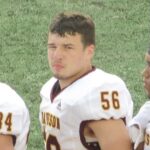 Tyler Dosh 6'0" | DL Davison | 2024 State MI (Davison, MI) DE. 6', 225 lbs. No offers
Another PrepRedzone Showcase MVP, Dosh is a bit of a "tweener" in terms of weight and projected position, and manned the 5T spot with his hand in the dirt and bumped out wide as a standup EDGE at the 7T and even as a wide-nine. His ability to get upfield, change direction, willingly stick his face into contact, and use his hands to get off blocks from bigger OTs are all things I liked in his sophomore highlights for the D1, Saginaw Valley League competitor Davison High School.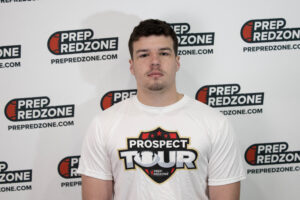 Dosh
Linebacker
First Team: 
Sam Pilof Sam Pilof 6'3" | LB Middleton | 2024 State WI (Middleton, WI) OLB. 6'3, 205 lbs. Offers from Rutgers, Wisconsin, Iowa State, Penn State
A great athlete out of the Badger State, Pilof – in his first time running the 100M – clocked an 11.06 at 205-210 pounds this spring and also won his regional in the 200M. A surefire P5 linebacker prospect, Pilof flies off the edge like he's shot out of a cannon in his sophomore tape and crushed more than a few QBs last fall. He can eat up space and get to the toes of ball carriers in a jiffy and can pop/flip his hips to avoid blocks out on the edge, and overall shows some efficiency when playing the hands of OTs and RBs in pass pro. He plays fast, hard, and violently and is a playmaker from the OLB position.
Cam Buffington Cam Buffington 6'3" | RB Winfield-Mt Union | 2024 State IA (Winfield-Mt. Union, IA) ILB. 6'3, 210 lbs. Committed to Iowa
The first of three outstanding in-state linebacker prospects signed to the Iowa Hawkeyes, Buffington is also an explosive dunker on the basketball hardwood and a prolific hooper who brings a ton of athleticism to his future Big10 linebacker room. The small-school stud is instinctive and flows to the ball quickly and with good angles and leverage, and does a good job of reading his keys and avoiding blocks in run support. He's also a strong tackler and a three-down LB who can tackle in space, blitz, and cover when asked of him.
360✅ pic.twitter.com/z5UE1kF7sN

— Cam Buffington (@CamBuffington) June 16, 2021
Derek Weisskopf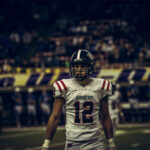 Derek Weisskopf 6'3" | DB Williamsburg | 2024 State IA (Williamsburg, IA) OLB. 6'3, 200 lbs. Committed to Iowa
The Hawkeyes develop and church NFL-caliber LBs among the best in the country, so it shouldn't come as too much of a surprise that we have three Iowa commits on this First Team, as that number of P5 commits this early is something that doesn't happen every day. Weisskopf is another small school, a two-sport standout who shines on the hardwood and brings length and an athletic skill set to the table as a future LB in the Big10. Weisskopf helped lead Williamsburg into the Class 2A state playoffs and led the Raiders from multiple positions all over the offensive and defensive sides of the ball. Despite his positional versatility, he's a LB at the next level and displays loose enough hips to take advantage of poorly thrown footballs in coverage and the physicality to come downhill and tackle in space and around the LOS when needed. He's a strong tackler with great length and versatility.
Jeremiah Beasley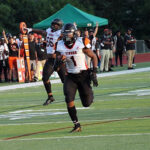 Jeremiah Beasley 6'2" | LB Belleville | 2024 State MI (Belleville, MI) ILB. 6'1, 210 lbs. Holds offers from Michigan, Michigan State, Cincinnati, Kentucky, Tennessee, and more
Holds 17 D1 offers, Beasley is one of the more popular players on this list and was named All-City and All-Region after tallying 65 tackles and 10 FFs (!) in his sophomore campaign playing big school football in Michigan. The turnover machine is excellent and instinctive at putting his hat on the football as well as ripping and punching the ball out when a RB or QB is held up, and his hard-hitting tackling ability also helps pop the ball loose as well. He's also quick when running the alley and strong enough to eat blocks between the tackles. No wonder so many heavy-hitting programs are involved.
Second Team: 
Preston Ries Preston Ries 6'1" | QB Monticello | 2024 State IA (Monticello, IA) OLB. 6'2, 205 lbs. Committed to Iowa
The final Hawkeye State commit and standout, Ries does a good job of defending the edge on defense and is an electric runner with the ball in his hand as a QB for Monticello's offense. The 205 lber. is also a thumper at the point of attack and can send linemen and QBs flying when he gets his pads on them. He's another natural football player who is dominant at the small school levels of Iowa prep football.
Mason Carrier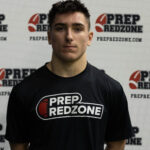 Mason Carrier 6'2" | LB Detroit Lakes | 2024 State MN (Detroit Lakes, MN) OLB. 6'2, 205 lbs. Committed to Minnesota
One of the best linebackers to ever come through the PrepRedzoneMN Showcase ranks, Northern MN thumper Mason Carrier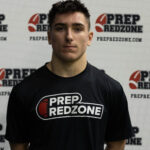 Mason Carrier 6'2" | LB Detroit Lakes | 2024 State MN  has put up P5-worthy testing numbers and measurables going into his upperclassman campaign and was the first commit in PJ Fleck's 2024 #RTB commitment class for his home state Golden Gophers. Coming from the high school that produced Adam Thielen, Carrier posted a stat line of 585 rushing yards at over seven yards a carry and added 53 tackles and 6 TDs as a sophomore and is a sure bet to best those numbers this coming fall. He covers a ton of ground in pursuit, with sideline-to-sideline speed, calculated pursuit leverage, and angles, and twitch when avoiding blocking attempts. He's also a destructive FB and a three-down LB with a nose for a big hit. Don't sleep on prospects out of Detroit Lakes, the Gophers got a good one.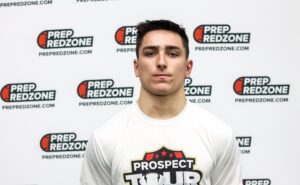 Carrier
Daivon Hill Daivon Hill 6'1" | LB River Rouge | 2024 State MI (River Rouge, MI) ILB. 6', 220 lbs. Holds offers from Kentucky, Purdue, West Virginia
Good tackler who has seen a ton of good competition as a varsity LB for the Panthers and is a strong tackler who lays out and explodes through contact and is shifty at avoiding blocks from slower lineman and weaker RBs. With a thick build and the ability to line up as an inside or outside LB, Hill is an asset against the run and is bound for an inside LB spot at the next level.
Dylan Gross Dylan Gross 6'2" | LB Brainerd | 2024 State MN (Brainerd, MN) 6'2, 220 lbs. No offers
With three MN 2024s with P5 offers and four with FBS opportunities, my money would be on Brainerd's well-built linebacker  Dylan Gross Dylan Gross 6'2" | LB Brainerd | 2024 State MN to be next in line for a big scholarship offer. The Warriors are fresh off producing a stud NDSU commit at LB in this 2022 class, but rising junior Gross maybe even better, as he's already a sturdy 6'2, 220+ and moves like he's twenty pounds lighter. He's also heavy-handed and a strong tackler who crushes QBs and RBs when he gets ahold of them, and I like the leverage he takes on ball carriers in pursuit. He looks not fun to get hit by.
Defensive Back
First Team: 
Jamir Benjamin
Jamir Benjamin 5'10" | DB West Bloomfield | 2024 State MI (West Bloomfield, MI) CB. 5'11, 175 lbs. Recently received offers from Penn State, Georgia Tech, Wisconsin, Iowa, Marshall, Mizzou, Maryland
Benjamin heard from James Franklin and the Penn State Nittany Lions just yesterday, and after I watched his sophomore tape it's no wonder so many big-time suitors have come calling. Dangerous as a DB, WR, and gunner on punt, the 5'11, 175-pounder makes plays wherever he's at, and Benjamin shows good technique in man coverage with active feet, eye discipline, and speed to carry wideouts deep. I also like how he reads their hips and matches their breaks when playing man, and he doesn't waste steps and is especially good at sticking his foot in the ground and getting upfield to beat blocks when he reads screens on the perimeter.
Rayshaun Hester Rayshaun Hester 5'11" | ATH Chippewa Valley | 2024 State MI (Chippewa Valley, MI) S. 5'11, 175 lbs. Holds offers from Louisville, Marshall, WMU, EMU, UMass, and more
Reads the eyes of the QB well and breaks on the ball well once he sees it's in the air. Hester can also play man-coverage out of the slot and has no problem coming up and laying a hit. I like how he sticks his foot in the ground and gets upfield when breaking on the football. I like him as a free or strong safety at the next level, and possibly even a nickleback.
Titus Cram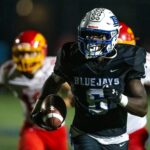 Titus Cram 6'1" | RB Bondurant-Farrar | 2024 State IA  (Bondurant-Farrar, IA) S. 6', 195 lbs. Holds offers from Iowa, Iowa State, Mizzou, Wisconsin, Minnesota, Nebraska, Kansas, and Kansas State
The 2024 two-way Iowa standout has already been featured in the 2024 Offensive Dream Team I released earlier this week as a Second Team RB and made his way onto the First Team Defense as a safety. Although his highlights are RB-heavy, Cram possesses all of the tools needed to be a successful and productive prep safety as well as in college. He's strong, fluid, and has good vision and a powerful lower body that helps him enforce the run and turn his hips, and cover ground in coverage. It's also a testament that almost all of these schools recruiting him want him as a RB, so he was an easy nod for First Team as a DB in this Upper Midwest special.
Jacob Oden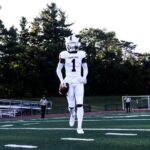 Jacob Oden 6'0" | DB Harper Woods | 2024 State MI (Harper Woods, MI) CB. 6'1, 188 lbs. Holds offers from the likes of Michigan State, Notre Dame, Michigan, Oklahoma, Penn State
I believe Oden is the highest or second highest-ranked prospect on this All-Upper Midwest feature, and his 34 Division 1 offers are the most of any 2024 to make this lofty list. Oden posted 44 tackles, 15 PBUs, 2 INT, and a sack and only allowed one catch on him all year in 2021. He's long, instinctive, and athletic enough to completely shut down a side of the field or a #1 WR game after game. I love his ball skills, body control, smooth hips, and nose for a turnover/big play. He's one of the best in the entire Midwest for 2024 for a reason.
Humble beginnings, blessed ends @CoachRodOden @DemetricDWarren pic.twitter.com/kPni9EljLS

— Jacob Oden 4 ⭐️ DB (@JacobOden4) May 28, 2022
Second Team: 
James Robinson James Robinson 6'1" | WR Belleville | 2024 State MI (Belleville, MI) S. 6'1, 165 lbs. Holds offers from Kentucky, Pittsburg, Tennessee
Another Belleville standout to make this Defensive Dream Team, Robinson has limited sophomore highlights but got a ton of action in the Division 1 state championship win over Rochester Adams last fall. The 6'1, 165 lber. can play in the box and get off blocks and play + tackle with a lot more strength and power than his 165 pound frame would suggest. He also shows good speed when covering out of the slot and has no problem mixing it up when playing press-man. His junior season is going to be a breakout one for the rising upperclassman.
Zachary Rogers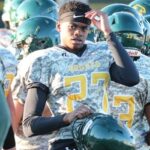 Zachary Rogers 6'0" | DB Groves | 2024 State MI (Wylie E. Groves, MI) CB. 6', 175 lbs. Holds offers from Louisville, Duke, Marshall, Temple, and more
Rogers' speed is a great asset and he uses it well, as he can easily run with WRs deep and out of his breaks as well as hawk down loose RBs way downfield in pursuit. He locates and tracks the ball easily while it's in the air and especially on underthrown balls and is a willing and successful supporter of the run. He holds the outside and will sprint across field to corral loose ball carriers. I think he's best suited for safety at the next level but he's got more than enough physical gifts to play CB at the prep level.
Zashon Rich Zashon Rich 6'2" | DB MPLS North | 2024 State MN (Minneapolis North, MN) CB. 6'2, 180 lbs. No offers
The Minneapolis North Polars have put out some big-time prospects over the past decade and have themselves a good one in the long and fluid CB and 2024 DB1 Zashon Rich Zashon Rich 6'2" | DB MPLS North | 2024 State MN . He was a seat belt when left on an island playing CB on the perimeter of the Polars and uses his length very efficiently when pressing at the LOS. He's consistent at playing physical and knocking wideouts off their landmarks and does a great job of only getting his head around when he's hip-to-hip and in the pocket of the WR. There's an island in Minneapolis and he goes by Zashon!
Sam Ostrenga Sam Ostrenga 5'11" | DB Sun Prairie | 2024 State WI (Sun Prairie, WI) S. 5'10, 175 lbs. No offers
The younger brother of 2022 Sun Prairie two-sport monster and Iowa TE and baseball commit Addison Ostrenga, younger brother Sam was one of Lead WI Scout Mark Johnson's favorite players of the 2021 season and was electric as a punt and kick returner to go along with his standout DB skills. He posted 42 tackles, 4 INTs, and a TFL as well as 32 returns for 550 yards and two TDs in his sophomore campaign. Ostrenga flies downhill like a bat out of hell when he diagnoses run and reads and triggers on passes smoothly and quickly from his FS spot. He can cover the MOF to sideline easily and I love watching him fly around when he tackles as well. His speed, vision, and contact balance for 175 pounds is lethal as a returner for even a little more juice as a prospect!