With the track and field season wrapping up recently in Minnesota and the fondness I have for multi-sport athletes, prepredzonemn.com looks at some of the top returning football players who excel on the football field but also in track and field. Class A and AA are highlighted here. Class AAA will be highlighted in a future story.
Class A
Sam Backer Sam Backer 5'11" | RB Chatfield | 2023 State MN RB Chatfield – 2nd in the 4X200 meter relay, 3rd in the 4X100 meter relay
Backer is a versatile athlete on the track and a versatile athlete on the football field. He has the speed to get outside and explodes through the hole on inside runs. He has excellent vision to see cutback lanes and has outstanding footwork in the open field. He is also a powerful and willing blocker. He has position flexibility as a read-option quarterback and is a hard-hitting defensive back.
Nathan Fenske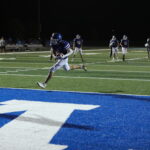 Nathan Fenske 6'2" | WR Lakeview | 2023 State MN WR Lakeview 20th in the high jump
Fenske used his leaping ability and body control well on the football field and the jumping pit. He has a great ability to make subtle moves, get the defender on his hip, and either use his long strides to get separation or use his athletic ability to high point the ball and make the catch before smaller defenders can adjust. He was a threat to make a big play any time he was thrown to.
Jackson Thompson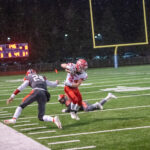 Jackson Thompson 5'8" | ATH Moose Lake-Willow River | 2023 State MN ATH Moose Lake-Willow River 7th in the 4X100 meter relay
Thompson obviously has the speed to be on one of the top relay teams in the state, and he translates that speed into the football field. What immediately jumped off his highlight package was his angry running style. He is physical, looks for contact, and runs with a low pad level that complements his running style. He is just as physical blocking – regularly pancaking linebackers and defensive backs. Although power is his calling card, he has solid footwork in the running game and when playing inside linebacker.
Greg Schafer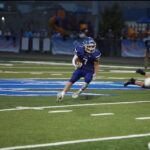 Greg Schafer 5'10" | RB Lakeview | 2023 State MN RB Lakeview 3rd 100-meter
It should come as no surprise – after showing to be the third fastest athlete in Class A – that Schafer has elite speed. Once he gets a seam, he explodes upfield and routinely outruns guys who think they might have the angle. Not just a straight-line speed guy, Schafer often finds those seems by using subtle but impactful cuts. While he picks up most of his yards on the ground, Schafer is a threat to catch a ball not only in the flat but also in the deep passing game.
Class AA
Sawyer Seidl Sawyer Seidl 5'10" | RB Hill-Murray | 2023 State MN RB Hill-Murray 7th 100-meter, 9th 200-meter, 1st 4X100 meter relay
Despite his three State medals in the sprint events, Seidl is not just a speed back on the football field. While he can open it up and run away from people when given the space, the Pioneers' running back is just as likely to lower his shoulder and run a defender over as he is to use his speed to get around a defender. He keeps his pads low, and if a defender doesn't get him squared up, Seidl bounces off tacklers. Once he finds space, he can be explosive out of his cuts and explosive through the hole.
Mark Rogalski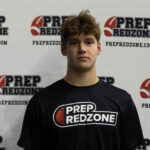 Mark Rogalski 6'1" | LB Saint Thomas Academy | 2023 State MN LB St. Thomas Academy 6th 200-meter, 6th 4X100 relay, 4th 4X200 relay
Rogalski's speed jumps off the screen when watching him play outside linebacker in the Cadets' 3-4 defense. He is explosive around the corner when rushing the passer and trailing a play from behind. His speed helps him get down the line of scrimmage efficiently, too – allowing him to make plays two or three gaps away from his initial responsibility. His speed makes him an effective coverage linebacker and an explosive tackler who puts a ton of big hits on film. He doesn't just come downhill; he is instinctive enough to realize when he can attack and when he needs to break down and play the run.
Elinneus Davis Elinneus Davis 6'2" | DL Moorhead | 2023 State MN DL Moorhead 3rd discus
To be a top discus thrower, you need to have strength, but it needs to be explosive strength. That is what Davis shows on the football field. He has that great combination of quickness and power that all great defensive tackles possess. If you need someone to get into the backfield – he can do that. If you need someone to play a gap, find the ball, shed his blocker, and make a tackle – he can do that. If you need quick reactions to get up into the air and disrupt passing lanes – he can do that too. Davis' overall strength is evident, and that – combined with explosiveness off the snap – makes him one of the top interior defensive linemen in the state.