The Future Stars Game features many of the nation's top talent. The 2022 version of this game features athletes in the 8th grade (2026), 7th grade (2027) and 6th grade (class of 2028) in the states from Georgia, Florida, North Carolina and South Carolina. Below, here's a look at the athletes that stood out from the Georgia seventh grade team during the practices.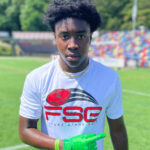 Emerson Lewis | Wide Receiver
Very well put together kid. His brother Fuches Lewis played in the Future Stars game for Georgia as a middle schooler before becoming a three-star prospect. Little brother, Emerson, is a dynamic kid that Georgia moved around a lot during practice. Sure-handed and strong.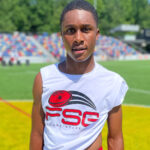 Jaden Upshaw | Wide Receiver
Big, tall target at 6-foot and 160 pounds. Rangy with long arms and a huge catch radius. Moved well for his size, just being in the seventh grade. Upshaw is the type of prospect that can stretch the field vertically and/or be an excellent redzone target with his height.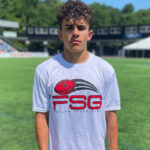 JR Harris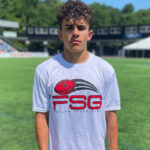 JR Harris 5'8" | QB GA | Quarterback
A dual-threat prospect that can burn defenses with his arms and/or legs at this point. He separated himself with his accuracy a bit this week during practices, throwing a number of accurate passes. Has the benefit of an enormous Offensive Line in front of him.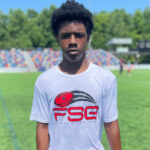 Kevin Caldwell | Running Back
The Georgia backfield is stockpiled with a lot of guys that look like they can do damage. Caldwell stood out to me due to his size and length, at 5-foot-10 and 152 pounds. Did a good job of not running while standing straight up and down. His skill set could easily translate to Wide Receiver, if called upon.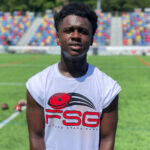 Jace Murray | Running Back/Linebacker
Murray is on the roster as a Linebacker but could easily be at the Running Back position. Very complete athlete at either position. Great combination of speed, power and agility. At 6-foot and 160 pounds, his frame is going to allow for him to continue to add muscle. He looked great all week.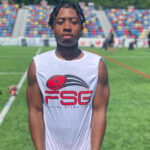 Darius White | Running Back
White is absolutely rocked up for being just a seventh grader prospect. The notes I took on him are filled with adjectives describing his build and punishing running style. He's not a one-trick pony either, as he can flat out fly in the open field. His efforts were validated, by picking up an Arkansas offer during the week.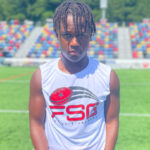 Caelyn Menzie | Running Back
Menzie is an intriguing prospect to me. He's on the roster at 5-foot-8 and 162 pounds, but he's a high cut athlete with very long legs for his frame. He showed great balance and patience during the week, waiting for the line to create holes. Specifically liked his jump cuts and overall agility.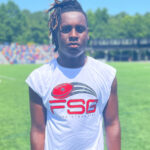 Eli Harris | Linebacker
As solid a Middle Linebacker as you could ask for in the class of 2027. At 6-feet and 187 pounds, he's a true Mike Linebacker but also showed the ability to drop in pass coverage. A true leader on the field. Throughout the practices he didn't talk much, but he got everybody lined up and the team responded when he did open his mouth.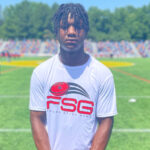 Braylon Neal | Linebacker
Neal was another Linebacker who flashed during practices. He played a very aggressive brand of Outside Linebacker, that almost looked to attack the run first, rather than drop into pass coverage. Very good size for a Linebacker at this level, standing 5-foot-10 and 170 pounds. Athleticism is a key attribute for him.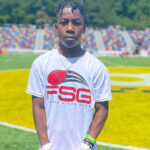 Antonio Taylor | Defensive Back
Taylor looked good as a Cornerback during the practices. On the roster at only 5-foot-2 and 117 pounds but he's very strong for his size. He did an excellent job of playing on his toes and using his hands to keep Wide Receivers off balance off the snap.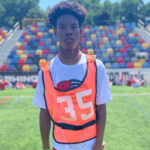 David Jacobs | Athlete
The most impressive prospect I saw on this seventh-grade team was Jacobs. At 6-foot-4 and 180 pounds he's a future D1 Tight End in my opinion. Down here this week he's bouncing between Wide Receiver, Outside Linebacker and Defensive Line. He has natural athleticism and size that are going to take him a long way.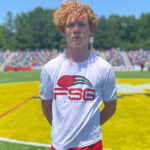 Hudson Nix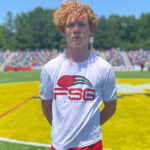 Hudson Nix 6'0" | LB GA | Linebacker
Nix is a very good overall athlete and that was on display this week. There's a lot of size and speed on this squad and Nix stepped up, specifically in pass coverage. Showed loose hips in one-on-one coverage against Running Backs during individual periods. Also showed a good understanding of dropping pad levels during inside run.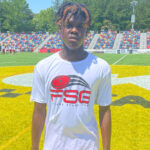 Adryan Cole | Defensive Back
Cole was the big, physical presence in the secondary for this Georgia seventh-grade team. At 5-foot-10 and 162 pounds he looks more like a Linebacker than anything else. I liked what I saw from him at Safety and his ability to come up in the box and hit.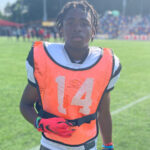 Noah Merriweather | Running Back
Merriweather didn't originally pop out at practice on the first day. However, on the second day, when the pads came on, he was impressive. Exceptionally quick Running Back who made many of the state's top 2027 prospects look mundane. He was noticeably a few steps faster than nearly everyone else on the field.