Is the Little Kanawha Conference going to keep its Class A Wheeling Island streak alive?
That's the question facing the LKC this summer. It's been an amazing run no doubt with seven teams advancing to the title game in eight years and four taking home the ultimate prize. But who will step up this year and keep the goodwill alive? Maybe it will be Doddridge County or maybe Roane County qualifies for its first AA title game in school history, perhaps Ritchie County defends the crown? There are certainly plenty of choices and surely this group of seniors will have their say before everything is said and done:
Josh Roush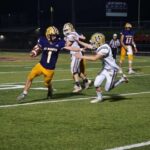 Josh Roush 5'11" | RB St. Marys | 2023 State WV , St. Marys, RB, 164, 5-11 – This young man has shown he's capable of playing at not only the Class A level but the Class AAA level as well. He's a team-first guy with a hard-nosed approach to the game. He hits holes hard before exploding through with speed if left untouched. He's comfortable running between the tackles or to the outside and is always a threat to break a big one for a score.
Adam Burnside Adam Burnside 5'10" | DL Doddridge County | 2023 State WV , Doddridge County, DL, 240, 5-10 – He uses his great knowledge of the game and flare for preparation well on the defensive line. A deceptively strong athlete who shows a knack for breaking through offensive blocks and bringing down the ball carrier no matter where he is in the backfield, he may be undersized but should never be counted out. Few people are going to break out of his tackles because he's already calculated every possible outcome of the carrier's attack while adjusting his angle of pursuit to maximize his effectiveness.
Ethan Haught Ethan Haught 6'2" | QB Ritchie County | 2023 State WV , Ritchie County, QB, 183, 6-2 – Haught shows dual-threat ability in every situation and every down. He understands where his receivers are on the field and possesses a good pocket presence. He rarely goes down on the first tackle and is almost never sacked. When he's flushed from the pocket, he keeps his eyes up and squares his shoulders quickly. You'll never see him throw across his body as he will take off before making that type of bad decision. If he wants to play QB at the next level, he may need to put on some muscle, but he's shown a willingness to work from the moment he stepped on the field as a freshman.
Rickie Allen, Williamstown, LB, 185, 6-2 – A solid chunk of muscle at the position, Allen functions as a strong leader and sure tackler for the Williamstown Yellowjackets. He's able to tussle in the trenches with linemen with 50 pounds on him or he moves well enough laterally to pursue running backs before bursting through the hole. This smart player than takes you down with his natural athleticism. Coaches interested in someone who can play Mike, Outside or Inside linebacker with a good academic program should contact Allen.
Skyler Delk and Briar Begler, Roane County, RB, 150/160, 6-0/5-8 – Roane County's Thunder and Lightning are dynamic, strong playmakers with the balls in their hands. Both possess good vision and acceleration for when the holes open up. Once through the hole, they can either run through or around defenders. Should either get lose in the open field and can prove difficult to catch up to them or bring them down.
Gabe Stewart, Doddridge County, TE, 195, 6-0 – Gabe Stewart makes one heck of a versatile player. He's the guy who pops off the line and runs a nifty little route that almost always ends in paydirt. He's the blocker who understands the Bulldogs running game better than most. And there's been plenty of both over the last two years.
In other words, he's facing a full fall of attention. "Every time he touches the ball he makes plays happen," Doddridge County head coach Bobby Burnside said. Not just little plays, oh no. We are talking about game changing plays. Take his two touchdown catches in a monster matchup with Roane County last season. Against the undefeated Raiders, his Bulldogs cruised thanks to early effort and scores from him. Those are the kind of plays coaches can expect if they extend an offer to the Doddridge County tight end.
Jayden Helmick, Tyler Consolidated, ATH/WR, 6-1, 195 – An explosive athlete who runs a killer 40, Helmick is a smart and mature player who creates havoc everywhere in the open field. He understands a defensive backs assignment better than many of them and can put them in a bind by breaking off routes early and cutting on a time. He's also a killer return man. Coaches may need to stay on him about making a decision because he could also play collegiate baseball.