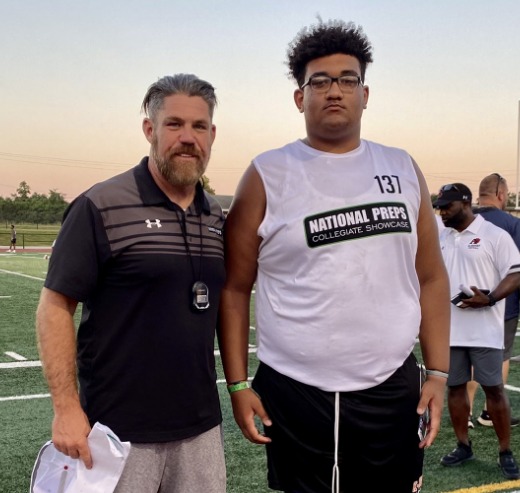 Posted On: 06/18/22 4:21 PM
Prep Redzone had the pleasure of attending and evaluating the National Preps Collegiate Showcase earlier this week in York, Pennsylvania. The event was well worth the trip, as I finally got to see some Central PA talent for the first time thanks to COO Donnie Zimmerman. The talent offered something for coaches at every level. I will, more often than not, write on prospects out of PA with occasional exceptions. In this piece, we will go over some notes and observations I took from watching the great quarterback group that was in attendance. Another big thanks to Donnie Zimmerman and Todd Haldis for the invitation.
Mason Lange | 6'0, 205 | LB | La Salle College | 2024
Was great seeing local prospect and soon-to-be-ranked 2024 linebacker Mason Lange out of La Salle College HS. I didn't get a chance to see the young man test, but the Lange looked smooth through individuals and even better during one-on-ones. Lange's ability to be physical at the line and reroute running backs impressed me. Lange showed an understanding of leverage, frequently making adjustments to not let targets attack inside. I didn't expect Lange to run or catch the ball as well as he did. Big stock boost incoming. Hoping college coaches in attendance took note of his awareness at the catchpoint.
Landen Turk | 6'5, 240 | DE | Oxford Area | 2023
Here's a completely new name that stood out to me from a program out in Oxford, Pennsylvania. I admittedly didn't get a chance to watch too many linemen reps. Naturally, I asked coaches around to the many coaches in attendance to figure out which kids were impressing. Multiple coaches and staff pointed out Turk as someone who was moving really well considering his size. One thing that is common in this field, often traveling far and wide to see big measurable kids, only for the kid to be too stiff to make an impact on the field. That might not be the case with Turk, who is now on our 2023 Watchlist to be ranked in November.
Amir Haskett | WR | Coatesville | 2024
Amir Haskett impressed in what was a lackluster group of wideouts. Not to say this kid wouldn't stand out in any group. Haskett's ability to explode out of his breaks immediately caught my eye during individual drills. He showed emphasis in the details of each drill, something I key specifically for wideouts. Good ankle flexibility, solid acceleration. This is a prospect who, after some film study, I could see land a spot on our 2024 ranking update. That status is still unknown, happy I got to see one of Harrison Susi Harrison Susi 5'11" | QB Coatesville | 2023 State PA 's targets for myself.
Christian Bundra | OL/DL | Northampton | 2023
Much like Turk, I asked around for some names of linemen who were impressing. Turk was the name amongst defenders, while Bundra was a name that continued to be heard on the offensive side of the football. We have many Northampton prospects represented on our rankings, yet somehow this kid slipped through the cracks. He'll have a spot on our Watchlist to be ranked at a later time. Nonetheless, the kid looked good enough to be labeled a top performing lineman.
Dillon Williams Dillon Williams 6'1" | DL Oxford Area | 2023 State PA | 6'1, 245 | DL | Oxford Area | 2023
Dustin Long Dustin Long QB Oxford | 2023 State PA | QB/DB | Oxford Area | 2023
Saw and wrote about these two for the first time last Fall after attending their playoff game against Academy Park. I arrived unfamiliar with both the program, as well as any of it's players. The playoff performances led me to add both of these two onto our Watchlist to be ranked, something that came to fruition earlier this week. Their tapes warranted a spot. I was pleased to see both of these kids on the camp's roster, interested in seeing if either the two have progressed or regressed since the last time I saw them. Happy to say both prospects looked good at each of their respective positions.
I expected to see Dustin Long Dustin Long QB Oxford | 2023 State PA throwing since quarterback is the first thing that comes to mind when I think of the senior. Thrilled to have him compete at defensive back, his secondary position when he's not making plays at QB. Love when athletes attend camps at their secondary position, providing a full spectrum of capabilities to the college coaches scouting events. I preach for more athletes to approach the camp setting this way. His tape screams athleticism with the ball in his hands. After this camp, I'll think twice about our future projections for this young man.
I also got a chance to see Dillon Williams Dillon Williams 6'1" | DL Oxford Area | 2023 State PA for the first time in a camp setting. Williams is an underrated name in Pennsylvania, as not too many coaches present knew of the young man. That'll change when you perform the way this kid did. Williams' offseason as a whole has looked like a tireless one from my perspective. An avid worker who is showing off just how much he wants to improve, the results are beginning to show in the weight room and on the field. Williams' is a player that has worked for his status amongst coaches. After a great senior campaign, I could see a future where he'd be a hot name amongst some of the best PSAC programs in the state. Sky is the limit.
Great day of competition thanks to- @NPCoachZim I Appreciate all the coaches there it was great speaking with you guys. @PRZPAvic @CoachMeansOXFB pic.twitter.com/2SZ3fMdi4V

— Dillon Williams (@Dillon_pk) June 15, 2022