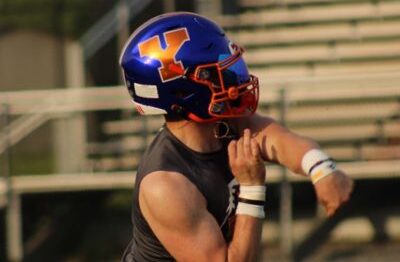 Posted On: 06/20/22 5:00 PM
Prep Redzone had the pleasure of attending and evaluating the National Preps Collegiate Showcase earlier this week in York, Pennsylvania. The event was well worth the trip, as I finally got to see some Central PA talent for the first time thanks to COO Donnie Zimmerman. The talent offered something for coaches at every level. I will, more often than not, write on prospects out of PA with occasional exceptions. In this piece, we will go highlight some William Penn (York) prospects who stood out to me. Another big thanks to Donnie Zimmerman and Todd Haldis for the invitation.
Sam Stoner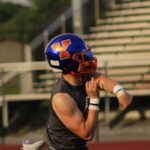 Sam Stoner 6'0" | QB William Penn (York) | 2023 State PA | 6'0, 190 | QB | 2023
Enough can't be said about this kid's game. We talked a little about Stoner's raise in stock on our site, as well as a little on his performance at the camp itself. I'd like to do a full breakdown on the kid when we eventually release a Top QB breakdown before the season begins. Stoner represented his school well last week, acting as the alpha on his home turf.
Mikey Gray Jr Mikey Gray Jr 6'1" | DL William Penn | 2023 State PA . | 6'1, 230 | DL | 2023
Awesome to see a kid that I am personally high on perform well at a camp with this many coaching staffs present. Gray's stock will be seeing a boost in the right direction sooner rather than later. Offers might be in the long-term future, as many present may want to see what this senior campaign holds, yet Gray's overall performance put his name on nearly every attending coach's radar moving forward. Not sure if there was a prospect present that did more for himself than Gray Jr. The young man's physique has come a long way, as has the flexibility in his lower body. Not sure of his testing numbers yet but I imagine he impressed considering the amount of chatter involving Gray's name during the testing period. I believe this kid could live up to our high D2 grade.
James McBride James McBride 6'2" | ATH William Penn | 2023 PA | 6'2, 170 | ATH | 2023
Here's a player who didn't make our ranking strictly because his film wasn't as long as we'd like it to be. I dove into film study on this young man fully believing he'd end up with a D2 grade from us. That grade is still in the foreseeable future, as is the ranking. I love some of the DB reps McBride put on tape, yet I am happy he chose to come out to the camp and show coaches what he's capable of at wideout. He showed he isn't just a DB who can hit, there are real pass-catching abilities that can be unleashed this upcoming Fall. The more versatile a skillset McBride can put forth, the better his chances are at impressing coaches at the next level. If I could redo the rankings today, this kid would be on it. McBride solidified a lot for me after watching him live.
Check out this video! https://t.co/VE8mFuctTz

— james mcbride (@prince_james10) December 1, 2021
Montress Jackson Montress Jackson 5'10" | LB William Penn | 2023 State PA | 5'10, 225 | LB/FB | 2023
I can confirm that Montress Jackson Montress Jackson 5'10" | LB William Penn | 2023 State PA can move, for anyone who was wondering. When bringing up Jackson's name to coaches before and after this event, his weight is always brought into question. Not that the weight is bad necessarily, more of a "Where can he play?" question. The question is a good one, one that isn't for me to answer. I'll gladly answer questions for anyone wondering what this young man is capable of. In a camp setting, Jackson was running routes against linebackers and legitimately catching some off guard with his burst. Add the ability to actually catch the ball and show soft hands was just icing on the cake. Continued work at RB/FB will only help his reps on defense, helping himself become even more instinctual throughout the process. Trench reps go hand in hand, this burst shown at RB could be flipped to an impressive get-off along the defensive line. Excited to see what his senior tape holds.
Omarion Newson | TE/ATH | 2023
Newson is admittedly a completely new name to the site, as well as myself. Newson, who was listed at the event at 6'5, 205 pounds, impressed me enough during testing to make sure he was at least added to our watchlist to be ranked after the Fall season. There isn't much tape to be found on the young man, which explains why we may not have heard of him prior to the event. This again shows the importance of actually getting boots on the ground and scouting in person, never know what or who you may find. Newson was a pleasant surprise, although raw when running routes, especially when matched up with seasoned DBs during 1v1s. Newson is a prospect anyone recruiting for size should keep up on. We hope he continues to develop a feel for TE or WR, a breakout season could be in his future.
Michael McMonigle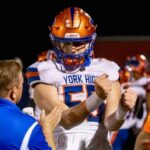 Michael McMonigle 6'6" | OL William Penn (York) | 2024 State PA | 6'6, 280 | OL | 2024
Michael McMonigle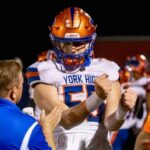 Michael McMonigle 6'6" | OL William Penn (York) | 2024 State PA has had a huge June, more or less away from this event. McMonigle was already slated for a stock boost on our 2024 rankings update, the Old Dominion and Marshall offers solidify that notion. The kid is every bit 6'6, 280. I didn't get a chance to watch the junior as much as I would have liked. Still, knowing of the kid's tape, and seeing him move through drills with the foot quickness and balance that he displayed, I just shook my head and understood why group of five schools are clamoring for positioning for McMonigle.
After a great conversation with @CoachRhinODU and @RickyRahne I am blessed to announce that I have received an Offer from Old Dominion University!! @RussellStoner24 @CoachCregger pic.twitter.com/YOVHMkEruS

— Michael McMonigle (@MichaelMcMonig2) June 12, 2022