The summer is finally here across the peach state, making it a great time to talk about some new prospects who were added to the latest 2025 Prep Redzone Rankings.
New players emerged in the latest update, and there are plenty of rising sophomore tight ends who are starting to make a name for themselves across Georgia. Here are some tight ends who have seen their stock rise in recent weeks and in the latest 2025 Prep Redzone Georgia Rankings.
Elyiss Williams Elyiss Williams 6'8" | TE Charlton County | 2025 State GA  – EDGE/TE – Charlton County 
Ranked as the No. 19 prospect in Georgia and the No. 1 TE prospect in the newest 2025 Rankings, Williams took Southeast Georgia by storm as a freshman, showing big-play potential on both sides of the ball. Williams already stands out physically at 6-foot-7 with a long frame, and he's only going to put on more mass and muscle over the next several years. He's naturally strong, but once he's able to develop and transform his body, he could dominate even more over the next few years. He's flashes raw strength on offense and a run blocker, but he's a big target and a giant mismatch as a pass-catching tight end. You just don't see many his age with his length and overall potential, so Williams is a name to know for the future. He didn't catch a ton of passes last year, but there's a good chance that will change over time. He's an excellent defensive lineman, but we think he has a high ceiling at tight end as well.
Ryan Ghea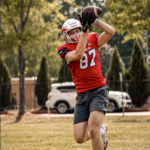 Ryan Ghea 6'5" | TE Milton | 2025 State GA – Milton
Coming in at No. 20 in the latest 2025 Rankings and the No. 2 TE prospect in the peach state. Ghea is your ideal modern-day pass catching tight end. He's long, athletic, runs like a deer, and excellent after the catch. He shows strong hands in the passing game and knows how to break tackles after the catch. He looks like an upperclassman already with his D1 caliber size at 6-foot-5 220-pounds. He looks the part and he has the potential to have a breakout sophomore season for one of the top programs in the state. The Eagles are looking for more playmakers on offense, and Ghea has a chance to really show out this fall and emerge as one of the top tight end prospects in the state. Not only does he have impressive ball skills for his age, but he also knows how to block on the edge in the run game. His size, athleticism, and overall potential should allow him to see more major offers come his way down the road.
Ethan Barbour Ethan Barbour 6'3" | TE Alpharetta | 2025 State GA   – Alpharetta
One of the top young prospects in the North Fulton area, Barbour is a pass-catching tight end who can also split out and play receiver. He's a big target already for his age at 6-foot-3 215-pounds and is only going to get better throughout his Alpharetta career. Barbour is now ranked as the No. 3 TE prospect and the No. 21 overall in the state of Georgia. He has big hands and should be a major weapon in the red-zone for the Raiders in the 2022 season. He's a physical blocker on the edge, and while he appears to be a reliable pass catcher, he also knows how to be physical and open up holes in the run game. Only a freshman last year, Barbour more than held his own against some really tough 7A competition, showing his D1 potential quite often. There's a lot to like about his game, and he's already been shown interest by a number of impressive D1 programs. As a freshman last fall, Barbour caught 26 passes for 342 yards and 2 touchdowns last fall.